Jesus Loves the Little Children
And yet I've resisted being like a child my whole life.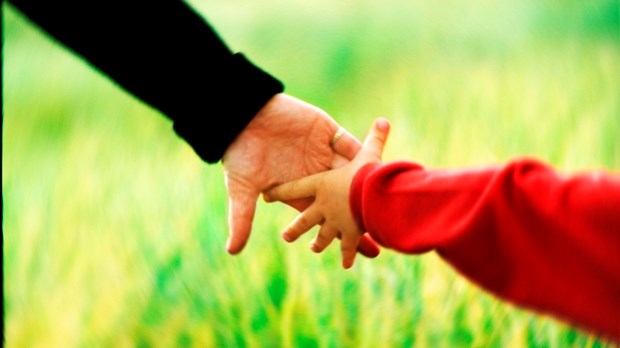 Image: Wilson X/flickr
Last week I started to wonder if I was the only adult who hates Halloween. I hold no religious objection to this holiday. I don't even mind the candy. I just don't like decorating or costumes or the self-imposed pressure and implicit competition with other mothers to be GOOD (by which I mean either channeling Martha Stewart or spending a lot of time and money on Etsy) at this day.
I may have enjoyed Halloween as a child. If so, I can't remember. I just know that when my children start discussing their costumes in July, I try to suppress the internal groan, release the inner perfectionist, and make it to October 31 without too much fanfare. (I must add that William added a wonderful dose of levity to the whole deal when he suggested, "Hey guys, how about I be Jesus and you two can be my disciples?" and Penny said, "I'm not going to be your disciple! I'll be Mary." They tried to enlist Peter as the donkey, but eventually moved on to princesses and a pirate, which seemed just as well to me.)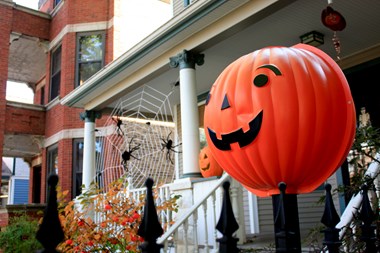 William also reminds me that Halloween is the second best holiday (with Christmas, of course, in first place), and my aversion to this event does make me stop to ask myself why I can't get over myself and just enjoy some simple fun (the image to the left is not my house, by the way!).
But I've always had trouble having fun. I was the kid whose parents had to say, "Why don't you stop reading and go outside to play?", the one who thought it was enjoyable to talk with the aunts and uncles instead of the cousins at family gatherings, the one who never—not once—in high school attended a football game. I didn't like being a kid when I was a kid. No wonder I don't like holidays designed for kids now.
And yet as a Christian, I have started to pay attention to the unusual emphasis Jesus places upon children. He heals Jairus' daughter and the son of a royal official. He welcomes children even when his disciples think he must be too busy. But then he takes it even further, because in statement after statement, Jesus implies that his adult followers should see themselves as children. He refers to the "little ones who are my disciples" (Matthew 10:42) and warns against causing these "little ones who believe in me" to stumble (Matthew 18:6). Jesus seems both to love and protect the literal little ones and also to want the adults in his midst to begin to see themselves as little ones too. In Matthew 18, Jesus goes so far as to say, "Unless you change and become like little children, you will never enter the kingdom of heaven."
Hmm. Maybe I should rethink my posture toward Halloween.
I don't actually think Jesus is advocating that I start decorating for the holidays or enjoying football games. But I do think he wants me to pay attention to the lives of the little ones in my midst and to see the ways in which they model faith. I wrote last week for Ann Voskamp's blog about how my children have taught me to recognize God's presence by praying for laughter in the midst of the ordinary hard times. But the list of ways my children have modeled faith to me goes much farther than through their laughter—through their prayers, through their ability to live in the present moment, through their simple trust and dependence upon their parents, even through their raw emotions, the tears and tantrums as well as the giggles and shouts of joy.
Having kids has helped me grow up because it called upon me to sacrifice my own needs and wants for the sake of someone else in a way I never had to before. Other adults have had to grow up for the opposite reason—because they haven't had kids even though they desperately wanted them. In both cases, it was sacrificing and surrendering our needs and wants that helped us mature in love.
But having kids has done more than help me grow up. It has also helped me become like a child. Only now that I have three little ones of my own have I begun to understand what it might mean to be a little one before Jesus. Needy, protected, beloved.
If you're interested in reading more thoughts on how children can teach us about faith, check out my new book Small Talk: Learning From My Children About What Matters Most. Even better, subscribe to Christianity Today before November 16 and get a free copy of Small Talk too.
Support our work. Subscribe to CT and get one year free.
To add a comment you need to be a registered user or Christianity Today subscriber.
Recent Posts
Jesus Loves the Little Children