Joy for a Little Girl with Autism
Everyone can experience God's presence through worship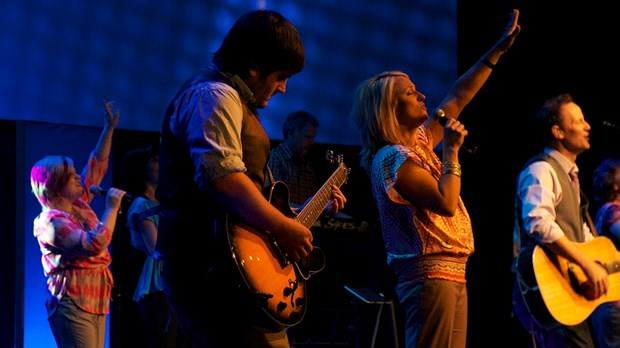 Image: michelle.parker52
In honor of autism awareness month, Jared Kennedy reflects on his daughter Lucy's experience as a part of a church community:
Kelly couldn't wait to talk after the service. She met Megan and me in the stairwell on our way to the children's wing. "I have to tell you about Lucy's morning!" At that moment, anxious questions filled my head. "Did she bolt from the classroom? Did she have a meltdown? Did anyone get hurt?"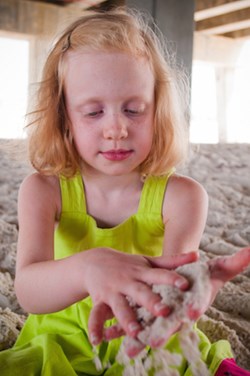 Lucy was diagnosed with Autism at age 3. Over the past five years, we've pressed into daily therapy and training with love, and we've seen our little redhead grow and progress. Lucy's verbal and language skills were essentially non-existent at the time of her diagnosis. Now she can clearly ask us to play "Let It Be" or "Lucy in the Sky with Diamonds" on the car stereo. But Lucy still struggles profoundly. She has some obsessive tendencies. For example, (in addition to the Beatles) she's a fan of Martina McBride's Christmas album, and we're still playing it in the car a week after Easter. Though she's grown in social awareness and language skill, we've seen the gap between Lucy's actual age and her developmental age steadily increase. At age 8, we're still working on potty training. And some of Lucy's more persistently negative behaviors—such as frequent tantrums and bolting away from tutors and care givers—are more like those you'd expect from a toddler.
That's why, when Kelly greeted us in the stairwell, I didn't immediately expect the best. But this was good news. It was a baptism Sunday. At the service, one of our youth who recently graduated from children's ministry was being baptized. So a seasoned children's ministry teacher walked her class into the service and they sat in the balcony together to watch and support their friend. Our elementary kids heard a friend's testimony and witnessed the church celebration. The children's ministry director later reported, "Not only were the kids really excited, but they also asked really great questions about what baptism means and why we practice it." Taking the kids to see the baptism was a big win.
But the biggest surprise was Lucy. I fear a lot of things for my daughter when a class breaks from its regular routine. I'm afraid the change will be too much for her to handle—that she'll experience a sensory overload and start screaming or run away. None of it happened this morning. No sensory overload. No tantrum or screaming interruption of the service. This is what Kelly told us in the stairwell: "When Jenna came up out of the water and the congregation began to clap and cheer, Lucy looked at me with the biggest smile on her face. I don't know how much she understood, but she experienced the joy of the moment."
On that morning, I was reminded of two things:
God wants our hearts. It's tempting to think our faith is about getting things right—our doctrine, our moral code. But this morning reminded me God wants something more. He wants our affections. He wants our hearts (Proverbs 4:23).
Experiencing God's presence through the practice of worship is formative (Romans 12:1-2). If you've worked with kids for any amount of time, you know they don't always remember the lessons. But they almost always remember the songs (and the hand-motions too). It's true for kids like Lucy as well. Lucy's capacity for grasping doctrinal concepts is limited, but being in the presence of God's people—like listening to a great song—warms her heart. James K. A. Smith writes, "Christian worship that is full-bodied reaches, touches, and transforms even those who cannot grasp theological abstractions."
As a family pastor, I can talk a lot about how to romance and shepherd a child's heart—and not merely modify their behavior. That Sunday deepened my conviction and gave me a new vision. I witnessed the formative power of worship in high definition. Lucy experienced joy. Other kids were full of curiosity and questions about their faith. Kelly—who serves faithfully in our special needs ministry and knows our fears all too well—witnessed God's work. And she couldn't help but tell us right away.
Jared Kennedy I am the husband to Megan and the father of three girls—Rachael, Lucy, and Elisabeth. I lead SojournKids as Pastor of Families at Sojourn Community Church in Louisville, KY and New Albany, IN. Our family raises chickens in our backyard, and I follow Atlanta Braves baseball and Alabama football. Roll Tide! I blog at gospelcenteredfamily.com. You can follow me on Twitter @jaredskennedy.
Support our work. Subscribe to CT and get one year free.
To add a comment you need to be a registered user or Christianity Today subscriber.
Recent Posts
Joy for a Little Girl with Autism