500 Years of Anti-Asian Violence. It Must End Now.
Reflections on recent Anti-Asian violence in light of the 500th anniversary of the arrival of Magellan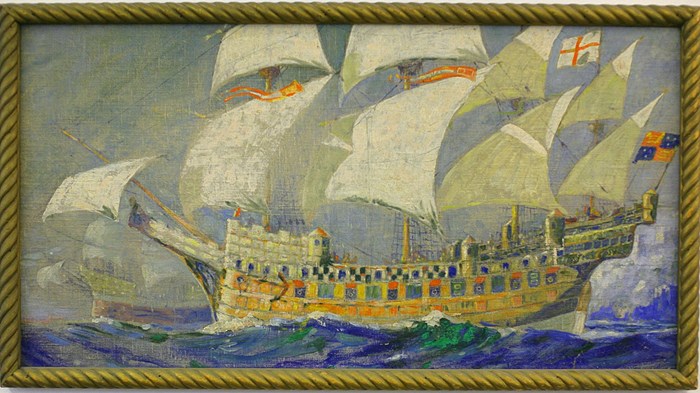 March 16, 2021 marked the 500th anniversary of the arrival of Ferdinand Magellan in the Philippines. Many Filipinos around the worldcelebrated that day as the 500th anniversary of the arrival of Christianity in the Philippines. For some, the status of the Philippines as a bastion of Christianity in Asia is a matter of great pride. However, for me and a number of my Filipino and Filipino-American or -Canadian sisters and brothers, March 16, 2021 was not a day to be celebrated. That is because it was the 500th anniversary of Western efforts to colonize the Philippine islands, a grim reminder of the five centuries of Western violence against Asian peoples. The story of the arrival of Magellan and Christianity in what would came to be called the Philippines cannot be told without reference to Mactan, where one of the Datus resisted the pressure to accept Christianity and "would not in any way obey the king of Spain." 1 Quoted from the eyewitness account of Antonio Pigafetta, a member of Magellan's expedition, in The First Voyage Around the World by Magellan In response, Magellan attacked Mactan, where he was killed in battle.
Magellan was not the first, and certainly not the last Westerner to advance a violent colonial agenda in Asia or against Asian peoples. Nevertheless, this inauspicious day was a poignant reminder to me and to others of the long history of violence against Asian peoples, as well as of the ways that Christianity has been intertwined with that history of violence and has been used to justify or obscure the horrors of that violence. It is a part of the history of this nation as well. More than three hundred years after Magellan's arrival in the Philippines, US President William McKinley gave an address to United Methodist pastors meant to justify the US invasion of the Philippines. In that address, McKinley stated that, since Filipinos were "unfit for self-government," "there was nothing left for us to do but to take them all, and to educate the Filipinos, and uplift and civilize and Christianize them and by God's grace do the very best we could by them, as our fellow men for whom Christ also died."2 Cited in E. J. R. David, Brown Skin, White Minds: Filipino-/ American Postcolonial Psychology (Charlotte: Information Age, 2013) The US invasion of the Philippines and subsequent pacification campaign (1898-1913) resulted in the deaths of over 1 million Filipinos.3 Luzviminda Francisco, "The First Vietnam War: The U.S.-Philippine War of 1899," Bulletin of Concerned Asian Scholars 5, no. 4 (1973): 2-16
On March 16, 2021, I was still lamenting and processing the killing of Angelo Quinto, a 30-year old Filipino-American who had been killed by police. They knelt on his neck for almost five minutes. Despite the injustice of his death at the hands of police, the cry for justice for him has not received the attention that it deserves. That day, with AAPI history month coming up in April (observed a month early so that it fits our academic calendar), I spent more than two hours in a meeting with fellow staff and faculty leaders at Wheaton College planning events that would name and address the injustice of his death, and draw attention to broader issues of anti-Asian violence, hatred, and their relationship to the history of colonialism.
March 16, 2021 was also the day on which Daoyou Feng, Yong A. Yue, Hyun Jung Grant, Paul Andre Michels, Xiaojie Tan, Delaina Yaun, Soon C. Park, and Suncha Kim were killed by Robert Aaron Long, who targeted Asian-owned massage businesses in three shootings in the Atlanta area. Six of the victims were Asian women.
According to police, the shooting was not racially motivated. Instead, they claimed that Long was addicted to sex and was trying to eliminate a "temptation" by targeting Asian massage businesses. It has been confirmed that Long is a Christian and was a member of a Baptist church. This language of "temptation" is all too familiar to many of us who inhabit evangelical church spaces. Lives were taken, Asian businesses and people were targeted, in order to keep a white man from "temptation," to keep him from sinning, as though the state of his soul was more important than the lives of the victims.
There are reasons why the Asian communities know that racism was a major factor in the Atlanta shootings. The exoticization and sexual objectification of Asian women has long been understood as a racist trope, one that our communities are very much familiar with because it so frequently impacts and endangers the women in our communities. Moreover, it should be obvious that targeting Asian businesses and killing mostly Asian people indicates without much doubt that racism was a factor in the shootings. A tree is known by its fruit. This crime exists at the intersection of racism, misogyny, and class. There can be and often are multiple elements that inform motivations.
We need to reject and resist the idea that anti-Asian hatred and violence are unique to this moment in time or are solely tied to the pandemic. There is history on these shores as well. Our Asian American communities have many different stories that speak to this. To draw examples just from Filipino-American history, the history that I know best, Fred Cordova counts some thirty communities throughout the United States in which Filipinos experienced "racial confrontations, agitations, harassments, beatings, rock-throwings, burnings, knifings, shootings, bombings, riots, and killings"4 Fred Cordova, Filipinos: Forgotten Asian Americans,116 through the late 1920s and early 1930s. This includes the horrific case of the Watsonville riots of 1930, when mobs of white Americans formed hunting parties and went house to house dragging Filipinos from their homes and beating them, as well as firing guns into homes, and destroying property. 22-year old Fermin Tobera was killed, shot through the heart. In 1927, mobs of white men attacked Japanese and Filipino immigrants in the Yakima Valley, Washington, driving them from their homes with death threats. The words of one angry white man in the valley are a chilling reminder that history is not always so distant: "If I had my way, I would declare open season on all Filipinos and there would be no bag limit." 5 Quoted in Cordova, Forgotten Asian Americans, 115
Bringing an end to the five centuries of violence requires not only resistance from Asians and Asian-Americans. It also requires our White brothers and sisters to acknowledge the history of violence and colonialism, to repent of it, and to stand in solidarity and in commitment to change. It requires taking anti-Asian violence and racism seriously. It feels very much as though it took Asian-American blood crying out from the ground, not one life, but many, far too many, for our cries from the margins to be heard.
We can learn from the biblical example of the story of Peter and Cornelius in Acts 10. Cornelius was not a local man who had joined the Roman military. We can learn much about him from Acts 10:1. Cornelius had a Latin name and was a member of the Italian Cohort (v. 1), a unit raised in the Roman heartland. He was also a centurion and thus a man of high military status. Cornelius was a colonizer and military occupier. He was not a Jew, a Nabatean, or a Phoenician. He was stationed at Caesarea Maritima, a Roman outpost on the Levantine coast. Yet, in this meeting between colonizer and colonized, Cornelius falls at Peter's feet (v. 25). It is a symbol of the posture of humility and reversal that peacemaking requires. Then, very specifically and most importantly, Cornelius listened (v. 33). It was while he listened that the Holy Spirit fell upon him (v. 44).
If you are reading this as a non-Asian person and want to stand alongside your Asian and Asian-American brothers and sisters, acknowledging the threat and fear that we face and not dismissing the reality and severity of what has been going on would be a good start. Learn from the example of Cornelius and listen. Do not reduce the killing that happened on March 16, 2021 to a one-off act of sin. There is a long history of violence, colonialism, exploitation, and white supremacy stretching back five centuries that needs to be reckoned with.
Being a faithful disciple of Jesus Christ, the crucified king, requires us to take up our crosses and follow him. In so doing, we are called to recognize the things that make for peace (cf. Luke 19:42) and to live into the reality of the weak shaming the strong (1 Cor 1:27). It will mean following a King who declined to call upon legions of angels in violence. It will mean extricating the cross from the sword in our practice, our teaching, our missions, our churches, our preaching.
500 years of violence. 500 years of the intertwining of the cross and the sword. Enough.
Dr. Jordan J. Ryan is Assistant Professor of New Testament at Wheaton College in Wheaton, Ill.
The Better Samaritan is a part of CT's Blog Forum. Support the work of CT. Subscribe and get one year free.
The views of the blogger do not necessarily reflect those of Christianity Today.