Humanitarian Disasters Are Worse than Ever. One Research Institute Is There to Help the Church Prepare.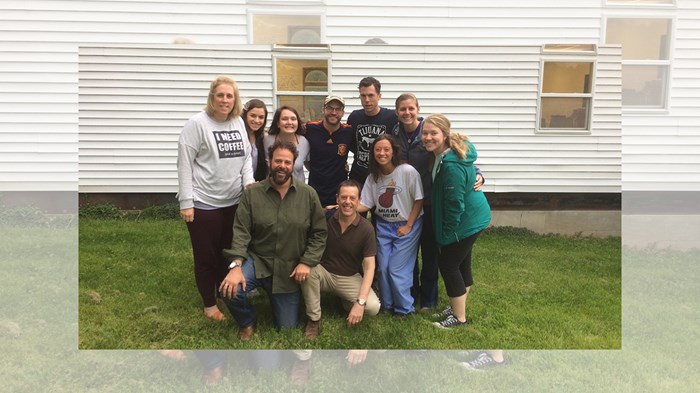 As with all things that grow, it started as a seed: what if Wheaton College offered a graduate program that prepared future generations of humanitarian professionals to respond to the world's greatest needs?
Over the past 10 years, I have had the privilege of watching this seed mature and grow into a shoot, then a sapling and now a tree. Humanitarian Disaster Institute (HDI) exists to equip faith leaders to assist underserved and vulnerable populations challenged by disasters and humanitarian cirses. In the early years, Humanitarian Disaster Institute (HDI) hosted conferences that pulled together like-minded professionals from across disciplines: local first-responders, Federal Emergency Management representatives, church leaders, International Non-Government Organization (INGO) staff and students. Through workshops and trainings HDI not only proposed best practices, but also established collaboration that brought about innovation and new partnerships.
Jamie Aten's Ph.D. expertise in the psychology of religion and disasters brought a research perspective into Wheaton's psychology program, which then led to the creation of an M.A. in Humanitarian and Disaster Leadership. The first of its kind, this new degree offered students the ability to combine humanitarian assistance, disaster preparation and faith-driven leadership.
The need for humanitarian assistance is growing exponentially.
In 2011, when the seed of HDI first took root, there was a need to train and develop thoughtful leaders motivated by their faith to work in the disaster response sector. The need for humanitarian assistance is growing exponentially. The United Nations High Commission for Refugees (UNHCR) reports the number of people worldwide that are forcibly displaced as a result of conflict, persecution, human rights abuses or violence. In 2011, at the conception of HDI, the total number of people forcibly displaced was 38.5 million. In 2020 (the last available data) that number has grown to 82.4 million. Not only has the humanitarian need grown due to man-made conflict, but we are also seeing the effects of a changing climate where natural disasters, both here and abroad, are not only growing in frequency but also in size. Unfortunately, we do not expect the humanitarian needs to decrease in the near future. Most analysis and projections state that large-scale human migration and displacement will continue due to be resource scarcity and extreme weather patterns. In the near future, more people may be displaced by the changing climate rather than by conflict.
Over these past ten years Jamie Aten and Kent Annan have turned the Humanitarian Disaster Institute into an academically rigorous program from which students graduate with the practical knowledge and leadership attributes that are needed as they pursue careers both locally and internationally with governments, INGOs or other non-profits. HDI now houses the country's first faith-based academic disaster research center.
Because of the work of HDI, students, graduates and faculty are leaning into the current challenges and the future needs of humanitarian crises around the world. HDI continues to grow as they provide thoughtful leadership and equip academicians and practitioners to humbly serve their neighbor - whether their neighbor is from Afghanistan, or a refugee living in the house or apartment next to them.
How do I know—and how will you know—that HDI is having a significant impact? Fred Rogers once said, "When I was a boy and I would see scary things in the news, my mother would say to me, Look for the helpers. You will always find people who are helping." HDI is producing "helpers" who are shaping the way we think about and interact with the complex issues of our world today.

Roger Sandberg is Vice President Field Operations at Medical Teams International, and teaches a field operations course for the Humanitarian & Disaster Leadership program at Wheaton College.
The Better Samaritan is a part of CT's Blog Forum. Support the work of CT. Subscribe and get one year free.
The views of the blogger do not necessarily reflect those of Christianity Today.