Operation Allies Welcome: How to Join in the Mission to Support Afghan Refugees
Thousands were impacted by the departure of U.S. forces from Afghanistan. This emergency initiative responds to this impact through supporting displaced Afghan refugees.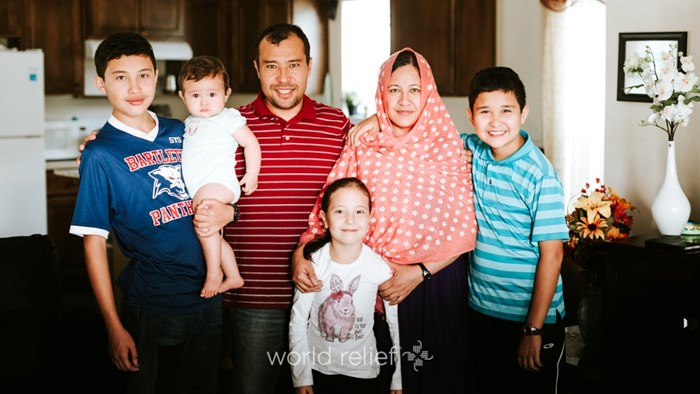 Last year I had the privilege of deploying to a U.S. military base in Virginia, assisting Afghan refugees who were just arriving in the U.S. I wrote more about the experience here.
Our deployment was a small part of the overall mission of Afghan resettlement, which has been named Operation Allies Welcome (OAW). Part of the OAW mission is an exciting new opportunity for churches and community groups to act as sponsors for these refugees.
I spoke with Danielle Grigsby, from the new Community Sponsorship Hub, to learn more.
Kent Annan: Can you briefly explain how this new sponsorship program works?
Danielle Grigsby: The global community was gripped by the departure of U.S. forces from Afghanistan after a 20-year operation on the ground. There was a tremendous response from people across the United States who wanted to directly support displaced Afghans; communities from coast-to-coast rallied to welcome our new neighbors. The United States has evacuated thousands of Afghans in need of safety. Many of these individuals are at military bases across the United States awaiting placement in welcoming communities.
The Sponsor Circle Program for Afghans is an emergency initiative that responds to this moment in history. Sponsor Circles give communities the opportunity to lead in the reception and integration of displaced Afghans.
The Sponsor Circle Program for Afghans is a community-led resettlement initiative that allows everyday Americans to take on the responsibility of welcoming an Afghan newcomer to their communities. An emergency response launched to ensure that all arriving Afghans receive welcome and support, the Sponsor Circle Program pairs Afghan newcomers with community groups eager to provide support. By applying to serve as a certified sponsor circle, groups commit to provide critical welcome and support to an Afghan newcomer family for a minimum of 90 days.
This support will include:
Fundraising at least $2,275 per individual welcomed
Helping to secure housing
Providing basic necessities (furniture, clothing, food, etc.)
Assisting in completing relevant paperwork to access documentation and public benefits for which the newcomers may be eligible
Connecting to relevant services, including health care, education, and legal assistance
Supporting in English language acquisition
Helping to secure employment
Providing community orientation, friendship, and moral support
Each Sponsor Circle will be connected to a Community Sponsorship Hub-accredited Sponsor Circle Umbrella (SCU). SCUs provide additional support to Sponsor Circles, including assisting Sponsor Circles in addressing specific questions (e.g., how to navigate public benefits) or challenges that arise during the sponsorship period. Sponsor Circles may also be eligible to access temporary housing credits made available by airbnb.org.
KA: How is this a departure from the previous approach? Why make this change?
DG: The Sponsor Circle Program is a capacity-enhancing initiative; it supports the US-domestic infrastructure by expanding its capacity to welcome Afghan newcomers. The domestic resettlement infrastructure has undertaken the herculean task of rebuilding after many years of forced constriction to respond to the situation in Afghanistan. Resettlement Agencies have widely reported that their capacity to welcome refugees is greatly diminished as a result of years of forced restriction by the previous administration.
As a result of this diminished capacity, some Afghans are electing to independently depart from safe havens without the support of a resettlement agency. Sponsor Circles builds on the unprecedented support of communities to welcome newcomers by providing them opportunities to directly welcome Afghans through sponsorship. The Sponsor Circle Program expands the domestic capacity to support Afghans.
Afghan newcomers are served through a network of community-based organizations called resettlement agencies through a program called the Afghan Placement and Assistance Program (APA). Resettlement agencies are experts in welcoming newcomers; however, given the speed with which Afghan newcomers have arrived in the United States, resettlement agencies and the communities in which they work may lack the staffing and resources necessary to provide
immediate welcome. The Sponsor Circle Program for Afghans is an emergency response initiative that serves as an alternative to the Afghan Placement and Assistance Program. Made possible by a Memorandum of Understanding between the Department of State and the Community Sponsorship Hub, and implemented by a growing coalition of partners, the program seeks to expand the United States' capacity to welcome. Through the program, groups of five
individuals can come together to form a certified sponsor circle and be matched with a newcomer, welcoming them to their community and providing them with initial reception and integration services.
KA: There are other places like Canada, if I understand correctly, where a similar option for resettlement has been in place for a while. What are you most excited about with this option now being available? Do you and people in the administration have any concerns you're watching for as it rolls out?
DG: The Sponsor Circle Program revolutionizes the way communities may respond to directly welcome displaced Afghan refugees. No matter where people are in the United States, they can welcome a newcomer to their community and provide them with the practical support they need to get settled by serving as a certified sponsor circle. Sponsor Circles take on tasks like finding initial housing, stocking the pantry, enrolling children to school, providing initial income support, and helping adults to find employment.
KA: I know the administration is working quickly to try to resettle the 40,000 or so Afghans who are military bases now and the thousands who will still be coming from lily pads and still making their way from Afghanistan or other countries where they've evacuated too. For how long do you think it will be possible for people to take this step of sponsoring an Afghan individual or family for resettlement—that is, will this likely be possible throughout 2022 or only for the next few months?
DG: The Sponsor Circle Program is prepared to support communities in welcoming newcomers as long as the need persists.
KA: If a small group or a church wanted to explore doing this, what are the requirements—is it a certain number of people, do you have to raise/give any money? Anything else people should do to "consider the cost" before taking this very generous, and I'm sure what will be a deeply meaningful step to help others?
DG: Groups or churches that feel compelled to welcome our new neighbors through the Sponsor Circle program are encouraged to begin their application today. To make sure that Sponsor Circles are up to the challenge of supporting a newcomer family, individuals are asked to complete an application process. This process consists of the following:
Find four friends in or near your community who are 18 years of age or older to join in forming the circle.
Every circle member must complete a required background check.
The circle must complete a learning module and pass a knowledge check.
The circle must complete a detailed welcome plan to share how the Afghan newcomers with whom the circle is matched will be supported.
Begin fundraising the minimum of $2,275 per newcomer the circle hopes to welcome.
Submit the completed application.
After submitting the completed application, it will be reviewed by a certifier. Once the application is certified, the circle will be matched with a newcomer family in need of support. The Sponsor Circle will receive support navigating this process. The entire process will take a few weeks to complete.
They may also register for one of our upcoming application support sessions, listed on the Sponsor Circle website: Resources — Sponsor Circles and click on the link under "application support" to register.
KA: Where should people go to learn more and take the next step?
DG: Groups should visit: www.sponsorcircles.org
Note from Kent: If your church or small group is considering taking this step or is already preparing to welcome Afghan guests in your community, Kent's book You Welcomed Me: Loving Refugees and Immigrants Because God First Loved Us and a free video class by the same name are great resources as you step into the work of welcoming. There is also a free YouVersion Bible study here.
Kent Annan is director of Humanitarian and Disaster Leadership at Wheaton College, where he leads an M.A. program as part of the Humanitarian Disaster Institute.
Danielle Grigsby is the Director of External Affairs & Co-Founder of the Community Sponsorship Hub. She has four years of executive leadership at Refugee Council USA, operationalizing their transition to an independent coalition and spearheading the Center for Refugee Inclusion and Resettlement Excellence. Prior to this Grigsby's career spanned the globe, from IDP work with the State Department in Lagos, Nigeria to identifying durable solutions support for refugees in Moscow, Russia. She holds a Masters in Social Work from Boston College, conducted graduate studies in Forced Migration at Oxford University, has two Bachelor degrees in Political Science and History from Weber State University and is a Security Fellow at the Truman National Security Project.
The Better Samaritan is a part of CT's Blog Forum. Support the work of CT. Subscribe and get one year free.
The views of the blogger do not necessarily reflect those of Christianity Today.