Faithful, not Famous: Four Graduate Students Reflect on a Holistic Degree
What are students taking away from earning a Master's in Humanitarian & Disaster Leadership from Wheaton College? An education that was not just technical, but theological.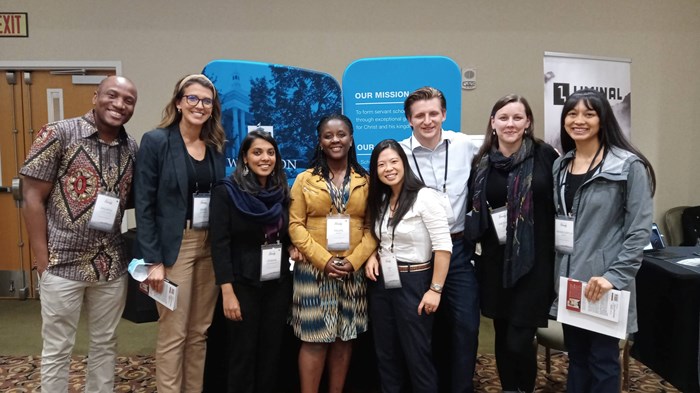 This May, 26 students will graduate from the M.A. in Humanitarian & Disaster Leadership (HDL) program. As they mark this great milestone, we asked several students to reflect on their experience and share what they've learned along the way.
Jennifer Clark, Humanitarian Disaster Institute (HDI) Communications Specialist, collected their responses.
(Answers edited for length and clarity)
What will you remember from the HDL program?
Hilário Chitlango, full-time on-campus student
It was a very intense year and full of many unforgettable experiences with the HDL class. I want to record three points that I will always remember from this wonderful time:
Humility: It was possibly the most repeated word since the beginning of the course. Every work or intervention we have done is not done because we are superheroes or better than others, but because of the grace and goodness of God that works through us.
Diversity: Our class was possibly one of the most diverse in graduate school. People from totally different cultures, backgrounds and experiences sharing ‌the goal to serve the people and particularly, the people in need. Diversity reminds us of the beauty of God.
Love: Love is the most important skill in our work as humanitarian professionals and ministers. We need to love the people in need, love our teams, and love each other as individuals. And above all, we need to love God more than any accomplishment in our life. So, HDL can also stand for Humility, Diversity, and Love.
Kathryn Truitt, part-time online student
The connections and people I have met through Wheaton and HDI have changed my life. The resources and knowledge base from the people I have encountered and the courses I have taken have helped me through personal trauma but have taught me how to share knowledge and come alongside the broken in their journey of healing.
How have you used what you've learned in class in your daily life?
Meredith Gravette, part-time online student
The strongest theme within this program is humble leadership. In daily life, I'm continuing to learn how to be less so God can be more. This program has taught me the value of asking for help and giving it freely. This program has taught me I have much to continue learning. Authentic leadership begins with loving God and serving from a posture of humility. The most consistent daily life principle of this program is rest. This program has taught me that even in seasons where life is hectic and demands from our time are high, resting in God and finding tiny ways to create healthy rhythms equips us to be Good Samaritans; we love from God's strength and not our own.
Joanna Dhanabalan, full-time on-campus student
The one thing that I will take with me is that my task is to be faithful, NOT famous. It's one thing to have the world's applause but to be applauded by the Master is what I'm pressing for.
I have enjoyed my time – the program helped me gain tools of learning at HDL to complement my work and prepare me for wherever God sends me.
Humility, the courage to be unseen, to speak up with conviction, and to have a global view of the pressing challenges is what I would desire personally and as a development community.
I appreciate the leadership at HDL for modeling humility and encouragement.
What's next for you after graduation?
Hilário
After graduation, I plan to work in relief and development, particularly in church involvement, international development, and other areas. It is my goal to connect churches and ministries around the world to engage more actively in humanitarian and development work.
Kathryn
I will continue to work with human trafficking survivors and hopefully assist in launching or working closely alongside a trauma-informed ministry with the foundation I have learned from HDL.
Joanna
I hope to be able to contribute my skills and expertise in the corporate/non-profit/parachurch world, combining my work experience in technology and innovation for social impact.
Meredith
At this time, I am working for an Anglican church in children's ministry. I am applying to work for the Federal Government in the Department of State or Department of Homeland Security or partner with an NGO that focuses on anti-human trafficking.
The Better Samaritan is a part of CT's Blog Forum. Support the work of CT. Subscribe and get one year free.
The views of the blogger do not necessarily reflect those of Christianity Today.