Let's Not Forget About Ukraine: 3 Practical Ways to Help
As news headlines about Ukraine fade, let's remember the global neighbors who still need our help.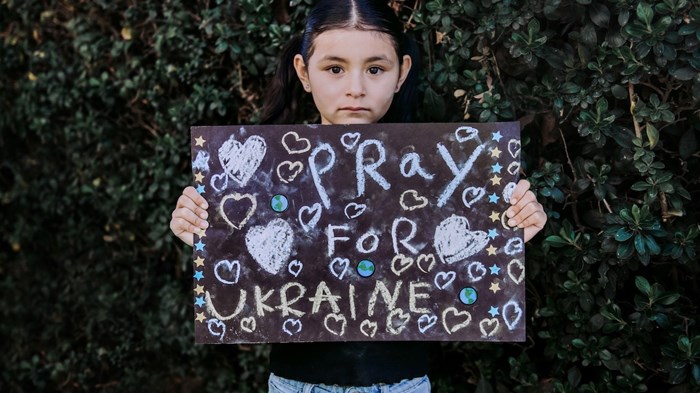 The 24th of October marked eight months since Russia invaded Ukraine. Gardens have turned into graves, beautiful cities to rubble, and songs of joy to tears of sadness. Bombs, missiles, and bullets have replaced the sound of music and laughter for those still trapped in Ukraine. Personal gratification and selfish ambitions reduce fellow humans to punching bags and tools of war. In Ukraine, cries for help resound in every corner.
At the start of the war, the whole world was attentive to what was happening in Ukraine as it made headlines on all media platforms. However, the trends are beginning to change as reporters and outlets take these stories off front pages, shifting their attention to the new and trendy.
Sadly, this dynamic is not unique to Ukrainian nor is it new; the world pays attention for a few fleeting moments, and then our collective attention drifts elsewhere, long before a crisis is resolved. In Eastern Congo, women and girls are weapons of war. They are raped by those in combat and abducted to rebel bases to provide sexual services and domestic labor. In addition to the trauma of rape, they are exposed to HIV/AIDS with limited access to treatment, which often leads to unwanted pregnancies, discrimination from relatives, and abandonment by husbands. However, media outlets and social media platforms rarely publicize these stories.
During graduate school in the Humanitarian and Disaster Leadership program at Wheaton College, I lived in Western Springs, Illinois. From February to April, several houses in Western Spring had the Ukrainian flag hanging high. Three young sisters captured my attention a few blocks from where we live as they manufactured and sold play dough to raise money for Ukraine. Today, we pass through the same community, and this solidarity is no more.
The harsh reality
Roughly 100,000 Ukrainians have entered the United States since the war began, with only 500 entering through traditional refugee systems. The majority are arriving on temporary visas and along the U.S/Mexico border. America's refugee cap for the fiscal year 2021 was 62,500, while for 2022 it was 125,000. However, there were only 11,411 admissions in 2021 and only 24,465 at the end of the fiscal year 2022.
The United States of America is a land blessed by God. Not only is America the land of the free and the home of the brave, but a land blessed to be a blessing. My question is: how are we partnering with God to bring peace and reconciliation to our global neighbors? How are we sharing our wealth and space with those in need?
How are we partnering with God to bring peace and reconciliation to our global neighbors? How are we sharing our wealth and space with those in need?
The greatest gift you could offer to your Ukrainian neighbor (besides praying for them) is loving and welcoming refugees and asylum seekers, just as you love yourself. In the Bible, James 1:26 reminds us that pure and genuine religion is caring for the orphans and widows in their distress and refusing to let the world corrupt us.
The world is corrupting us with the portrayal of refugees and asylees as threats; however, these are unfounded claims. No one admitted to the United States as a refugee has taken the life of an American citizen in a terrorist attack since 1980. All refugees admitted into the United States are subject to a rigorous vetting process by national security.
America, let us be more loving and more welcoming to those fleeing persecution. As the Apostle Paul encouraged us in Galatians 6:9, let's not grow weary in doing good, for at the right time, we will reap a harvest of blessing if we do not give up.
I want to share a few practical ways you can make a difference in the lives of Ukrainian (and other) refugees—and those internally displaced:
Give financially.
Donate monthly, quarterly, or annually to resettlement agencies here in the United States like World Relief, Church World Services, Lutheran Immigration Services, or many others. You can also give internationally through agencies like United Nations High Commissioner for Refugees (UNHCR), United Nations International Children's Emergency Fund (UNICEF), or Save the Children. Your gift will go a long way towards alleviating pain and suffering for those fleeing persecution and demonstrating to them that they are not alone in their quest for freedom.
Volunteer your time.
Search for refugee communities near you, and through a family or church partnership with a resettlement agency, devise practical ways you can make refugees feel welcomed and loved. This could be as simple as collecting household goods for new arrivals or taking them to shopping centers where they can find the food they're accustomed to. Also, support them as they form associations amongst themselves, where they can meet and fellowship with one another. Your church could offer space for such meetings to take place.
You can also use your voice online: Schedule a weekly message on your social media accounts reminding your followers of the need to support those fleeing persecution, or share articles like this one with your friends.
Above all, pray.
Finally, please pray for those facing persecution—and pray for peace. We are reminded in Psalms 46:9 that God makes wars to end in the ends of the earth, He breaks the bow and shatters the spears and burns chariots in fire.
May it be so.
Sylvia Agaba is an alumni of HDI's MA in Humanitarian and Disaster Leadership. She serves as Monitoring and Evaluation Coordinator for Food for the Hungry.
The Better Samaritan is a part of CT's Blog Forum. Support the work of CT. Subscribe and get one year free.
The views of the blogger do not necessarily reflect those of Christianity Today.