The Anxiety Opportunity: Embracing Spiritual Growth and Transformation in Times of Distress
A Conversation with Theologian and Author Curtis Chang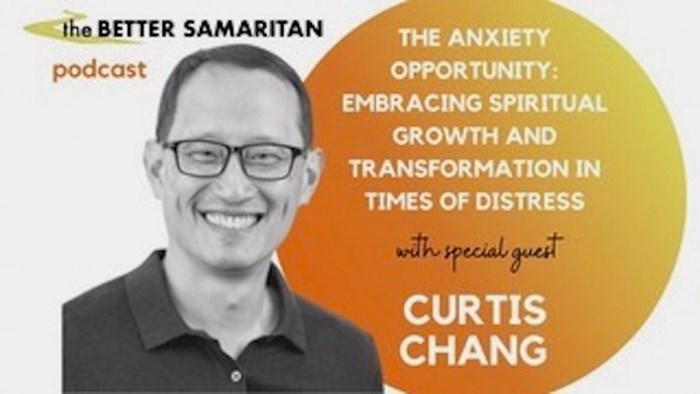 What if anxiety, a feeling we often dread, could actually be an opportunity for spiritual growth? In this fascinating conversation with Curtis Chang— executive director of Redeeming Babel, consulting professor at Duke Divinity School, and senior fellow at Fuller Theological Seminary—we discuss his new book, The Anxiety Opportunity, and explore how to approach anxiety from a Christian perspective.
Together, we dive into the relationship between Christianity and coping with loss in times of anxiety. Curtis reveals how anxiety can be viewed as a signal that loss is ahead and how this can open the door to restoration and growth with God's help. He also talks about the wrong ways anxiety is viewed in some Christian circles and how evidence-based therapies and medications can help moderate anxiety's most crippling effects while fostering spiritual development.
Finally, we discuss the importance of moving towards others in dealing with anxiety and how bringing the conversation into community can be transformative.
Curtis Chang is a public theologian and consulting faculty member of Duke Divinity School and a Senior Fellow at Fuller Theological Seminary. Curtis has written for the New York Times and Christianity Today and has appeared on CNN, CBS, ABC, NBC, PBS, and NPR's All Things Considered. Curtis is also the cohost of Good Faith, a podcast with New York Times columnist David French. His ministry, speaking, and writing are fueled by a passion to help Christians recognize the surprising authority and relevance of Jesus for parts of life that are often left to the secular world.
Resources:
Curtis' book—The Anxiety Opportunity: How Worry is the Doorway to Your Best Self
Previous episode—Grounded in Grace: A Christian Technique for Relieving Stress and Strengthening Faith
Spiritual First Aid certificate course
___________
This episode was produced by Wildfire Creative.
Theme Song "Turning Over Tables" by The Brilliance
Subscribe: Apple Podcasts | Google Podcasts | Spotify | TuneIn | Stitcher | RSS
Follow us on Twitter: @kentannan | @drjamieaten
Follow on Instagram: @wildfirecreative
(Note to the listener: In this podcast, sometimes we'll have evangelicals, and sometimes we won't. We believe learning how to "do good, better" involves listening to many perspectives with different insights and understanding. Sometimes it will make us uncomfortable; sometimes we'll agree, and sometimes we won't. We think that's good. We want to listen for correction. Especially in our blind spots.)
Jamie Aten, Ph.D., and Kent Annan, M.Div. co-direct the Humanitarian Disaster Institute at Wheaton College and are also the co-founders of Spiritual First Aid.
The Better Samaritan is a part of CT's Blog Forum. Support the work of CT. Subscribe and get one year free.
The views of the blogger do not necessarily reflect those of Christianity Today.