A Year After Invasion, Russia Still Hasn't Destroyed Ukraine's Most Precious Asset: Its Families
Russian aggression cannot, and will not, destroy what matters most. It's time to rally around families.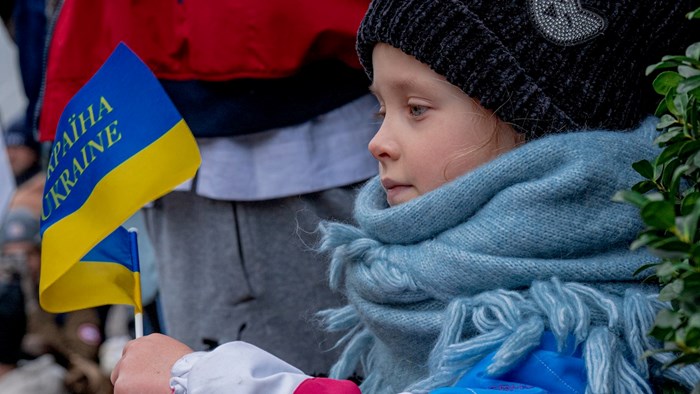 In the past year of war, Russia has destroyed a lot in Ukraine.
They've destroyed more than 3,000 miles of natural gas pipelines and 3,800 gas distribution facilities, both essential infrastructure for surviving frigid Ukrainian winters. They've destroyed roads, wiped out about one-third of the nation's power stations, bombed cities and ended the lives of tens of thousands of Ukrainian civilians.
They've also shaken millions of families. Over half of Ukraine's children were displaced just in the first month of the war. With that displacement often comes separation from at least one parent, because men between ages 18 and 60 are barred from leaving the country. Those who elected to remain or couldn't leave their home cities have lost almost all of their original community and support systems, due to emigration and refugee waves. What's more, Russia has removed children from their foster parents or orphanages and attempted to adopt them out to Russian families as part of their ongoing military strategy.
I serve as the executive director at A Family for Every Orphan, an organization that works to keep orphaned and vulnerable Ukrainian children in families. We've been surprised by families we thought would never crumble who have begun to break apart under the stress of a year-long war.
This is particularly common among the families and caregivers of children with special needs, who now face prolonged isolation and distress in addition to complex infrastructure failure. They can't get help; they can barely heat or leave their homes. Many can't even get the medication or medical supplies they need.
Complicating things further, the child welfare system in Ukraine has desperately needed a shift for decades—toward strengthening families. The current system is a remnant of a Soviet-era model that encouraged families to surrender children to institutions in the case of poverty or special needs. As a result, tens of thousands of children in Ukraine's orphanages are suffering without family, despite the fact that most of them have living parents or other relatives.
Some orphanages have had no choice but to evacuate the children in their care to safer areas of the country, but most of the caregivers couldn't move permanently with them. Now, the children have even less stability as they're handed off to new caretakers every few months.
In part, that's why we're seeking to increase supportive services for families with such urgency now. We want to see families equipped to care for their children so more children do not grow up in orphanages unnecessarily.
There is hope for this mission, even in the midst of war. Ukrainian First Lady Olena Zelenska recently affirmed that children need families, not orphanages. Ukrainians are developing sustainable, innovative, long-term solutions to the suffering of vulnerable children and their families, and the Church is the leading force rebuilding communities.
One of our partners is located in a suburb of Kiev that was occupied very early on in the war, ravaged by the Russians. But the church there has provided a new center of community. Families are slowly returning to the area because they know they have a central place of trust, support and ministry.
Many other Ukrainian churches are building and providing modular homes on their grounds as a way to shelter and minister to vulnerable families. These families live, work, and recover near each other in safety.
Other churches opt to run crisis ministries out of their facilities, distributing thousands of tons of food, administering psycho-social services and serving as an alternative community model. These forms of support (food, shelter, trauma care, legal assistance, employment development and opportunities, daycare, and child care resources) are essential to rebuilding families who will not just endure the war, but thrive long after.
However, we must come alongside these teams and ministries if we are to help build a future of hope for Ukrainian children and families after wartime ends. You can get involved—no matter where or who you are. Support organizations that are helping to keep families together, either from afar via donations or directly with your own volunteer work and advocacy.
The power of prayer is not to be underestimated, either. One partner shared with us they had two armies fighting for them: the men and women on the ground, and the ones who'd fallen to their knees. They feel Christ with them in their work.
Russian aggression cannot, and will not, destroy what matters most. It's time to rally around families.
Heather Dyer is the executive director of A Family for Every Orphan.
The Better Samaritan is a part of CT's Blog Forum. Support the work of CT. Subscribe and get one year free.
The views of the blogger do not necessarily reflect those of Christianity Today.