Podcast: Learning to Do Good, Better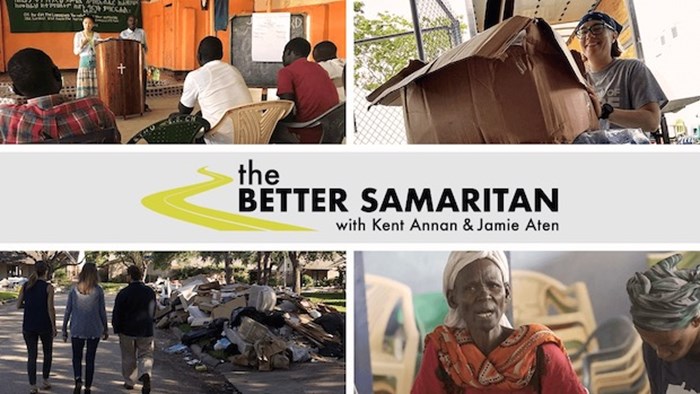 When we use our imagination concerning the reason why the Priest and the Levite did not stop to help the wounded man, numerous things come to mind.
Perhaps they were in a hurry to get to an important ecclesiastical meeting for which they could not afford to be late.
Perhaps their temple regulations demanded that they touch no human body for several hours before their temple function began.
Or, they could have been on their way to a meeting to organize a Jerico Road Improvement Association. Certainly this was a real need.
It is not enough to aid the wounded man on the Jerico Road. It is also necessary to work to change the conditions of the Road which made robbery possible.
Philanthropy is marvelous, but it must not cause the philanthropist to overlook the need for working to remove many conditions of economic injustice which make philanthropy necessary.
—The Rev. Dr. Martin Luther King, Jr., in his sermon draft, "On Being A Good Neighbor"
Welcome to the Better Samaritan podcast.
Having worked in disaster and humanitarian crises around the globe in our academic and practical work at the Humanitarian Disaster Institute, we've seen many well-intentioned good Samaritans come forward to help others.
Unfortunately, not all good Samaritans are helpful. (And we've made plenty of mistakes and keep learning ourselves!) If being seen helping others on the side of the road is more important to us than the victim himself, we miss the point.
And caring for the victim without addressing the root causes of his plight doesn't end injustice—it only perpetuates it.
Join HDI co-directors Jamie Aten and Kent Annan each week for a new conversation about how we can love the hurting person right in front of us, while also addressing the conditions that put them there in the first place.
Normally in each episode we'll interview experts from various fields of study. Next week, inauguration week, we're thrilled to present a conversation with Michael Wear, a leading political thinker who has advised presidents on faith outreach.
But today, we process together what happened last week at the U.S. Capitol. Why does it matter for Christians? How, and why, can we go about confessing and lamenting this event—even if we didn't take part?
Email us, or connect with us via social media on Facebook, Twitter, Instagram, and LinkedIn. Subscribe to our email newsletter for periodic updates regarding upcoming events, conferences, field work articles, and more.
"On Being a Good Neighbor", sermon draft by the Rev. Dr. Martin Luther King, Jr.
Reclaiming Hope newsletter by Michael and Melissa Wear
"Evangelicals must denounce the Christian nationalism in Capitol riots"—opinion piece for Religion News Service by Jamie Aten and Kent Annan
Slow Kingdom Coming: Practices for Doing Justice, Loving Mercy and Walking Humbly in the World by Kent Annan
Producer: Laura Finch
Theme Song: "Turning Over Tables" by The Brilliance
The Better Samaritan is a part of CT's Blog Forum. Support the work of CT. Subscribe and get one year free.
The views of the blogger do not necessarily reflect those of Christianity Today.