The Magazine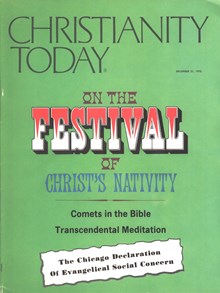 Read CT online anywhere you go.
Subscribers get full print and digital access, including:
10 award-winning print issues
PDFs of each issue
Full web access to ChristianityToday.com
60+ years of magazine archives
The CT Archives are a rich treasure of biblical wisdom and insight from our past. Some things we would say differently today, and some stances we've changed. But overall, we're amazed at how relevant so much of this content is. We trust that you'll find it a helpful resource. - Mark Galli, editor-in-chief
Also in this Issue:
Editor's Note from December 21, 1973
Energy Crisis: Bleakness or Blessing?
On the Festival of Christ's Nativity
Comets in the Bible
Transcendental Meditation: New Plant Thrives in a Spiritual Desert
The Refiner's Fire: Samuel Beckett
Eutychus and His Kin: December 21, 1973
The Purpose of the Person
The Radiance of Christmas
The Environmental Context of Piety
Book Briefs: December 21, 1973
Evangelicals on Justice: Socially Speaking …
Consistency: Hobgoblin or Jewel?