The Magazine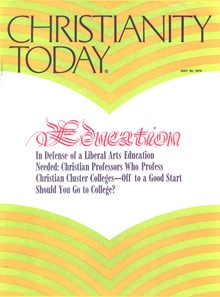 Read CT online anywhere you go.
Subscribers get full print and digital access, including:
10 award-winning print issues
PDFs of each issue
Full web access to ChristianityToday.com
60+ years of magazine archives
Table of Contents
The CT Archives are a rich treasure of biblical wisdom and insight from our past. Some things we would say differently today, and some stances we've changed. But overall, we're amazed at how relevant so much of this content is. We trust that you'll find it a helpful resource. - Mark Galli, editor-in-chief
Also in this Issue:
Editor's Note from May 24, 1974
In Defense of a Liberal Arts Education
Christian Cluster Colleges—Off to a Good Start
Should You Go to College?
The Refiner's Fire: G. K. Chesterton
Eutychus and His Kin: May 24, 1974
Needed: A Strategy for Academia
Needed: Christian Professors Who Profess
The Good of Suffering
Book Briefs: May 24, 1974
NAE: Exulting Evangelicals
Rochunga Pudaite: Direct Lines to the World
An Anti-Ecumenical Devil?