The Magazine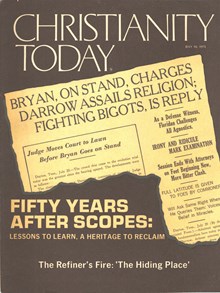 Read CT online anywhere you go.
Subscribers get full print and digital access, including:
10 award-winning print issues
PDFs of each issue
Full web access to ChristianityToday.com
60+ years of magazine archives
The CT Archives are a rich treasure of biblical wisdom and insight from our past. Some things we would say differently today, and some stances we've changed. But overall, we're amazed at how relevant so much of this content is. We trust that you'll find it a helpful resource. - Mark Galli, editor-in-chief
Also in this Issue:
Editor's Note from July 18, 1975
Southern Presbyterians: Issues in Limbo
An Interview with the Archbishop of Canterbury
Fifty Years after Scopes: Lessons to Learn, a Heritage to Reclaim
When Wedlock Becomes Deadlock: Biblical Teaching on Divorce, Part 2
Hiding in Harmony
Eutychus and His Kin: July 18, 1975
One More Time: The Crisis in Higher Education
Book Briefs: July 18, 1975
Old Church, New Building, New Ministries
One God—One People
Fifty Years after Scopes
Stands Scotland Where She Did?