The Magazine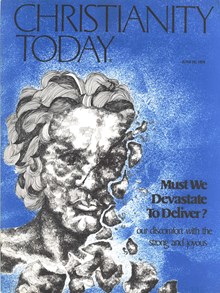 Read CT online anywhere you go.
Subscribers get full print and digital access, including:
10 award-winning print issues
PDFs of each issue
Full web access to ChristianityToday.com
60+ years of magazine archives
The CT Archives are a rich treasure of biblical wisdom and insight from our past. Some things we would say differently today, and some stances we've changed. But overall, we're amazed at how relevant so much of this content is. We trust that you'll find it a helpful resource. - Mark Galli, editor-in-chief
A Senator's Quandary: Carl F. H. Henry Reviews Mark Hatfield
'Between a Rock and a Hard Place' attempts to balance biblical respect with politics.
Also in this Issue:
Editor's Note from June 18, 1976
Must We Devastate to Deliver?
Unsettling Trends
Will Evangelicals Swing the Election?
The Cultural Seduction of the Church
Social Concern in Christian Missions
Joyce Carol Oates: Wit and Fear
Eutychus and His Kin: June 18, 1976
Minister's Workshop: Six Churches: Thriving on Common Ground: Second of Two Parts
Should Christians Vote for Christians?
Watch, Watch, Watch
Book Briefs: June 18, 1976
The View from Portland
Canterbury and Friends