The Magazine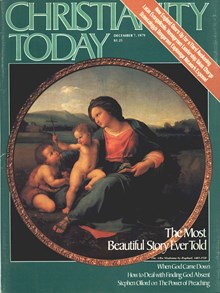 Read CT online anywhere you go.
Subscribers get full print and digital access, including:
10 award-winning print issues
PDFs of each issue
Full web access to ChristianityToday.com
60+ years of magazine archives
The CT Archives are a rich treasure of biblical wisdom and insight from our past. Some things we would say differently today, and some stances we've changed. But overall, we're amazed at how relevant so much of this content is. We trust that you'll find it a helpful resource. - Mark Galli, editor-in-chief
Also in this Issue:
Editor's Note from December 07, 1979
New England Gears up for a Third Great Awakening
The Most Beautiful Story Ever Told: Celebration of the Improbable
Eutychus and His Kin: December 7, 1979
The IYC: More Harm Than Help to the Family
When God Came down: A Risky Venture
The Power of Preaching: Examining the Success of Apostolic Beginnings
When God Seems Far Away: God's Silence Can Be Therapeutic
Refiner's Fire: Carols of an Earlier Age
The Mythmakers' Myth
Book Briefs: December 7, 1979
Latin Evangelicals Chart Their Own Course
Should Christmas Be a Fun Time?