The Magazine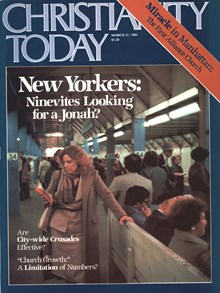 Read CT online anywhere you go.
Subscribers get full print and digital access, including:
10 award-winning print issues
PDFs of each issue
Full web access to ChristianityToday.com
60+ years of magazine archives
The CT Archives are a rich treasure of biblical wisdom and insight from our past. Some things we would say differently today, and some stances we've changed. But overall, we're amazed at how relevant so much of this content is. We trust that you'll find it a helpful resource. - Mark Galli, editor-in-chief
Also in this Issue:
Editor's Note from March 27, 1981
Looking at Church Growth: The Theories, the Research, the Pros and Cons
The Remnant of the Kampuchean Church Comes under the Gun Once Again
Eutychus and His Kin: March 27, 1981
Salt II: The Only Alternative to Annihilation?
'Church Growth': A Limitation of Numbers?
How Effective Are City-Wide Crusades?
"Church Growth" Leader Win Arn Responds to Firebaugh's Conclusions
Christian Witness Is Dialogue, Not Monologue
New Yorkers: Ninevites Looking for a Jonah?
A Foreign Field of Five Boroughs
God's Miracle in Manhattan: The First Alliance Church
Refiner's Fire: Slipping the Truth in Edgewise
Let's Restart Old Churches
Book Briefs: March 27, 1981
Witness Lee's Local Churches Fail to Silence Their Assailants
Survey Reveals Another Upturn in Overseas Missionary Thrust
Why Do We Need Theology?