The Magazine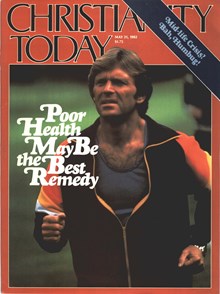 Read CT online anywhere you go.
Subscribers get full print and digital access, including:
10 award-winning print issues
PDFs of each issue
Full web access to ChristianityToday.com
60+ years of magazine archives
The CT Archives are a rich treasure of biblical wisdom and insight from our past. Some things we would say differently today, and some stances we've changed. But overall, we're amazed at how relevant so much of this content is. We trust that you'll find it a helpful resource. - Mark Galli, editor-in-chief
Mid-life Crisis? Bah, Humbug!
It is easy to look at the future in a rearview mirror, but that always leads to a collision.
Also in this Issue:
Editor's Note from May 21, 1982
Stirring the Coals in New England
The Pope Goes to Britain
Eutychus and His Kin: May 21, 1982
If God Held a Press Conference
Poor Health May Be the Best Remedy
Can Gospel Music Be Saved?
Notice the Divorced among Us
Jesus Did Not Leave—He Reigns through Us
Why Foreign Students Usually Hate the United States
Property Issues Stir Problems among Southern Presbyterians
Cam Townsend, 1896–1982
Refiner's Fire: Kurt Kaiser Reaches for the Higher Notes
A Christian-Marxist Dialogue—Of Sorts
Are the Cults Really Coming?
Love Covers—Or Discovers?