The Magazine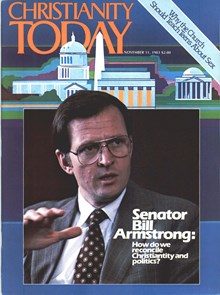 Read CT online anywhere you go.
Subscribers get full print and digital access, including:
10 award-winning print issues
PDFs of each issue
Full web access to ChristianityToday.com
60+ years of magazine archives
Table of Contents
The CT Archives are a rich treasure of biblical wisdom and insight from our past. Some things we would say differently today, and some stances we've changed. But overall, we're amazed at how relevant so much of this content is. We trust that you'll find it a helpful resource. - Mark Galli, editor-in-chief
Also in this Issue:
God Our Father and Mother?
There Is One Thing Worse than Sin
World Scene: November 11, 1983
Eutychus and His Kin: November 11, 1983
Review of 'Brainstorm'
A Christian Response to the Korean Air Lines Disaster
What If Christian Colleges Don't Join the "High Tech" Revolution?
Bill Armstrong: Senator & Christian
Why the Church Should Teachteens about Sex
We Can Get the Job Done
Why Can't Deal with Depression?
What Can We Learn from Luther the Preacher?
Does Anybody Have the Right to Tell Me What to Do?
Is It Illegal for the Government to Keep Christ in Christmas?
Ted Kennedy Is a Hit in Falwell's Lynchburg
The Wheels Turn Slowly for an Appeal in the Linscott Case
In Mexico: How to Bring the Faith to the Affluent
Should Evangelicals Cooperate with the World Council of Churches?
Book Briefs: November 11, 1983
Refiner's Fire: Let's Put Art Back into Our Churches!
Can Evangelicals Survive Their Newfound Power?
Does the Bible Influence Our Presidential Vote?