The Magazine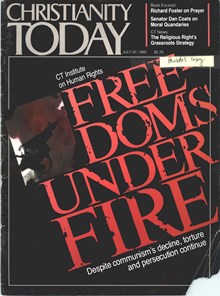 Read CT online anywhere you go.
Subscribers get full print and digital access, including:
10 award-winning print issues
PDFs of each issue
Full web access to ChristianityToday.com
60+ years of magazine archives
The CT Archives are a rich treasure of biblical wisdom and insight from our past. Some things we would say differently today, and some stances we've changed. But overall, we're amazed at how relevant so much of this content is. We trust that you'll find it a helpful resource. - Mark Galli, editor-in-chief
Also in this Issue:
Charismatics: Catholics Fan the Spirit's Flame
Is Religious Liberty a Human Right?
Learning about Freedom
Letters
Life in the "Tribulations Sector"
No Other Gods before Mao
The Killing Path
The New Face(s) of the Religious Right
They Shoot Christians, Don't They?
Kantzer vs. Kantzer
Colorado's Prophet to the Channelers and Psychics
The Veep and the Sitcom
Colorizing Church History
Praying in the Desert
Principles on a Collision Course
CT Institute: Freedoms under Fire
Why Cable TV Is Not a Human Right
How to Keep a Prisoner Alive
Interview with Carl F. H. Henry: A Summons to Justice
Classic & Contemporary Excerpts from July 20, 1992
Presbyterian Church (USA): Resignation of Clerk-Elect Shocks General Assembly
Southern Baptist Convention: Baptists Oust Churches for Support of Homosexuals
Earth Summit: Searching for a Spiritual Foundation
World Scene: July 20, 1992
Africa: Famine Belt Moves South
Women Protest Compromise Statement on Ordination
News from the North American Scene: July 20, 1992
Spain: Ministries Team up for Olympic Outreach
Churches Need Coworkers, Not Tourists
Ecoguilt
Weeping over Jerusalem—Shouting over L.A.