The Magazine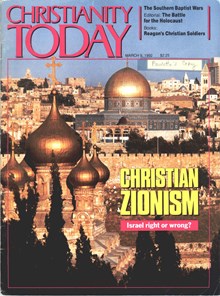 Read CT online anywhere you go.
Subscribers get full print and digital access, including:
10 award-winning print issues
PDFs of each issue
Full web access to ChristianityToday.com
60+ years of magazine archives
The CT Archives are a rich treasure of biblical wisdom and insight from our past. Some things we would say differently today, and some stances we've changed. But overall, we're amazed at how relevant so much of this content is. We trust that you'll find it a helpful resource. - Mark Galli, editor-in-chief
Also in this Issue:
For the Love of Zion
Letters
The Theology of Foreign Policy
World Scene: March 09, 1992
Speaking out: Evidence that Demands a Sermon
Alone with God Is Not Enough
It Happened
The Southern Baptist Wars
The next Sexual Revolution
A Gadfly in the House
Laughing with Sarah
Reagan's Christian Soldiers
Classic & Contemporary Excerpts from March 09, 1992
Is 'Prolife Democrat' a Contradiction in Terms?
Soviet Education: Christian Values Open Doors to Classrooms
NRB Moves Slowly to Enforce Ethics Code
News from the North American Scene: March 09, 1992
Signs and Wonders: Wimber Breaks Silence to Answer Vineyard Critics
Will the Church Miss the Volunteer Revolution?