The Magazine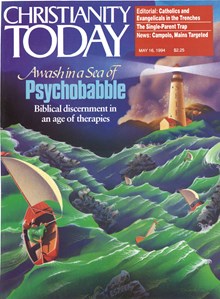 Read CT online anywhere you go.
Subscribers get full print and digital access, including:
10 award-winning print issues
PDFs of each issue
Full web access to ChristianityToday.com
60+ years of magazine archives
The CT Archives are a rich treasure of biblical wisdom and insight from our past. Some things we would say differently today, and some stances we've changed. But overall, we're amazed at how relevant so much of this content is. We trust that you'll find it a helpful resource. - Mark Galli, editor-in-chief
Psychobabble
Biblical discernment in an age of therapies.
Two Minutes to Eternity
Why would God allow the "miracle of birth" to be followed so closely by the mystery of death?
Also in this Issue:
Classic & Contemporary Excerpts from May 16, 1994
Hunting for Heresy
Letters to the Editor
Passing the Artistic Torch
Psychobable
Did We Hear the Angels Right?
Equipping Appalachia's Saints
Catholics and Evangelicals in the Trenches
Two Minutes to Eternity
Can Anything Good Come out of 'Hood?
Chinese Lessons
The Single Parent Trap
Computer Services: High-Tech Witnessing
News from the North American Scene: May 16, 1994
Barney Labeled 'New Age'
World Scene: May 16, 1994
Is Catholic Influence on the Wane in Poland?
Will Court Reshape Church-State Test
Charismatic Episcopalians: 100 Churches Have Joined New Denomination
The Stained-Glass Ceiling
Interfaith Accord: Evangelicals, Catholics Pursue New Cooperation
Tribal Conflicts: Bloodletting Sweeps Rwanda
Christian College Coalition: Students Explore Middle East
Books
The Thunderbolt Temptation