The Magazine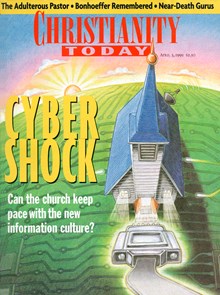 This feature is for subscribers only:
Subscribers get full print and digital access, including:
10 award-winning print issues
Standard and Reader Friendly PDFs of each issue
Full web access to ChristianityToday.com
20+ years of magazine archives
Table of Contents
Should Adulterous Pastors Be Restored?
The Bible's teaching about returning fallen ministers to the pulpit.
To Heaven and Back?
Betty Eadie died, met Jesus, and came back to tell us. So what's the problem? Plenty.
Cyber Shock
New ways of thinking must be developed for the church to keep pace in the coming information age.
Loading