true
Back in 1990, at the age of 5, I knew precisely when I needed to use the TV remote to pause the VHS of Batman (1989), directed by Tim Burton. At the moment the boardroom appeared, my mom would cover the television from view, protecting me from seeing Jack Nicholson's Joker electrocute another man until his head caught fire. I didn't know what I was missing at the time. I only knew that I wanted to see whatever darkness was being withheld from view.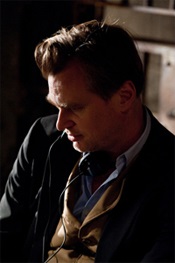 Frankly, I'm not sure which came first: my love of Batman or my insatiable desire to make sense of life's darker shades. But what's certain is that both traits prefigure and explain my appreciation for director Christopher Nolan's neo-noir oeuvre, to which one more film—The Dark Knight Rises, the last of Nolan's Batman trilogy—will be added later this week.
Since 1998's Following, Nolan's films have been pervasively grim in both tone and content. But I find one particular element of this recurrent gloom most compelling—the sense in which this darkness is characteristically psychological. Nolan's films focus on persons who are, to varying degree, alienated and, as a result, rendered paranoid by their inhabitance of the alternate world that self-deceit produces. Nolan's characters are oft imprisoned inside themselves, in need of revelation and community. Desperate for a source of light, these characters often develop an irrational fear of life outside the mind. Their ability to perceive reality begins to deteriorate.
An unseen 'otherness'
In Nolan's first feature film, the black-and-white Following, the protagonist gains enjoyment tracking strangers from a distance. But when he becomes entangled with Cobb—a burglar also seemingly motivated by thrill and curiosity about human nature—he's soon caught up in an underworld rife with deceit. In the end of the film the protagonist, who has been enticed by the desire to steal intimate details from other persons without making himself known, is burned by his own game. "It's nothing personal," utters the lover who has spurned him (and who, herself, is ultimately spurned by Cobb, too). Nothing personal, indeed. It's the film's essential line (it's said more than once) and encapsulates the lurking evil that Cobb embodies, a stalking deceit that inspires paranoia in others about others, because it's an otherness that doesn't reveal itself.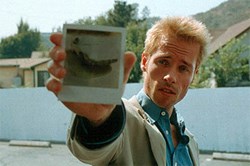 Memento (2000), Nolan's first major feature and cult classic, builds on Following's non-linear approach (a recurring complement to Nolan's paranoia/darkness) by inviting the viewer into a puzzle that, on the first viewing, is never quite clear until the final scene. Lenny (Guy Pearce) wrestles with a psychological darkness that stems from finding his wife raped and murdered. That trauma renders him incapable of retaining memories for more than five minutes. Tragically, revenge is now the telos of Lenny's existence; armed with tattoos and sticky notes, he lives to avenge his wife's murder. Or does he? Even worse, with his memory issues, Lenny is incapable of forming a meaningful relationship. Has he been deceived? Has he deceived himself? Can he know? Due to the pain he's been dealt, Lenny has no problem giving himself a menacing purpose—one even more reckless than revenge.
In Insomnia (2002), Detective Dormer (Al Pacino) can't sleep. Partly because he's in Alaska's perpetual daylight investigating the murder of a teen girl, but mostly because he's haunted by the difficult, morally compromising decisions he's made during his career. Worse, Dormer accidentally shoots his partner while pursuing the killer, and then proceeds to cover up the incident. Only the killer knows his secret, but Dormer, by the very nature of his secrecy, confusedly inhabits the alternate reality produced by his lies. Is he no different now than the killer, who joins him in that alternate reality? "Murder was easy," the killer tells Dormer. "That reality doesn't exist outside our minds." Yet, Dormer can't seem to inhabit the alternate reality of deception without the consequence of increased self-delusion and paranoia.
In The Prestige (2006), the nature of deception is perhaps most evident in all of Nolan's films. It's about a rivalry that develops between 19th century magicians Robert Angier (Hugh Jackman) and Alfred Borden (Christian Bale). Performing illusions by distorting their audience's senses, Angier and Borden employ increasingly deceiving tactics to triumph over one another. Soon, deceit becomes their manner of living. "Secrets are my life," Borden tells his increasingly alienated wife. "Stop performing—this isn't you!" she retorts. But his deceit continues, leading to his wife's suicide. But Angier also loses himself in deceit: In his lust to defeat his rival, Angier frames Borden for his own murder. Angier is willing to commit suicide and perpetuate his legacy through cloning, and he's only outdone at the expense of Borden's identical twin brother. Concealing the truth ceases to be an entertaining trick, and instead becomes the mad magician's identity with traumatizing effect: ultimately, there is no prestige.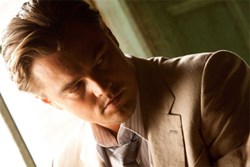 In Inception (2010), in a world with the technology to enter people's dreams, Cobb (Leonardo DiCaprio) is a troubled thief who steals ideas from people's minds. He's hoping to complete one last mission so that he can return to the U.S. and reunite with his children. Cobb had fled as a suspect in the murder of his wife, Mal (Marion Cotillard), when, in fact, she had committed suicide. What led to her suicide is also what causes Cobb unrelenting guilt and grief. Cobb and Mal had created a world in "limbo," inhabiting a shared dream for what felt like 50 years. But becoming the creators of their own existence was bound to be fraught with problems. Cobb and Mal cannot escape the reality that they are not the all-in-all of their own existence. "It wasn't so bad at first feeling like gods," Cobb says. "The problem was knowing that none of it was real." Manipulating reality is not inconsequential. Even after waking up, Mal is convinced—thanks to an inception from her husband—that she needs to kill herself to "return home." Inhabiting a false reality eventually leads Mal into madness, paranoia, and suicidal self-deception.
Belief's necessity and the restraint of conscience
In Nolan's Dark Knight trilogy, Batman has his own psychological troubles. His parents were murdered when he was a child, and, of course, he developed a fear of bats. But what makes Batman unique in Nolan's films is that he is self-aware of his troubled mind. In Batman Begins, we see how Bruce Wayne becomes Batman, leveraging his fear toward defending the common good against the darkness instead of succumbing to it. Nolan's Gotham may be more complex than other superhero worlds, but it's an ethical world with a discernible right and wrong. The ethical element is at the fore of The Dark Knight, and it's why Heath Ledger's Joker is so engrossing. He tries to convince everyone—Batman included—that darkness's chaos is an ontological reality. But Batman shows that ours is a fallen world that still posits the moral imperative as a binding truth—a light that shines on the darkness and illuminates it as darkness.
In the trilogy, two of Nolan's recurrent themes re-emerge: belief's necessity and the restraint of conscience. In The Dark Knight, the people of Gotham—when faced with the Joker's menace—need someone, perhaps a savior, to believe in. Part of Batman's sacrifice in the third act is his belief that the citizens needed to believe in someone good—in this case, the "white knight," Harvey Dent. The theme manifests in Memento when Lenny says, "I have to believe in a world outside my own mind. I have to believe my actions still have meaning." Or take, for instance, the "leap of faith" coda in Inception. Mal needs to believe—to have faith—if she is to return home. It's telling, though, that in all three films, the object of belief is a lie. Yet, the fact of belief is, in itself, a potential source of light to our psychological darkness.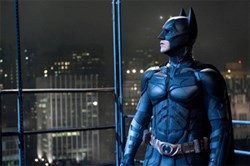 So, too, is the restraint of conscience. Of course, Batman leverages fear toward moral purposes, agonizing—however imperfectly—over what is right. But The Dark Knight's most relevant scene is when the Joker rigs two full ferries with explosives. The Joker is sure that one boat of people will detonate the other before time runs out and they're both supposedly set to explode. Ultimately, though, neither set of passengers gives in to the test. Moral conscience wins out. In Insomnia, Dormer—wearied by his secrecy—says "a bad cop can't sleep because his conscience won't let him." And, unlike Mal's "leap of faith," Cobb's is rooted in the "truth" of the guilt he feels for planting the idea in his wife's mind that would lead to her suicide. Confessing his guilt and trusting in its power to free him is the leap of faith that Cobb decides to take.
Nolan's meditations on humanity's darkness push us to ask challenging questions. Is there a kind of ultimate prestige? What will be the nature of the Dark Knight's rise in the new film? Will we ultimately rise? Is there a person that we can believe in who has risen?
Once we begin to recognize our propensity to deceive ourselves into darkness, we can begin to see signals of how we might transcend it. We must believe in something outside ourselves. Our conscience restrains us, convicting us of the imperative to love others—and of our failure to do so. But perhaps the greatest signal of transcendence in Nolan's work is his meta-commentary on moviegoing in Inception: We desire catharsis. In a sense, it doesn't matter whether or not the totem fell—not because reality doesn't matter, but because the fact that we desire it to fall says something about ourselves. Something's wrong. And we need a Light to break through.
Nick Olson, who has an MA in English from Liberty University, is a film aficionado who also writes at Filmwell and Christ and Pop Culture.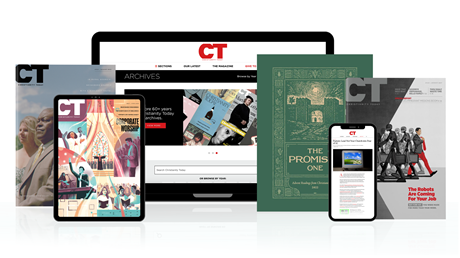 Subscribe to Christianity Today and get access to this article plus 65+ years of archives.
Home delivery of CT magazine
Complete access to articles on ChristianityToday.com
Over 120 years of magazine archives plus full access to all of CT's online archives
Subscribe Now
Deception's Darkness
Deception's Darkness