true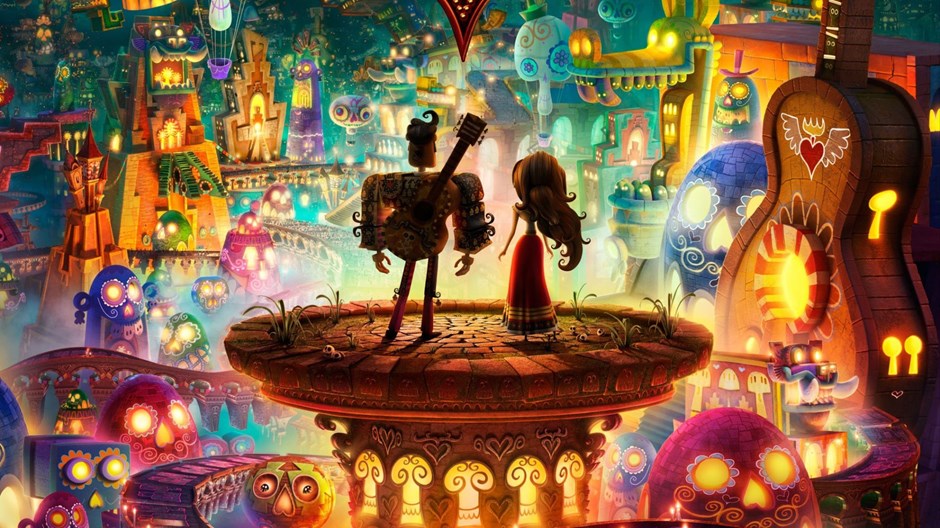 Image: Twentieth Century Fox
A busload of spitball slinging schoolchildren are unloaded at a museum, expecting to spend the day menacing the world around them. However, they are greeted by Mary Beth, a quick-witted tour guide who seems knowledgeable in dealing with mischievous tricksters.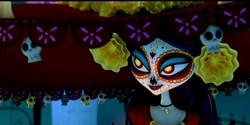 Image: Twentieth Century Fox
Grabbing their attention with an optical illusion that leads to a secret passageway, Mary Beth leads the children to an obscure room where she introduces them to a mysterious book. It's the "Book of Life," she tells them, and it contains all of the world's stories. Inviting them into a particular story, Mary Beth begins reading about San Angel, a Mexican town brimming with myths and traditions. Family histories are reestablished with each generation, for instance, through participation in the Day of the Dead and bullfighting.
So Jorge Gutierrez's The Book of Life begins when a group of children are enticed by the power of story. The central story unfolding in San Angel is being read aloud as one story among the world's many.
Mary Beth begins her story three kids and two gods. The three young children—guitar strumming Manolo, bold and fake-mustache wearing Joaquin, and independent-minded María—rollick together about town, each filled with dreams that are like expectations for how his or her story might transpire. They look like wooden puppets—or figurines that Mary Beth can use to visually represent the story to the captivated children.
Manolo's conflict is that he inherits a family tradition of bullfighting, but he prefers playing his guitar and, though talented at sidestepping charging bulls, doesn't like the tradition of animal slaughter bound up with the sport's expectations. Joaquin longs for adventures in which he may prove himself a worthy hero, particularly after the death of his father, a soldier who died at the hands of the thieving beast, Chakal. María's spirited instinct and counter-cultural sympathies are at odds with her father General Posada's more overbearing tendencies.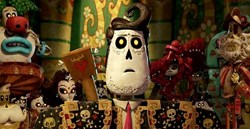 Image: Twentieth Century Fox
The main conflict amongst the children, though, is that both Manolo and Joaquin are (even at this young age) in love with María. They vie for her attention by trying to impress her enough to win her affection.
And this is where the two gods become especially invested.
La Muerte (Spanish for "death") presides over the Land of the Remembered, where she is honored among the spirits who live on so long as their loved ones preserve them in memories. With long, witch-black hair, La Muerte wears an overlarge sombrero decorated with dangling skulls intermixed with candles lighting the darkness. Xibalba ("place of fear") is sovereign over the Land of the Forgotten, populated with souls disintegrating due to their absence amidst the memories of the living. Wielding a snake scepter, Xibalba is dark-winged and skeletal, a trickster with a darker appearance than La Muerte.
The "remembered" lived in a land of celebration, while the forgotten barely exist in an underworld of fear, and these descriptions of the lands characterize their rulers. La Muerte is more protective and giving when compared to Xibalba's meddlesome deceit.
La Muerte and Xibalba make a bet as to which boy María will choose; La Muerte sides with Manolo, while Xibalba chooses Joaquin. María's father sends her to boarding school, but when she returns a mature, confident woman, she finds that Manolo and Joaquin are still waiting for her, hoping for her hand in marriage.
Who will María marry? This question drives the film, set within the tension between duty to family and personal desire. And with vastly different motivations, the gods wield their influence toward the answer.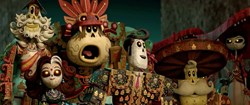 Image: Twentieth Century Fox
The Book of Life is visually splendid, an explosion of color and movement that lends a lively countenance to a death-haunted fantasy. Faces and backgrounds are emphasized by exaggerated animation, as if to direct our attention to touch points of significance. Whether in San Angel, the Land of the Remembered, or the Land of the Forgotten, we're always invited to inhabit a world detailed enough to make us want to watch again, without being frustratingly frantic.
The film also emphasizes myth, tradition, and folklore to convey the power of stories. It pictures an enchanted world shot through with spirituality, significance, and "the other side" made literal.
But The Book of Life is also a musical that relies on recreating chart-topping hits, some of which you've heard if you've been anywhere near a radio in the last couple of years. Dramatic moments are set to songs that ring of Owl City, Mumford and Sons, and Radiohead. Some viewers may appreciate the references on some level of emotional connection. But the pop music struck me as dissonant and distracting in an otherwise fully-imagined fantasy characterized, in large part, by otherness. Pop culture is diverse, and maybe the filmmakers wanted to establish textures of recognition in a world of distance—but the songs seemed more gimmicky than fitting, like Xibulba is manipulating viewers to be engaged.
One other complaint: the Candle Maker, who oversees the living and holds the book of life, is far too bland. He's an uninspired nod to the fact that the "book of life" has obvious religious connections. But he's almost wholly irrelevant to the significance of the story, and that makes the very significance of the book of life a bit shallow. We get sharply-drawn characters and an interesting thematic exploration of the tension between tradition and individuality, of the relationship between the living and the dead, and of the selfless nature of love. But the film veers too close to modern, clichéd conclusions like "write your own story," and "always play from your heart," to name a couple.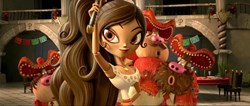 Image: Twentieth Century Fox
Understandably, some Christians might wonder at the tension of a film called The Book of Life that is shaped by the Day of the Dead. But the Day of the Dead has close associations with All Saints' Day and All Souls' Day, Catholic holidays dedicated to honoring the departed among us. Given these reference points, this film—while not discernibly Catholic—is far from a celebration of death itself.
On the one hand, then, it's odd when the film touches on mythology in which the sustainability of souls after death is predicated on the memories of the living. But in most myths there are also truths embedded.
I left The Book of Life thinking about storytelling from one generation to the next, and how recollection can involve both religious contemplation and recalling the past. One way that we are able to preserve the past is in that we recall it to mind to one another in narrative form. And through the re-telling of these stories, our own stories are shaped.
The question is this: what do these histories consistently call to mind? What ancient memory—what beginning—has haunted our memories, like a nostalgia for something we've lost and long to regain? I wish The Book of Life's storytelling delved deeper here, but it's not without some suggestive answers that may inspire further contemplation.
Caveat Spectator
The Book of Life features some scenes of bloodless violence, a drunken reference to barhopping, and menacing villains and bulls. Death and darkness are part of the texture of the imagined world, creating an atmosphere that may be too tonally mature for younger children who are especially sensitive.
Nick Olson is Assistant Professor of English at Liberty University, and he writes on film for Christ and Pop Cultureand Filmwell. You can follow him at @Nicholas_Olson.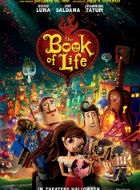 Browse All Movie Reviews By: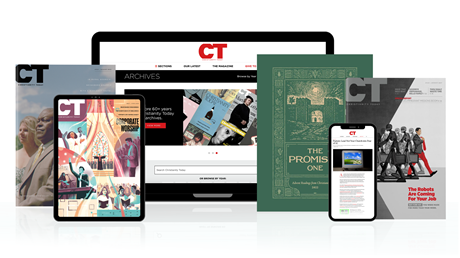 Annual & Monthly subscriptions available.
Print & Digital Issues of CT magazine
Complete access to every article on ChristianityToday.com
Unlimited access to 65+ years of CT's online archives
Member-only special issues
Subscribe
The Book of Life
The Book of Life