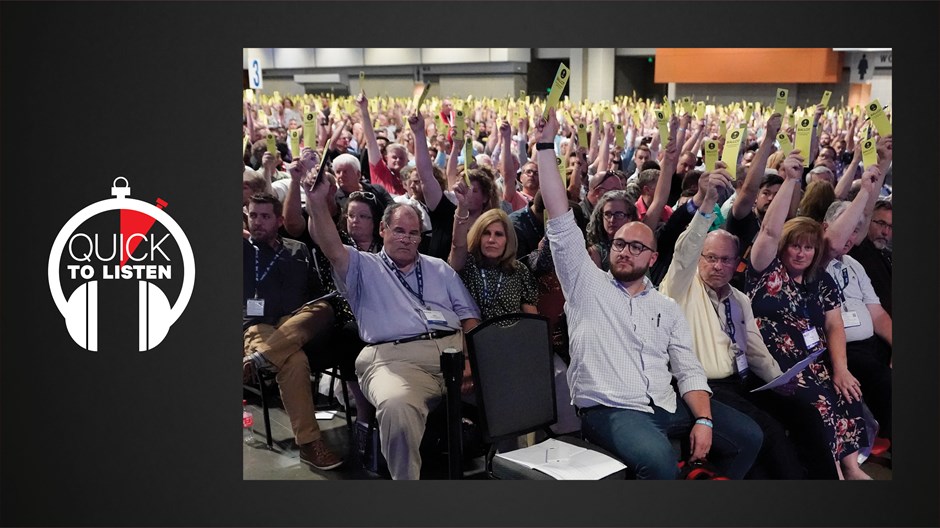 Image: Associated Press
Subscribe to this Podcast:
More than 16,000 Southern Baptists met in Nashville this week for their convention's annual meeting. The largest crowd in a quarter century, the meeting attracted significant mainstream media attention as tensions over critical race theory and sexual abuse went public.
On Tuesday, Alabama pastor Ed Litton won a run-off to become the next president of the denomination. He faced Georgia pastor Mike Stone, a candidate supported by the Conservative Baptist Network, a group which has campaigned actively against perceived liberal drift and "woke" theology in the denomination.
On Wednesday, a resolution to investigate 20 years of allegations of abuse claims mishandled by the Executive Committee was approved. It will also examine the two-year-old committee tasked with reviewing abuse and coverup as grounds for dismissal from the convention.
This week on Quick to Listen, we will get into the inside baseball of this year's Southern Baptist Convention meeting and why it matters for Christians outside of the denomination.
Senior news editor Kate Shellnutt joined global media manager Morgan Lee and news editor Daniel Silliman to share what she learned from covering the convention this week.
What is Quick to Listen? Read more
Rate Quick to Listen on Apple Podcasts
Follow the podcast on Twitter
Follow our hosts on Twitter: Morgan Lee and Daniel Silliman
Follow our guest on Twitter: Kate Shellnutt
Music by Sweeps
Quick to Listen is produced by Morgan Lee and Matt Linder
The transcript is edited by Bunmi Ishola
Highlights from Quick to Listen: Episode #269
This conference was attracting a lot of attention before it even started. Why was everyone interested in what would be happening at the Southern Baptist Convention before it even happened?
Kate Shellnutt: Southern Baptist just take up a lot of space in the [church] conversation, but this is the first time in two years that the Southern Baptist have gathered because like almost all denominations last year, big gatherings were canceled by COVID, and a lot has happened over those two years.
We saw the defeat of President Trump in the 2020 election, and Trump had kind of exposed some fissures within the denomination. And then we saw the creation of this hardliner conservative group called the Conservative Baptist Network about a year and a half ago. We also saw—kind of as a result of both of those things—an increased sense of infighting on Twitter, some of which was about the abuse and race issues, which I know we're going to get to because there are big issues of the convention, but also about other points of polity, theology, the sufficiency of scripture, the role of women in the church.
And so it felt like, "All right, where are we going to go? What's going to come out of this?" And a lot of people that I talked to felt like the direction of this Southern Baptist Convention was at stake, especially when members of the Conservative Baptist Network were explicitly calling for a takeover. And for a lot of people that wasn't what they wanted to see happen.
In the end, there was a strong showing from the Conservative Baptist Network, but I think the core, the center of the rank-in-file Southern Baptist showed up even stronger. So those were the inner tensions that were at stake.
It seems that the presidency of the Southern Baptist Convention was especially critical this year. Was it more important to the various factions in the convention this year than it was in the past?
Kate Shellnutt: I think it was a lot more important this year because there were really stark differences between the candidates as a result of those divisions. Four candidates ended up running and normally it would be just two, and sometimes there'd be two with a clearer front runner. In this case, pretty much no one knew how the race was going to go.
And so if you felt strongly and passionately—and many people did—there was a real incentive to show up for the election. Nashville is in the south and pretty centrally located, and some churches bussed up for the day just to have delegates there to vote.
So it was enough of a real "turn out the vote" on the ground campaign by the Conservative Baptist Network, and then a fear-in-response by people who were opposed to that candidate, Mike Stone. He's a pastor in Blackshear, in rural Georgia, a small, small city. And he also was the former chair of the executive committee, which is a decision-making body in the Southern Baptist Convention, and one that has come under scrutiny—and his leadership, in particular, has come under scrutiny—over handling of abuse as well as some other things.
You said there were four candidates. Mike Stone from Georgia, is the champion of the Conservative Baptist Network, who were the other three, and what did they represent?
Kate Shellnutt: The best-known name of the bunch is Al Mohler, who's the long-time president of Southern Seminary; a public theologian with a popular podcast, The Briefing; well-known, familiar face, big-name; and I think, if he had been elected, would have been the first president of the SBC in decades to both be president of the convention and a Southern Baptist entity, a seminary.
So he kind of represented both sides thing, where there were some ways that he was leaning towards some of the Conservative Baptist Network interests, but also some ways that he was against the network itself and felt strongly about the SBC being the SBC and not this other organization. And then he had also addressed critical race theory and had led so many seminary pastors in a statement to condemn it. So he was known for his stance on that.
The third candidate was the one who ended up winning, his name is Ed Litton. He's a pastor from Alabama. He's probably the least known name, but someone would like a pastor's heart and was known as the pastor's pastor. And in a lot of ways, that's the broad appeal for Southern Baptists in the delegation—this idea that this man knows what the rest of us are going through on a congregational level.
And he was known as someone who's compassionate and humble. He was involved in racial reconciliation efforts in his area in Mobile, Alabama, and had led initiatives to counter some of the over-the-top anti-CRT language; talking about the importance of acknowledge systemic racism and talking about the responsibility that pastors in southern cities have to reckon with the racism in their past.
And then the fourth candidate was kind of a rogue candidate. I would consider him like a third party, where he wasn't really running for the sake of winning, but for the sake of putting some issues forward. His name's Randy Adams and he's out of the northwest, so not a huge Southern Baptist stronghold. But his whole campaign was around transparency and accountability. Essentially eliminating those closed-door rooms, eliminating decisions made in secret on the denominational level, opening all reports and files.
So there was some interest in him, but in the end, Randy Adams got something like 4% of the vote in the initial race. And then it was split between the other candidates with Mike Stone actually getting the most in the initial vote, but not a plurality. So it was Mike Stone and Ed Litton who went into a runoff. And then in the runoff, Litton ended up the winner via 52% to 48% margin.
The reaction in the room was positive, definitely applause and relief. And it was kind of a win in some ways for both sides. Because those Baptists in the center who are worried about the Conservative Baptist Network are so relieved and happy and have a lot of trust and hope in Ed Litton.
However, the Conservative Baptist Network had a strong showing. They had a chance, and they feel like, "Hey, if we did this well the first year we present a candidate, I think things are pretty promising for our place in the denomination as a future." So they really see it as good ground to build on going forward. And yes, disappointed at the defeat, but seem proud of the turnout they had. And one of their candidates won vice-president.
Is there open campaigning leading up to and during the convention?
Kate Shellnutt: So like a lot of things with the Southern Baptist Convention, it's not an intuitive process, and the procedures take some of the expectations out of it. And one of those things is that no one is officially nominated as a presidential candidate until about 10 minutes before you vote, and not until someone goes on stage and nominates them.
So technically, even though these men put their names out to be in the race back in January and February, they weren't official nominees until the day of the convention. And because of that, they have to sidestep talking about campaigning.
Most of what they do are round table discussions and online discussions ahead of the meeting. And then in the room, because usually, you will sit with the members of your church, I could tell that some of these churches definitely had candidates that they were going to support. And so there were segments of the room where I would tell based on different votes, where they were voting or where they weren't.
In the weeks leading up to this gathering, there seemed to be an anger that top leaders had towards each other or towards how particular issues around sex abuse had been handled. Did any of that tension that existed online characterize the actual in-person event or the way that sources communicated with you?
Kate Shellnutt: Yes, there were a couple of different instances where sex abuse, and the denomination's response to sex abuse and potential investigations into that response, came up on the floor as well as inside meetings at the convention. And I think that there was a real desperation from the pastors who are leading that charge.
They are a small number, but very vocal, very deliberate about what they need to do. And there was a desperation for them to get people to get it, to get why this is so important that actions be taken, that they not skip an opportunity to do more than they've done in the past.
And I felt like there were times where these motions didn't get the outcome they wanted. In one case, it was essentially decided to allow the executive committee to investigate itself rather than have someone else oversee this outside investigation. And it took someone coming to the mic and calling for a recall vote to be able to bring it up again. You could really sense the conviction in them.
In another case, the pastor stood next to a victim of sexual abuse who was sobbing by his side. And so it was a real emotional moment to see kind of that partnership with pastors who had been listening to and had like their actions informed by the voices of sexual abuse victims.
And I would say that was maybe the biggest contrast between this conference and the conference prior to this in 2019. In 2019, the #churchtoo movement protested outside the convention. And even though the SBC was addressing sex abuse, it was kind of doing it on its own terms. And I even remember hearing some warnings about those protesters.
This time, there were people in the hall who were victims, who were part of that movement, who were now being listened to and invited in and consulted on it. So there's some progress being made. And I think that that's a sign of hope, but also a wait-and-see moment of what will come of the resolutions that were passed.
Can you share more about how sex abuse was addressed at this conference? And more importantly, why was there so much emotion about an issue that had been centered and discussed two years ago?
Kate Shellnutt: Just a couple of weeks before the annual meeting took place, there were a series of documents that were leaked online that implicated leaders in the Southern Baptist Convention executive committee, which is technically the decision-making body that makes any decision outside of this three-day convention.
These materials suggested that there were top leaders in the executive committee, and the staff of the executive committee, who were actively resisting the efforts that were passed back in 2019. That they were maligning victims and victims' stories, and that the problem wasn't as big as had been communicated and they were generally discouraging the efforts being made around it.
And that was infuriating to a lot of victims, advocates, and pastors who care about this because it was their worst fears come true in black and white. And because of that, there has been intense scrutiny right now to get to the bottom of what happened here and really look into the response being done by this executive committee.
Possible outcomes for this investigation, which is supposed to be reported on a month before next year's convention, could tell if the mechanisms for reviewing churches who have hired known abusers are working as they intended. They're supposed to be able to review and disfellowship churches that do that, and they've only done it a couple of times. And so it feels like they might not be doing that to the best of their ability. And then also knowing how much these efforts to resist are hurting their attempts to care for and treat victims.
I will say, as one other meta-themes in the conference, is if there were a loser in the SBC annual meeting this year, it is that executive committee. They had a funding financial bill that had come up, and that motion was resoundingly rejected by the whole meeting. And essentially there's a real lack of trust in the denomination for this particular body, which is powerful for what it is in a denomination that considers itself independent. So it could also lead to bigger changes in how the SBC is structured.
Sex abuse has been this looming issue for years, and there has been more and more pressure for the convention to actually take action and do more than they had done in the past. And so there were multiple places where abuse victims had signs of hope and had seen pastors advocate for them more than they had before.
So some of those would be an investigation into the executive committee and its handling of abuse. Another opportunity was the Ethics and Religious Liberty Commission had referred to doing a full audit of how abuse cases are addressed within SBC churches, how often they come up, and what kinds of responses they get. And they're going to be moving forward with that. And then there was also a resolution made about naming sexual abuse by a pastor as permanently disqualifying from ministry and encouraging all Southern Baptist churches to adopt that as a standard.
So I think that, whereas the convention before had obviously addressed sexual abuse because it had come up so often, there's more specific action being taken here and more of a sense of wanting to call out and respond to those who have been resisting it. And I think that it's a sign that more Southern Baptists have actually done the work to learn what sexual abuse is.
I did want to share one anecdote. There was one leader who at one point resisted one of the measures to provide additional accountability for investigating an abuse response. And he said that Southern Baptist churches being the safest place for kids on the planet and how it's just moms and grandmas, and nobody is out there harboring abusers. And the fact that those were kind of the examples he used showed this narrow understanding of sexual abuse. Not thinking about adult women, not thinking about teenagers, not thinking about the way abusers are grooming in churches.
And the fact that there are now more and more leaders who are understanding those things, and who came to the mic to call it out and say, "here are the ways that we've had kind of wrong assumptions about what abuse was and its place in our convention," I think that is a sign of progress.
Though a lot of victims might say it's much too late, I do think you're able to see some changes.
Did you see people publicly taking a stance and identifying themselves as victims in a way to make the issue more human, less technical, and maybe unavoidable if you're in the convention?
Kate Shellnutt: I will say that some of the people who were involved in the initial "caring well" response that had been launched back in 2019, actually weren't at the convention this year because of the trauma, the fear of what would happen especially if these things didn't pass, or even a lack of hope and lack of optimism in the SBC these days. And I know of at least one survivor who has left the SBC, even though she was once platformed as a voice for SBC abuse reform.
But I also think that seeing those women's stories play out the way they have and seeing the depth of how victims are affected—not just by the abuse that they have endured, but by the very slow and kind of uphill battle response they've had to deal with over the past few years—has made the issue more urgent for certain pastors.
I would not say it's everybody there, but there are a few really committed pastors. There was one pastor who was like had on his t-shirt "I stand with survivors #SBCtoo." Many pastors had changed their Twitter images to the #SBCtoo ribbon to stand with survivors. And we weren't seeing that in 2019 as much. I think pastors were still kind of waking up to what it was.
So the fact that just in two years there had been that change is because of the advocacy and the work and the outspokenness and the conferences and the training over these years. The fact that there was an expectation that it has to be a third-party investigation, it has to be one with this task force to oversee it, it has to be one where we get the full report—there's a little less tolerance for some of the more limited responses and people really do want to do right.
And so everybody voted in favor, or a vast majority, it wasn't even close the vote. But it took people having that concern and learning and listening to survivors in the first place, which is what they've wanted from the beginning.
So I do think it's clear that that they're being listened to more than they have before and that there's less tolerance for those who have tried to avoid them.
Another big issue, especially for the Conservative Baptist Network, was critical race theory. How was that addressed? What were the resolutions or other actions that the convention took concerning CRT?
Kate Shellnutt: I felt like critical race theory came up everywhere. At a certain point, I wished that I had been keeping a tally of mentions of CRT versus mentions of abuse, but I know that CRT would have won out.
It felt like in almost every part of the meeting, it came up in some way. Sometimes an explicit mention of it and sometimes a vague reference to "other ideologies" or "secular ideologies" or "anything but the gospel," "anything about scripture." A lot of times those were referencing what they consider CRT.
A couple of the ways that it came up were in reports about seminaries. There's all this concern about our seminaries are teaching CRT, there were a lot of questions from the floor about if the SBC can help better define and provide resources on what it is and isn't. Can we talk about how it's being taught in seminaries? Because some seminaries do teach it, just like how in a sociology class you're going to learn about Marxism, but it doesn't mean you'll be told to become a Marxist.
The other thing that was probably the biggest mention of CRT was in a resolution. So resolutions are statements of belief, opinions, or views by the messengers. And there's a committee that chooses which resolutions go before the whole group. And they had over 1300 people submit resolutions on CRT.
And all those people are listed, and a couple of cities come up very popular. So you can tell these are all people from the same churches and they're all people from Conservative Baptist Network pastor-led churches. And if they get a lot of suggestions on a similar theme, the committee will condense into one, and the title they settled on was something that didn't mention CRT by name, but instead talks about essentially any theology that puts an ethnicity or other identity marker above our humanity in Christ—it was a vague reference that could apply to other theologies too. And [the people who put forth the resolutions] were upset. If we're talking about CRT, why doesn't it say CRT? But in the end, that version of the resolution did pass. And so that was interesting. It was a version of it that everybody could get behind.
The other thing that was big on CRT is there's a previous resolution called Resolution Nine that was explicitly about CRT. And it was meant to say, "We see how CRT can be helpful as a tool and thinking about and studying race, but we also want to make sure it's not a tool that rises above the gospel." And so most people took it to mean that, but some people who were critical said, "This gives the CRT too much leeway. We're acknowledging it as a tool, then that's an endorsement."
And so there was a huge move to rescind this Resolution Nine, which came up multiple times. The problem with it is that all resolutions in the SBC are statements of what the convention believed at that time. And so in the parliamentary procedure of it all, you can't rescind a resolution. And people were really mad about that and kept trying to get around it. But the resolution stands. You can disagree with it, but it stays.
Many people listening to this podcast do not think of Southern Baptist as holding progressive positions, especially on an issue like race. And obviously, we know from the past four years, there's been a huge narrative of white evangelical support for Trump. So where exactly does the fear that critical race theory has had a significant influence on the Southern Baptist Convention come from?
Kate Shellnutt: Well, it's a little funny. I was talking with sociologist, George Yancy, who's s sociologist who studies race and religion at Baylor, and I was asking where it came from and what the Southern Baptist's role was in promoting this as an enemy and public evil. And we talked about how back in 2019, that resolution was maybe one of the first times I'd ever heard of critical race theory.
So they were a little bit ahead of the move that we now see in different states to be in it in schools, this broader critique of it that rose up in the final years of Trump's presidency. And so it's possible that they set some groundwork for that. It's possible that those two movements kind of just ran in parallel.
But I think part of it is, according to Yancy, the idea of being uncomfortable and unwilling to acknowledge some truths about race—things like white privilege, things like the aims of the Black Lives Matter movement, and wanting to loop them into something that they can call unbiblical. And so it's less about the actual theory and more about anything that makes me uncomfortable that I don't want to promote, I'm going to put it in this camp and then turn that into the target.
Was anybody at the Southern Baptist Convention defending critical race theory? Is the debate really about CRT as a tool, or does it go deeper than that?
Kate Shellnutt: Almost every person before they said anything about race would have to give a caveat of like, "You know that I'm against critical race theory," or "I do not believe in critical race theory, but we have to acknowledge XYZ…" and then they would make their statement.
So there's this whole thing idea that you have to establish that we believe the Bible is first and we're not for this. No one is wholeheartedly endorsing it. I think different people have different levels of comfortability of what they want to take from it, but nobody is saying this is the number one priority for us.
The interesting thing is that most pastors, when I asked, "What's the issue that you think is most important here?" They would say CRT. And my follow-up would be, "Are people in your congregation asking you about CRT?" And most of them said, no. So, I didn't see a lot of evidence of it on the ground, rather it being an ideological enemy that they worry about the potential of.
I will say, it comes up enough, and with enough passion, from those who are opposed and who are truly worried that this secular ideology is taking over, you're going to make me apologize and repent for my whiteness. Those were the kinds of things that people would be speaking about from the microphones as they were making motions. And the level of attention that it got is hard to ignore.
It was enough that outgoing president, J.D. Greear, who's a pastor in North Carolina and has been president of the SBC for three years, addressed it in his outgoing sermon. He said, "Listen, I'm sick of hearing that we are madder about CRT than we are about racism," and basically condemned those who want to continue to accuse everybody who's talking about race in any way in the SBC of being of secretly trying to work CRT in.
And race isn't a tangential issue for any of us. We live in a society now that it's a really important thing for everybody to be thinking through. But I would make the case, especially for Southern Baptist, that while they're still a historically white denomination and are whiter than the country as a whole, yet the only congregations that are growing in mass are the congregations that are led by pastors of color, and the church plants that are majority non-Anglo. This is where their future is headed.
And J.D. Greear made the case that if we're not making things right with how we communicate about race, with how we treat and include leaders of color, then we're going to not only lose these really gifted and effective pastors in our convention, but we're also going to lose our own white children. That there's going to be a generation that no longer trusts us on evangelism if we're distracted by CRT, which is really like a boogeyman within the convention.
Another one of the huge Southern Baptist stories from this past year has been the number of high-profile people who have left. Some of the names that have gotten the biggest attention in recent months have been Beth Moore and Russell Moore, along with Charlie Dates and Ralph West, whose churches very sizeable and prominent African-American congregations. How did departures get talked about either directly or indirectly? And was there any sense of the denomination has done something wrong to have lost these leaders?
Kate Shellnutt: There was a round of applause, a mini standing ovation for Russell Moore in the ERLC report. Beth Moore was not mentioned from the podium, but a lot of people were chatting about the two of them being absent this year for the first time.
And I think that it's hard to say that they are representative of a huge trend, but there have been other people who I've called on as Southern Baptist sources as I was getting ready for this convention, who have confessed to me that they are no longer going to a Southern Baptist church, or they are no longer identifying a Southern Baptist. And that's one thing that I think that they're really aware of.
In Christian terms, they're a witness to the world. They know what it looks like to have people who had such a claim to leave. And they don't want to be seen splitting apart and fighting and pushing people out. There was even a prayer for unity, a motion made from the floor to cancel one segment of business, just to be able to pray for unity and the future of the convention.
The bigger concern is going to be the next generation. If you look numerically, they're aging so much and not baptizing enough children, teenagers, young people. That Southern Baptist kids aren't joining the church and staying Southern Baptist at the same rates. And so there was also a huge move and a huge time of prayer specifically on teenage baptisms and efforts around baptizing teens.
The Southern Baptist Convention is very decentralized in many ways. It's kind of a disparate movement of churches that may or may not have that much in common because the denominational structure is so loose. So when folks are sad about young people leaving the denomination, what is it that they fear is getting lost?
Kate Shellnutt: I think Southern Baptists love their autonomy, but they also love being Southern Baptist. They think that the Baptist faith and message is right and true, and they're proud of that identity.
So there's a family reunion feel to the SBC annual meeting that people are proud of. There were multiple times where people came to the mic after somebody would give a speech or someone would have a report just say, "I just want to let you know that I'm so proud of your witness as a Southern Baptist."
I think there's an iron sharpening iron element. There's a fellowship between Southern Baptist. And even as much as I think they were worried about the tension, they were also just really happy to have this shared identity and to be around people who get what their priorities are, who understand some of the ins and outs of their quirks, and to be in the company of fellow Southern Baptists.
From watching it play out on Twitter, what am I not seeing? What am I missing from that distance?
Kate Shellnutt: Twitter just shows the emotions from the stage, and I think in some years that's less important, and it's actually just important to be the gathering and to catch up with people to have that social aspect.
But this year, I think more business-driven and the stakes were higher. So people were in the room more often. But there would be stuff offline. Like during the breaks, all the seminaries have different lunches, and different interest groups have meetups. There are performances by Andrew Peterson, Ellie Holcomb. There's a lot of just having fun together. One thing that I think is interesting is that there are kids everywhere. They have a kids program that goes on too. And a lot of people bring babies.
I guess the other thing that's important to know is that a lot of what plays out in a couple of minutes of meeting time has been strategized to a T, has been decided on in advance—whether it be the exact wording of a motion, who's going to propose what—a lot of the business that comes forward has been planned in back rooms and has been decided on by groups.
And I don't say that to be nefarious. Let's take the example of this motion to have this outside task force, be the one to investigate the executive committee. This took two pastors basically campaigning for the idea, promoting it, getting it out on Twitter, spreading the word, and then working in consult with abuse survivors and working in consults with people who know the ins and outs of SBC bylaws.
And so there's kind of some campaigning going on in that way to make sure that there's the right momentum behind stuff. Because if you're not organized, there's a lot of ways that if you just make one little misstep then something that's really well-intentioned and important could fail. Not because the group didn't support it, but because some of that legwork wasn't done. So it is more calculated than we realize just from watching.
Did you have any conversations with leaders of color at the convention? And if so to what extent were they were willing to open up or express how they feel about the SBC these days?
Kate Shellnutt: One of the pastors I talked to is Frank Williams, and he's the new president of the National African American Fellowship within the Southern Baptist Convention. And one of the things I talked to him about was his experience taking head of this African American subnetwork at this point when race is such a hot issue, and how we've seen black pastors who have left over a race.
There was the idea that pastors like him are really put on the defensive like they feel like they have to justify their presence here. And yet he's someone who really saw his faith come alive in a church in New York that he pastors now that's an Afro-Caribbean church. And so for him, it's just kind of what he has known. And now there are these conversations that essentially don't involve him—CRT Isn't something that he has to adjudicate within his own congregation.
And he just emphasized the idea of being called to be part of a solution. That the SBC has a way to go, but a willingness to serve and to want to walk towards what's right. And then also to want to support and have like a better system for the black pastors that are coming up, the people who come after him, for church planters. So that was one of the big emphasis: the idea of having their position as a minority being called into question because so much of the missteps around race have been put on display lately.
Are all these divisions and fights and bad actors just in leadership, or do the contentions actually represent real people? Is the media ignoring the real SBC—the faithful pastors and missionaries, and people just living out their faith day today?
Kate Shellnutt: I think that the issues that have been the most hurtful and painful for people in the SBC, and that have led to some of this infighting, some of them are ideological, but some of them are ideas that hit people in a deeply personal way.
Take Jamie Ivy, who's a really popular podcast, author, women's Bible teacher, and pastor's wife in Austin, Texas. The Washington Post wrote a story about her ahead of the SBC annual meeting. She was going to come and speak at a couple of different women's events that go on in coordination with the meeting, but she has adopted children who are black and mixed-race and had said, "Hey, I don't really like the way these CRT discussions are going, because I think they minimize racial justice efforts, and it makes us uncomfortable as a family for whom that's a real priority."
So it's not just, we have differences of ideas or leaders are fighting about some things. That's my family, that's my children that we're talking about. This is important to me. And then the Washington Post later reported that as a result of her doubts that she was disinvited from those events.
And if you think of the folks who have been abused, as much as Southern Baptist leaders want to make it a question of autonomy, it's not a procedural thing for most people. It's a human issue. It's a heart issue to look at someone and say, you have gone through trauma and abuse and pain, and you have been disbelieved and maligned. And that's not just, what's the denomination going do? Are we going to start a task force? Are we going to file a report? Are we going to list your name here or the name of your abuser? It's a witness issue. It's a relational issue.
So I think the attention might be on the names who take certain stances or who call other people out. And there's plenty of those to point to on Twitter. And there's plenty of infighting and campaigns by these factions and interest groups, but in the end, I think there are real people who are affected really deeply. And to see their leaders either take certain stances or even just to see the tone in which their leaders fight, it's really disheartening. And sometimes can be enough to shake their faith or shake their confidence or shake their trust.
For sure, the majority of Southern Baptists, want to see their convention do the right thing on these issues. They want to see it be a bigger priority. And so their hearts are in the right place, but it's taken a while to get there. And I do think that some of these fights have hurt people.
What do you think this year's meeting tells us about the future of Southern Baptist? What does the future hold?
Kate Shellnutt: I do think supporters of Ed Litton are very hopeful that it's the right direction, that steps are being taken, and that the things that they appreciated and enjoyed about J.D. Geear's presidency are going to continue under Ed Litton.
One thing to acknowledge is that because of the SBC's convoluted structure, that the president doesn't have the power to make a bunch of policies or decisions to change the direction of the convention. It's this trickle-down, where they get to appoint committee members who then make decisions on SBC business.
With J.D. Greear, the majority of his committee members were women and people of color. And Ed Linton has pledged to do the same thing. And so we're about to see the leadership bodies within those committees become much more diverse and younger. And people are excited about that.
Both Greear and Litton also use the term great commission Baptist instead of Southern Baptist, which I think is worth pointing out. So to hear both of them repeat that and declined to use the Southern Baptist terminology, I think it's going to be a distancing from the things that they don't like about the connotation of that—both the racist history and the regional constraints. They're really trying to focus on, it's the gospel. It's not being politically conservative. It's not being a certain culture that joins us, but really being people of gospel and mission. So I think that it's going to be nice to see them build on each other.
But I also see Ed Litton as a real soft-spoken and humble person. So I don't know how things will work behind the scenes. I don't know that he's going to be a fiery preacher out there making stances or getting into fights. So he might be someone leading in his own kind of way.
Really his job is to be a visionary, a figurehead, a spokesperson. And even if it's not the power to make a bunch of decisions, it's an important job too, because his tone can set the tone for other pastors who are following him.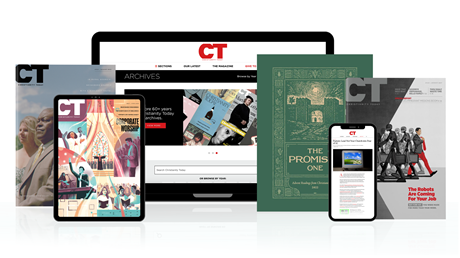 Subscribe to Christianity Today and get access to this article plus 65+ years of archives.
Home delivery of CT magazine
Complete access to articles on ChristianityToday.com
Over 120 years of magazine archives plus full access to all of CT's online archives
Subscribe Now
Critical Race Theory, Sex Abuse, and Southern Baptists
Critical Race Theory, Sex Abuse, and Southern Baptists