USA Today reports that Up, the latest Pixar project due in May, takes an animated gamble with "a plunge into tearjerker territory."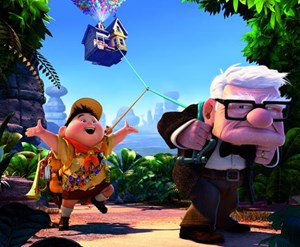 The story, directed by Pete Docter (Monsters Inc. and co-writer of WALL-E), features a 78-year-old man wrestling with regret and loneliness after the death of his wife. And he feels so alienated by a changing neighborhood, and threats of being forced into a retirement home, that he takes desperate measures to escape – by connecting thousands of helium-filled balloons to his house, floating up, up and away . . . to a mountaintop waterfall in Venezuela that his wife always wanted to visit.
"He can be a real jerk, but you still love him," Docter told USA Today. "Why is it so important for this guy to get to the falls? It needed that weight. I didn't want it to be just a fleeting thing."
USA Today reports that the potentially tearjerking segments include a "montage of their marriage [that] touches on themes rarely seen in bedtime storybooks: romance, financial hardship, a lost pregnancy, loneliness, and the blink-of-an-eye passage from childhood to wrinkles."
Wow. Pixar's films have always carried some weight along with their immense entertainment value, but last year's WALL-E was the weightiest of all, with its messages about greed, consumption, and stewardship of the earth. Might Up carry even more weight? Possibly, but not too much that all those balloons – and Pixar's magic touch – can't lift.
I can't wait. Sign me Up.
(photo from Disney/Pixar; Ed Asner voices Carl Fredricksen, and Jordan Nagai voices Russell)
Check out the trailer:
(If the video won't run properly, click here.)