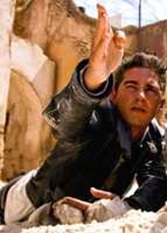 Right now, Shia LaBeouf has an eye on the box office stats, where monster numbers are already piling up for the Transformers sequel, which opened everywhere at midnight last night and in which the young actor plays a starring role.
But LaBeouf might just have an eye on something else too–something a bit more ethereal, maybe even spiritual. Check out these quotes from a recent article and photo shoot in PARADE magazine:
"Sometimes I feel I'm living a meaningless life, and I get frightened."
"I don't give a damn about the money anymore. I used to."
"In my parents' generation, rebellion was pop culture. It's not anymore. You can see it in something as simple as where their music was at and where ours is now. If you look at our Billboard Top 100, a lot of those songs on there are from Christian country artists. A lot of rappers, too, are very Christian. The fact that [religion] is even still talked about is kind of wild to me."
"The good actors are all screwed up. They're all in pain. It's a profession of bottom-feeders and heartbroken people."
"I have no answers to anything. None. Why am I an alcoholic? I haven't a damn clue! What is life about? I don't know."
"I don't handle fame well. Most actors on most days don't think they're worthy. I have no idea where this insecurity comes from, but it's a God-sized hole. If I knew, I'd fill it, and I'd be on my way."
Sounds like seeker speak from here. Pascal has the perfect answer for that last musing: "There is a God-shaped vacuum in the heart of every man which cannot be filled by any created thing, but only by God, the Creator, made known through Jesus."
Put another way: God's the only true Transformer. May LaBeouf find him.