UPDATE: A memorial service for Dana Key will be held 1 p.m. Thursday, June 10, at the TLC Church in Cordova, Tennessee. A memorial fund has also been set up; donations may be sent to TLC Church / Dana Key Family, 4199 Pheasant Hill Cove N, Lakeland TN 38002.
Dana Key, who with musical partner Ed DeGarmo formed one of the great rock bands in CCM history, died of a ruptured blood clot Sunday night at the age of 56, according to CCM's website and various other reports. In recent years, Key was a senior pastor at TLC Community Church in Memphis, Tenn., which was his and DeGarmo's hometown.
"Dana Key was an awesome guy," DeGarmo told Christianity Today. "Extremely talented for sure, but he was much more than that. He was absolutely passionately in love with Christ, his wife Anita and their three children.
"He lived his life fully dedicated to building God's kingdom with every breath he took. He was a true pioneer. He could preach the gospel in a way that compelled thousands to accept Christ, and he could play guitar and sing like you were getting a glimpse of his soul. He was my friend and my brother. The world will miss him. I will miss him dearly."
TobyMac first met Key during his days with dcTalk in the late 1980s and early '90s, when dcTalk would open for DeGarmo & Kay. He said Key "was genuine and passionate to the core. He seemed to love God's Word more than the songs he sang about it. He obviously made huge impact with his songs and songwriting. But what I learned behind the curtain was even richer.
"He taught us from God's Word . . . most nights before we took the stage. That is something I admired. Thank you Mr. Key, you will truly be missed. Enjoy the view, my friend."
Christian musician Todd Agnew, whom Key signed to Ardent Records some years ago, wrote on his website that Key was "a believer and proclaimed Jesus Christ. Dana was a mentor and role model to me. There's no way I can capture what I learned here in a hotel typing on my phone. I wish I had recorded it all and could put it in a book for you: Wisdom from one Christian Generation to the Next. But I can't. . . . Dana was a man of God. Before he was a musician, he was a minister. And before he was a minister, he was God's child. He will be missed."
Doug Van Pelt, editor of HM Magazine, posted a nice tribute to Key, noting how a D&K song ("You Gave Me All") was instrumental in helping him decide to commit to the Christian faith. "It's neat how that song made a profound impact on me that night," Van Pelt writes. "It described the condition of my heart, which broke and I wept before the Lord for the first time in 9 years. I'm grateful for Dana Key and his faithfulness and his creativity."
Harold Smith, CEO of Christianity Today International and a friend of both Key and DeGarmo, said, "Dana's passion, pure and simple, was the gospel. He sang its truth from countless stages (amplified with some wicked guitar work), and preached its truth from the pulpit he so loved. 'Christ died for me,' he would say. 'I'll live for him.' And he did – at high volume."
Ardent Records has set up a tribute on its website.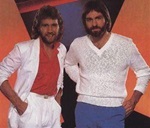 Key grew up just a few blocks from Graceland in Memphis, and attended school with DeGarmo, dreaming about being a rock star, according to Mark Allan Powell's Encyclopedia of Contemporary Christian Music. The two boys formed their first band, The Sound Corporation, in sixth grade. As a high school junior, he was invited to join the secular rock group Black Oak Arkansas as lead guitarist, but he and DeGarmo were already involved in music ministry for Youth for Christ.
DeGarmo and Key formed in 1977 and performed off and on for 20 years. The band was known initially for its innovative sound, as good as anything in secular music, and they remained commercially viable through the 1980s even as their sound became more predictable. But their lyrics and mission always remained the same: "Ministry is the primary reason for the existence of D&K," Key said in 1993. "Our music is simply a vehicle to communicate a message." They often held altar calls at the end of their shows.
Key – a direct descendant of Francis Scott Key (composer of "The Star Spangled Banner") – went on to become an executive with Ardent Records (while DeGarmo went on to co-found ForeFront Records), and wrote the books Don't Stop the Music and By Divine Design.
Here are two music videos featuring D&K:
Editor's note: This blog post may be updated throughout the day as we learn more.