(Editor's note: Ken Morefield is at the Toronto International Film Festival. This post originally appeared at his 1More Film Blog.)
I became acquainted with grief at a very young age. As a result, for significant periods of my childhood and even into young adulthood, I felt I knew something my peers didn't. Now in middle age, I understand intellectually that more of my peers have had what is a very common life experience, but because of the experience of formative years, I'm still always surprised when the representation of grief in art–particularly art from those who are not yet in their twilight years–rings true.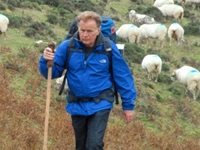 There's not a whole lot about Emilio Estevez's The Way that doesn't ring true. Given the fact that the film tackles some of life's deepest emotions and largest themes–grief, love, faith, community–that's quite a compliment.
Martin Sheen plays Tom Avery, an American ophthalmologist who receives word that his son has been killed while walking the Camino de Santiago, a pilgrimage trail in the Pyrenees mountains between France and Spain sometimes referred to as The Way of Saint James. Perhaps impulsively or perhaps in desperation, Tom decides to walk the pilgrims' trail himself, to finish the journey his son began.
Obviously, such a role calls for an actor of immense talent, both to convey the depth and layers of feeling of a parent mourning his child and to eschew the more melodramatic histrionics that would cause such material to become overly and overtly sentimental. Sheen, one of our national acting treasures, is perfect for such a part, bringing it gravity but also dignity. I love that in introducing a movie about fathers and sons, rituals and traditions, Estevez chose to describe Sheen by borrowing from another famous director, John Huston, talking about his own father. "He never tried to sell you something." The film needs that kind of iconic confidence at its center, because for long periods Tom, in his grief, goes inside himself, and the film must have the confidence to let him, to allow us to be one of the community with him, each broken in his or her own way, each striving for understanding, light, and hope.
Do you want to know one thing that is true about grief? Movies tend to think that what we remember and treasure in our hearts are the big gestures people make to acknowledge the hugeness of our loss. But that's not the case. What stays with you are scores of small kindnesses from people that remind you that life is worth living, that in our sadness, our emptiness, and our poverty, most people can be very, very decent. "To be kind," George MacDonald once wrote, "neither hurts nor compromises." It may be the only thing that doesn't.
Estevez talked rather self-effacingly at the Toronto International Film Festival of not directing his father, of surrounding himself with talented people and "getting out of the way." He did direct, Sheen insisted. It's easy enough to see how both descriptions are true. In a post-Cahiers film world, we take certain theories of auteurship for granted. Our picture of the director is of someone who, Hitchcock-like, plans and controls every detail of the film in his head. Estevez spoke of making a film about community by making a community, using natural light, shooting in Super 16 and making technical choices appropriate to the thematic content of the film. These are directorial decisions that shape the film and were appropriate, but the creation of a community of like-minded people pursuing a goal should not be underestimated. The care and compassion these people have for each other reaches beyond performance and says something about the material's and location's ability to affect actors and not just vice-versa. I wish he hadn't used the device of having the father occasionally "see" his dead son, but–as one viewer stressed to me–that (hearing/seeing those who are absent) is an experience, hinted at by other characters in the film which is not uncommon to those who are grieving.
In circles in which I sometimes converse, there have been, for as long as I can remember, discussions about Christians in the art, about how to get more films that are faith friendly and about the corrosive moral effects of "Hollywood" or the "Hollywood culture." Every now and then, though, I'll run across a song like Leonard Cohen's "If It Be Your Will" or a film like The Way, that not only puts "Christian" films to shame but that makes me exasperated at the whole notion of "Christian" as an identity politics genre. If you want more great Christian art, go find great artists and support them in their desire to speak, write, and represent the truth. Hollywood is made up of people–many of whom, it turns out, are more complex, interesting, and thoughtful than we might guess based on nothing more than a quick glimpse of their IMDB filmography.
One audience member at the Toronto Film Festival who had done this pilgrimage himself spoke glowingly of how the film's latter scenes captured perfectly the experience of arriving in Santiago de Compostela. The Way is the first non-documentary film granted permission to film inside the church, and the scenes of the pilgrims arriving, how each responds to the rituals, to each other, and to the dawning realizations that they are neither the first nor the last to walk the path they've walked or bear the burdens they've borne, is as deeply moving and passionately spiritual a moment as you are likely to get in commercial, narrative film. You know what would be a little miracle that would make me happy? If Christians who wanted to "send Hollywood a message" with their pocketbooks would eschew boycotting the next "R" rated slezefest that gets them all tied up in knots and try the reverse for once. Pick up the phone and call your favorite studio and say, "I've got $10 and I really want to see this movie."
Hey, it's worth a try. Turns out The Way–here's the kicker–doesn't yet have a major distribution deal.
The Way is funny, sad, somber, and, above all, true. It is life-affirming in most of the best senses of the phrase. It's easily one of my favorite films of the year thus far. If you get an opportunity to see it, seize it. You won't be sorry. It you don't, that's okay, too, just so long as you promise not to complain that there's nothing but sex and explosions at the multiplex these days.
(Photo by David Alexanian, Copyright 2010).