Two presidential contenders took up Liberty University's standing offer to all 2012 candidates to address students at the school's thrice-weekly convocations. Michele Bachmann spoke yesterday in Liberty's 10,000-seat Vines Center, following an appearance by Rick Perry on September 14.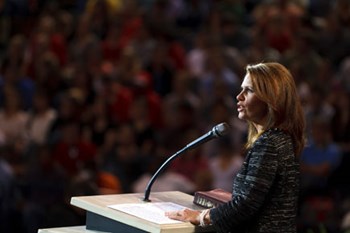 Bachmann's closest aide is reportedly Brett O'Donnell, the former coach of Liberty's championship debate team, a fact that may have helped her to outshine her contender between the appearances.
Perry seemed less at home than Bachmann in speaking before a college audience, admitting that he had to look up the word "convocation" before coming, and a pun he made on the word fell flat.
Bachmann was introduced by Chancellor Jerry Falwell, Jr., as a "constitutional conservative" committed to "bold reforms" in fighting the "evils of big government," as well as a "defender of the unborn" and a "deeply committed Christian." Falwell also noted her role as the first woman elected to Congress in Minnesota.
Not many presidential candidates can claim that behind their success stands a supportive man, but Bachmann's husband accompanied her to her talk at Liberty. Seated on the stage, his quiet presence offered a different angle on the gender issue raised at a presidential debate this summer when a reporter asked Bachmann if she would submit to her husband if elected.
Bachmann, who won a straw poll at Liberty last April, presented the simple message, "Don't Settle" and tailored it to the student audience whom she identified as "in the decade when the fundamental decisions of life are made." She told the students, "You stand to be the first generation in in America's 235 years that may not do better economically than the previous generation."
Although she briefly criticized President Obama's national health care plan, Bachmann's talk was more spiritual than political. She described, despite growing up in the church, not recognizing her need for a personal relationship with Christ until age 16 when she was prompted "by the power of the Holy Spirit" to come forward at church to receive Christ. She went home that night, she said, knowing "something had changed inside me."
Narrating events from early American and Old Testament history, she pointed to the benefits for succeeding generations brought by those before who didn't "settle" and concluded her 30-minute speech by urging the students, "Don't settle for anything less than what this great and almighty God has planned for you." About half of the crowd offered a standing ovation.
While both Perry and Bachman spoke to standing-room-only crowds swelled by visitors from the local community including local grade school students and senior citizens, Perry's significantly higher standing in the national polls brought him a noticeably larger turnout, hundreds standing around the periphery of the 10,000 seat sports arena to hear him speak.
Perry's address was even less overtly political than Bachmann's and garnered attention as one of the first times he's shared his faith testimony since declaring his candidacy. He described a spiritual journey that began in a childhood spent within a farming family of humble means and that reached its crisis following completion of his duties as an officer in the U. S. Air Force.
The loudest cheers for Perry came in Falwell's introduction where he praised the Texas governor's positive rating by the National Rifle Association, and then later when Perry admonished students, "Don't leave it to a bunch of Washington politicians to tell you how to live your life."
Falwell, Jr., has not made a personal endorsement of any of the presidential candidates, but invitations have been given to all of them to come to Liberty to speak. He denied the report of one news outlet that Liberty University is the "headquarters of the Christian right," saying that "politics is not first" at the school.
Karen Swallow Prior is English department chair and associate professor of English at Liberty University. She writes regularly for Her.meneutics, the Christianity Today blog for women.