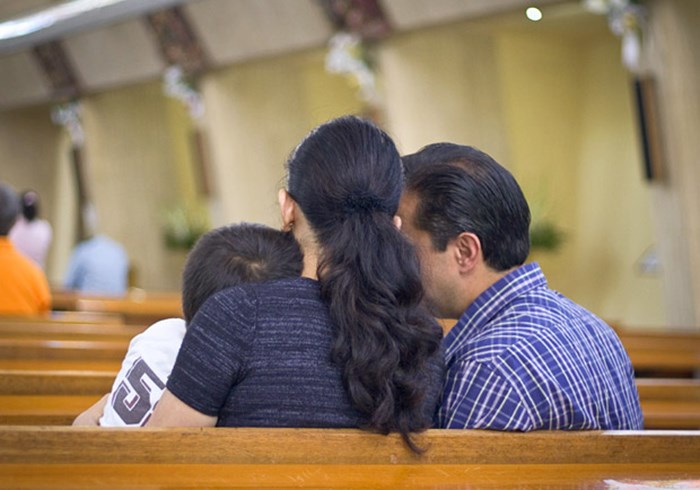 Just one week after the U.S. presidential election raised concerns about the Republican Party's ability to appeal to minority voters, Christian organizations are expressing new and renewed interest in Hispanics.
The Barna Group announced Tuesday the launch of its new Hispanic research division, Barna: Hispanics, which coincides with the release of its first report, "Hispanic America: Faith, Values and Priorities."
In addition, more than 150 evangelical leaders renewed their calls for comprehensive immigration reform. On Tuesday, the Evangelical Immigration Table (EIT) issued letters to President Obama and federal lawmakers demanding a meeting within the next 92 days—a reference to the number of times the Hebrew word for immigrant (ger) appears in the Bible.
The EIT, which launched in June, is calling for lawmakers to "create just and humane immigration laws" that adhere to six principles: respect for "God-given" human dignity; protection for families; respect for the rule of law; guaranteed border security; fairness for taxpayers; and a path toward legal status for qualified immigrants.
Original signatories of the EIT include the National Association of Evangelicals (NAE), Sojourners, the Ethics and Religious Liberty Commission of the Southern Baptist Convention, and the National Latino Evangelical Coalition.
Such calls for immigration reform among evangelical leaders—as well as these particular principles—are not new. In 2010, the NAE ran a similar ad campaign, "An Evangelical Call for Bipartisan Immigration Reform," advocating the same principles verbatim. Although new reform bills have been introduced in each Congress since 2008, comprehensive legislation has never cleared both chambers.
Nevertheless, Barna Group president David Kinnaman says the election raised interest in the effect of the U.S. Latino community on politics. And he says the results of their new study—conducted by Barna Group in partnership with the American Bible Society, the National Hispanic Christian Leadership Conference (NHCLC), and OneHope—illuminate how the religiosity of Hispanics influences how they vote.
Among the more interesting results:
In a forced-choice question, more than half of all Hispanic Christians (54 percent) said they primarily identify themselves as "Hispanic or Latino," while one in four primarily identify themselves as "Christian or Catholic" (24 percent).
49 percent of Hispanics, including one-third of all Catholics and more than half of all Protestants, qualify as charismatic or Pentecostal. And although the millennial generation, those born from 1980 onward, is less likely to identify as charismatic (48 percent of Protestant millennials, compared to 63 percent of Protestant boomers), the charismatic movement remains the "fastest growing segment of the Hispanic Christian landscape," said Samuel Rodriguez, president of the NHCLC.

Millennials are distancing themselves from Catholicism, tending either toward Protestantism or away from Christianity entirely. Protestants make up 19 percent of millennial Hispanics, compared to 15 and 17 percent of boomers and busters, respectively. An April 2012 Pew Hispanic report found a similar correlation between religious affiliation and immigrant generation: Only 16 percent of immigrant Latinos identify as Protestant, but the share rises to 30 percent among third-generation Latinos.
Employed Hispanics are more likely to say they are "committed to Jesus" (66 percent) and to have attended church within the past month (58 percent) than unemployed Hispanics (55 percent and 47 percent, respectively). Meanwhile, female Hispanics are more likely than their male counterparts to say that people who do good works will go to Heaven.
Finally, the study found that Hispanics generally hold a high view of the Bible as the inspired, inerrant Word of God—but they may regard it as a sacred text, rather than as a practical tool with implications for work and social attitudes, Kinnaman said. Only 8 percent are "engaged" with the Bible—which Barna defines as having a high view of the Bible's authority and reading it at least four times a week.
In other words, Kinnaman said, Hispanics need to be persuaded that the Bible holds value for how they should live their lives.
Javier Elizondo, managing editor of Cristianismo Hoy (a CT spinoff launching in 2013) says this means Hispanic ministry leaders must "find ways to help our church members and youth to connect in a more meaningful way to the Scriptures, particularly in the way the Bible can be used to inform decision making."