Update (March 1): Pastor Robert Jeffress addressed Tim Tebow's cancellation in front of his Dallas congregation this week. He emphasized how the change of plans would not damper their grand opening celebrations and that the publicity has offered them further opportunities to discuss the gospel in the media. Then, he took a not-so-veiled swipe at Tebow:
I am grateful for men of God like these who are willing to stand up and act like men rather than wimping out when it gets a little controversial and an inconvenient thing to stand for the truth," said Jeffress, who received a standing ovation before he spoke. "God bless men like that."
Tebow has not offered further details on what caused him to cancel his speaking engagement at the church's upcoming Easter event, celebrating the opening of its $130 million building.
Al Mohler wrote for Christianity Today, "For now, the controversy is over Tebow's withdrawal from an invitation extended by an historic church. (Jeffress') statements have been the center of the controversy. Inevitably, the controversy will shift to Tebow's own statement, which he will eventually have to make."
––-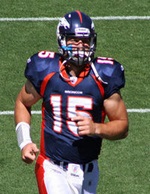 Update (Feb. 22): Pastor Robert Jeffress has responded to Tim Tebow canceling his speaking engagement.
According to The Daily Best, Jeffress said Thursday afternoon:
Tim [Tebow] is a member of a Southern Baptist Church, the First Baptist Church of Jacksonsville, Fla., that believes exactly what we believe about those issues, and Tim affirmed that that is what their church believes.... So I think Tim was probably speaking the truth when he said it wasn't the belief of our church—it was the controversy surrounding his appearance.
––-
First Baptist Church of Dallas (FBC) began its construction campaign in the midst of the worst financial recession in recent history. Now the largest-ever church building project is ready to be revealed, and head pastor Robert Jeffress isn't the only big name slated to speak at its grand opening.
Or rather, that was slated.
Unfortunately for FBC, National Football League quarterback Tim Tebow has canceled his speaking appearance at the grand opening. Tebow announced his decision in a four-part message on Twitter (full text below).
Tebow's speaking engagement captured lots of sensational headlines for his "decision to speak at a church led by a pastor best known for controversial comments about other faiths and gays." Associated Baptist Press reports that FBC was "once known as the flagship church of the Southern Baptist Convention," but Jeffress' reputation has grown increasingly negative outside the Bible Belt.
He gained "notoriety for his statements about the gay community," and told Politico in 2011 that former presidential candidate and Mormon Mitt Romney was "not a Christian."
The Associated Press has noted more recently that Jeffress "has changed the way he talks about homosexuality from the pulpit."
Even without Tebow, though, FBC's grand-opening lineup still includes numerous nationally known speakers and artists, including James Dobson, David Jeremiah, and Phil Wickham, all of whom are scheduled to speak and perform at the church throughout April.
CT has previously reported on Tebow and his outspoken faith. CT also has reported on Jeffress' political flip-flop to back Romney in the 2012 presidential election and his response to the Billy Graham Evangelistic Association's decision to remove references to Mormonism as a cult.
Tebow's Twitter announcement stated:
While I was looking forward to sharing a message of hope and Christ's unconditional love with the faithful members of the historic First Baptist Church of Dallas in April, due to new information that has been brought to my attention, I have decided to cancel my upcoming appearance. I will continue to use the platform God has blessed me with to bring Faith, Hope and Love to all those needing a brighter day. Thank you for all of your love and support. God Bless!