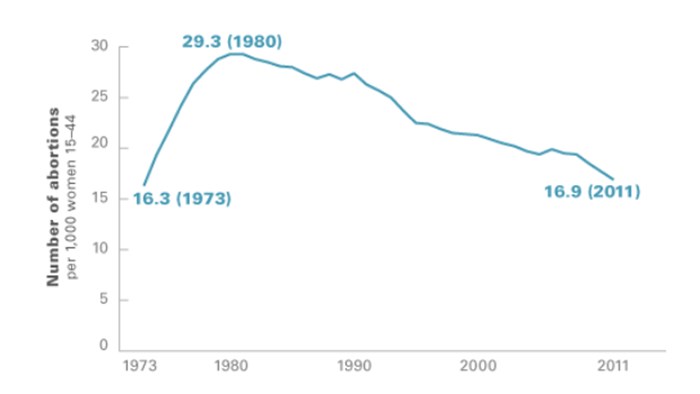 Image: Courtesy of Guttmacher Institute
Add one more striking statistic to the debate over the pro-life movement's impact on America after four decades of advocacy.
With abortion clinics closing at record rates as abortions hit near-record lows and state restrictions hit near-record highs, a respected report released today reveals that U.S. abortions have dropped to their lowest rate since 1973—the year the U.S. Supreme Court decided Roe v. Wade.
In 2011, U.S. abortions dropped to 16.9 per 1,000 women between the ages of 15 and 44, according to the latest report by the Guttmacher Institute. The 2011 rate (the most recent year for which data is available) is the lowest since 1973, when America's abortion rate was 16.3. By comparison, the highest rate was 29.3 in 1981.
The abortion rate declined in every state except six, reports Religion News Service (amid widespread coverage). Guttmacher also reports a 13 percent decline in the number of abortions between 2008 and 2011, when it estimates 1.1 million abortions were ...
1