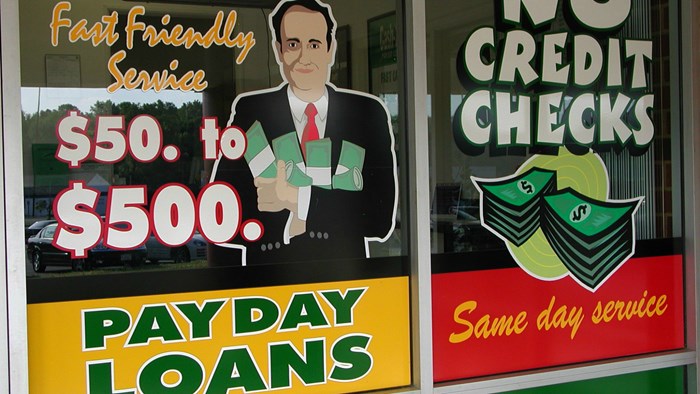 Image: andrewbain/Flickr
Payday lending in South Dakota may become greatly curtailed, thanks to the unlikely friendship between an evangelical pastor and a former Obama campaign official.
Steve Hickey, a state legislator and pastor of The Church at the Gate in Sioux Falls, is an outspoken opponent of same-sex marriage.
Steve Hildebrand, owner of Josiah's Coffee House and Café, is openly gay and served as former deputy national campaign director for President Obama in 2008.
They met, according to a thorough article in The Atlantic, with the following exchange on Twitter, after Hickey made some controversial comments about homosexuality.
"You are becoming a huge joke in this state—huge," Hildebrand tweeted.
"We should have coffee," Hickey replied.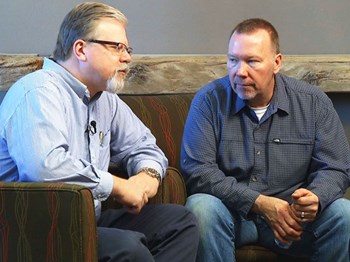 Image: Courtesy of Steve Hickey
That meeting over coffee led the two Steves to start a ballot initiative that would limit the amount of interest payday lenders can charge. Currently, payday borrowers in South Dakota can pay as much as 574 percent in annual interest on a loan, according to data from the Pew Trust.
Hickey and Hildebrand want to limit payday lenders to 36 percent interest.
That, both Hickey and payday lenders argue, would effectively "end the payday lending industry in South Dakota," according to The Washington Post. Data from the Pew Trust show there are no payday lenders in states with similar limits.
The two Steves have started collecting signatures with the help of a coalition called South Dakotans for Responsible Lending, said Hickey in an interview from his church office in South Dakota.
Hickey had tried for five years to get the state legislature to regulate the payday lending industry, without success. He credits his newfound friend for the momentum behind the new effort.
"We've put the fear of God into the payday lenders," he told CT.
Hickey is not the only evangelical worried about payday lending.
The National Association of Evangelicals (NAE) recently added predatory lending to its list of advocacy topics, and the Southern Baptist Convention passed a resoultion denouncing such loans. Meanwhile, the Church of England is turning its churches into competition for such lenders in the United Kingdom.
Scripture prohibits predatory lending like "short-term, high-interest loans that are rolled over from paycheck to paycheck," the NAE explained. It called on the Consumer Financial Protection Bureau to investigate lending abuses, and encouraged lenders not to exploit "poor and vulnerable borrowers."
"Most families experience emergency needs from time to time," the NAE stated. "Churches, charities, and employers can and do help with gifts or loans in times of personal crisis."
"The Bible prohibits usury, exploitation and oppression of those in need, and there is growing evidence that payday loans, as they are currently structured, often violate biblical justice," wrote Galen Carey, the NAE's vice president of government relations, in a February op-ed for Roll Call. "Predatory lenders who oppress the poor incur the wrath of God (Ex. 22:21-27). They should apply their expertise and resources to developing stronger communities rather than tearing them down."
Southern Baptists passed a resolution denouncing payday lending as sinful and "a direct violation" of the biblical commandment to love neighbors as one's self, during their 2014 Convention in Baltimore. They also called on government officials to set up regulations that would end predatory payday lending, and asked payday lenders to mend their ways. "We strongly admonish those who are engaged in the practice of predatory payday lending to consider the great damage they are causing in the lives of vulnerable people and to adopt a just lending model," the resolution reads.
The Church of England opened the Churches' Mutual Credit Union (CMCU), which offers loans and savings accounts, initially just to churches (the Church of England, the Methodist Church of Great Britain, the Church of Scotland, the Scottish Episcopal Church, and the Church in Wales), church charities, and the ministers, elders, employees, and trustees of those churches. But after getting established, the church plans to open access to all churchgoers.
Union president and canon Antony MacRow-Wood said the union will enable a "virtuous recycling of money" within the church community. He hopes it will "help the credit union sector grow" so that in a decade, "there will not be a need for the payday lending sector."
The CMCU offers "a range of loan products which will be a major funding stream for the dividend that will be paid on savings products such as ISAs, instant access and regular (monthly) savings accounts. These products will include a competitive car loan scheme."
In 2013, Archbishop of Canterbury Justin Welby said he was "embarrassed" and "irritated" by the church's indirect investment in a "pooled investment vehicle" that had invested in payday lender Wonga. The church withdrew its investment last July, and Welby announced his goal to "compete Wonga out of business."
"[The archbishop] is not turning over the tables of the money lenders, he's bringing in his own money lending tables," London mayor Boris Johnson told the BBC. "It's a very interesting interpretation of the gospels."
Church-run lending programs dot the US and are best organized in Wisconsin, Texas, Missouri, and Louisiana, according to the Washington Post.
The United Methodist Church offers the Jubilee Assistance Fund, which allows churches to offer funds as collateral so that needy parishioners can qualify for a loan through the Virginia United Methodist Credit Union. In its more than 7 years, it has helped church members secure 14 loans, anywhere from $500 to almost $9,000, credit union chief executive Carol Mathis said.
The Jubilee Assistance Fund has helped tremendously, participants told the Washington Post. If programs like it could be scaled up to help communities rather than congregations, they said, it could become a serious contender to payday loans, with their high interest rates and sometimes brutal penalties.
Meanwhile, dozens of faith leaders are pressing Congress for a federal interest rate cap for payday lenders. Capping the rate at 36 percent – which is what the Military Lending Act requires – will "make these funds affordable and attainable, where the trap is not set for the members of our communities and our churches," said Stephen Reeves, an advocate with the Georgia-based Cooperative Baptist Fellowship.
The South Dakota ballot initiative is likely to find support among voters. A recent national survey of 800 likely voters, sponsored by the North Carolina-based Center for Responsible Lending, found that 3 out of 4 voters (76 percent) overall approve of capping payday loans at 36 percent interest. Among Christian voters, the study found that 66 percent of Protestants and 57 percent of Catholics have "unfavorable views" of payday lenders, and half of all Christians have "intensely negative views" toward them. Nearly 8 in 10 (79 percent) approve of a cap on interest rates. A similar number (78 percent) want payday lenders to check a borrower's ability to repay a loan, something they are not currently required to do.
CT often explores economics and business, including how to gear the market so that people flourish and a brand-new model of Christian stewardship that can compete with China.
Her.meneutics covered fair trade in an unfair world and CT talked to Robert Sirico about how to get economics right by understanding what it means to be human.