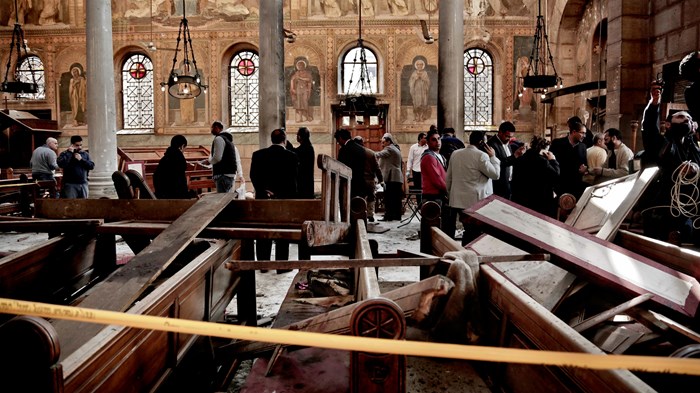 Image: Nariman El-Mofty / AP
Two dozen people were killed and twice as many injured when a bomb exploded around 10 a.m. Sunday morning during a worship service at the spiritual center of Christianity in Egypt.
The terrorist attack, with a reported death toll of 24 victims and another 49 to 65 wounded, was the worst to target Copts since the 2011 New Year's bombing of a church in Alexandria that killed 23 people.
A worship service of mostly women was targeted in the St. Peter and St. Paul church, adjacent to the prominent St. Mark's Cathedral and papal residence of Pope Tawadros II, leader of the Coptic Orthodox community in Egypt and worldwide.
Tawadros was traveling in Greece at the time of the attack. He will cut short his visit and lead funeral prayers tomorrow in the Nasr City district of Cairo.
So far, there has been no claim of responsibility for the attack.
"This is an unbelievable act against Egypt first and Christians second," Andrea Zaki, president of the Protestant Churches of Egypt, told ...
1