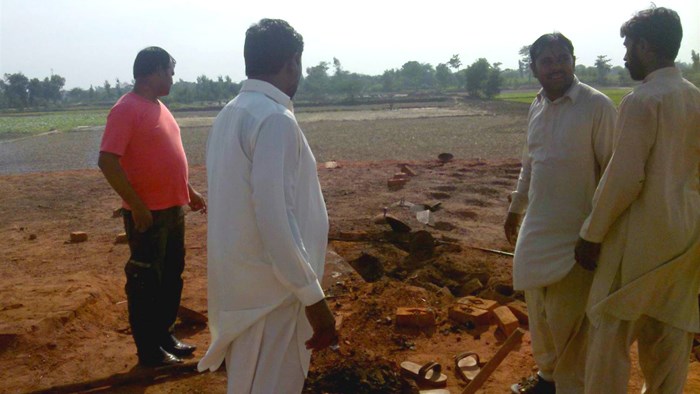 Image: Courtesy of LEAD
Last week, Pakistan sentenced five men to death for the murder of a Christian couple who were burned alive in November 2014 for setting fire to some pages from a Qur'an.
A mob of about 600 people beat to near-death Shahzad Masih, 26, and his five-months-pregnant wife Shama Bibi, 24, for their unintentionally "blasphemous" act two years ago. The couple was then thrown into the large kiln where they worked as bonded laborers.
National outrage over their deaths saw the case moved to the anti-terrorism court. Judge Chaudhry Muhammad Azam imposed a fine of equivalent to US $2,000 to each of the five killers who were convicted of inciting violence and of throwing the couple into the kiln. Another eight men were jailed for two years and fined.
More than 50 people were originally charged under Pakistan's anti-terrorism act for "the use or threat of action … to coerce and intimidate or overawe the Government or the public … or create a sense of fear or insecurity in society."
"Although several of the suspects were acquitted after statements by Shahzad's brothers, still five have received the punishment of death, which is an extraordinary step by the court," said Riaz Anjum from the Voice Society, which represented the murdered woman's father, Mukhtar Masih, in court.
In November 2014, the couple was accused of "blasphemy" for burning some pages from a Qur'an. Their sister-in-law, Parveen Bibi, explained that their late father "used to do black magic" in which he used amulets and other documents that might have contained Qur'anic verses. Her sister burned the pages and threw the ashes onto a garbage heap outside their quarters.
Parveen Bibi told World Watch Monitor that her sister had never meant any disrespect to Islam, as she was illiterate and had no idea what the amulets contained. But some passers-by recognized the text on the partially burned pages and the situation quickly escalated.
They initially went to the kiln's owner to resolve the matter. He assured them that nothing would happen but that, because they owed him money, they could not leave the village.
Masih and Bibi were bonded laborers. This is a traditional method still used to enslave laborers across India and Pakistan, although officially illegal in Pakistan. The practice is recognized by the UN as a form of "modern slavery."
Two days later, a mob beat the couple and threw them into the kiln. A few policemen were present at the scene, but failed to ward off the mob. In December 2014, Pakistan's Supreme Court ordered action to be taken against them.
The post-mortem report submitted to the Supreme Court in December 2014 stated that the couple were still alive when they were thrown into the kiln. In April this year, the kiln owner was bailed. He has now been acquitted.
Meanwhile, the British Pakistani Christian Association (BPCA) reports that the couple's three surviving children and their grandfather, who serves as their guardian, "have been receiving death threats and abuse" and have requested to "relocate them somewhere safer."