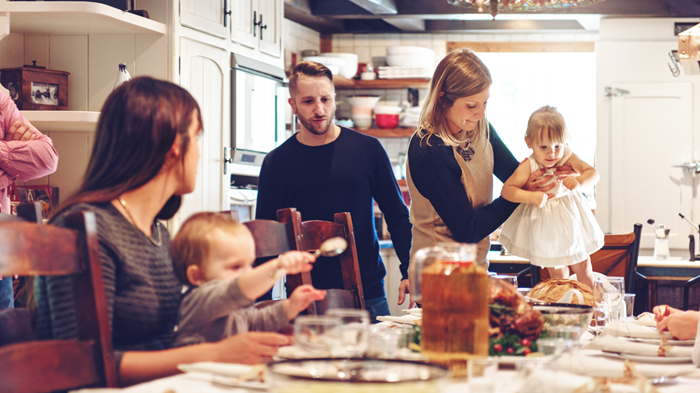 Image: lisegagne / Getty Images
Around Thanksgiving tables this week, Americans will offer thanks for what's most important to them. For the bulk of US adults, family will top the list.
In a Pew Research Center survey released Tuesday, twice as many Americans said that family was the most meaningful aspect of their lives (40%), compared to the second most popular choice, faith (20%).
Among Christians, many obviously rely on their religious beliefs and community for a sense of meaning. More than half say their faith provides a "great deal" of meaning, and 29 percent identified religion as their most important source of meaning.
Christians were also slightly more likely than Americans overall to list family in the top spot (42%).
The research puts numbers around a recurring tension within the American church: how to champion biblical teachings on marriage, children, adoption, and family unity without letting family become a source of meaning and identity above Christ. In short, how can Christians keep from making family an idol?
This notion of idolizing family recently came up when pastor and Reformed Theological Seminary professor Kevin DeYoung tweeted last week, "One of the acceptable idolatries among evangelical Christians is the idolatry of the family."
More than 1,600 people liked the tweet, and hundreds more responded. Many were frustrated with the suggestion that the church could care too much about family and spoke out in defense of Christian family values. But some agreed, echoing growing concerns that familial expectations in certain church settings isolate singles, widows, and childless couples.
Focus on the Family shared DeYoung's tweet, saying, "[God] can't be second. So, if family is first in our hearts, then family has become an idol. When any one of us makes family an idol, we begin slowly but surely pushing God out of our life."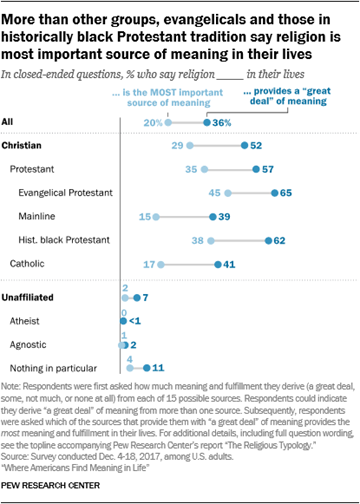 Citing faith as most meaningful—placing it above family—is a minority position, even among believers.
The only two religious traditions to rank religion as their top source of meaning in the Pew survey were evangelical Protestants and historically black Protestants. (Mainline Protestants and Catholics were less likely than Americans overall—and half to a third as likely as evangelicals and black Protestants—to say religion was most important to them.)
Researchers found that 45 percent of evangelicals put faith first, while 31 percent put family first. Among black Protestants, 38 percent prioritized faith, and 37 percent responded "family."
Christian discussions around idolizing family often bring up popular lines from pastor Tim Keller, who describes idolatry as "turning a good thing into an ultimate thing" (or "turning a good thing into a 'God thing'").
"The human heart takes good things like a successful career, love, material possessions, even family, and turns them into ultimate things," he wrote in his 2011 book Counterfeit Gods. "Our hearts deify them as the center of our lives, because, we think, they can give us significance and security, safety and fulfillment, if we attain them."
DeYoung, who is married and expecting his eighth child, clarified his statement in a Gospel Coalition post on Tuesday, saying "a commitment to family must not come before a commitment to God" and "according to the Bible, the family is good, necessary, and foundational, but not ultimate."
He cited Mark 3:31–35, when Jesus declared, "Here are my mother and my brothers! Whoever does God's will is my brother and sister and mother."
Writer Lore Ferguson Wilbert referenced the same text when encouraging Christians to consider bonds beyond blood relatives when celebrating the holidays. "Although the nuclear family was then and still is an essential part of a flourishing society, nonetheless, Christ calls us to expand our loyalties to the larger family of God and extend hospitality to those around us," she said.
When asked open-ended questions about where they find meaning, a solid majority of Americans (69%) mentioned family, while only 20 percent mentioned their faith, Pew found. Religion came up less than career (34%) and finances (23%), and it barely beat out friends (19%) and hobbies (19%).
For Christians, even with the popularity of family as a source of meaning, such findings could indicate the need for society to focus more on a gospel-centered approach to family life.
"We believe the bigger problem in our culture—even Christian culture—is not that we idolize family, it's that we don't value God's aims for family enough. Family is our first ministry. We seek to live out the image of God in our family life, and the family carries out the message of Christ to a lost and dying world," Geremy Keeton, senior director of counseling services at Focus on the Family, told CT in response to the Pew results.
"If Christians were to create a ranking system of relationships, God clearly comes before family members. That being said, a ranking system falls short. The commitments to God and family are intertwined when family life is lived out as a reflection of the Lord's nature and work."