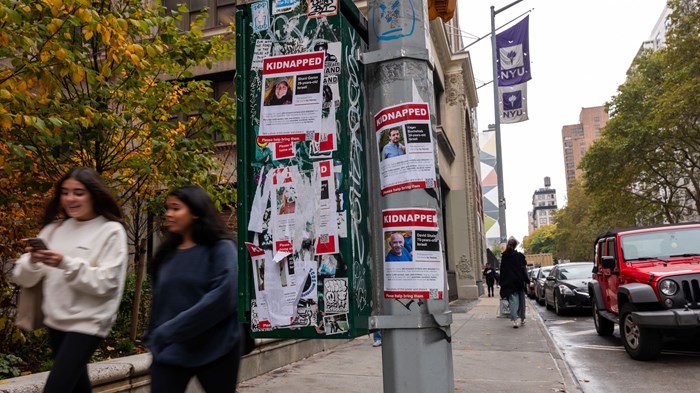 Image: Spencer Platt / Getty Images
Across the country, college campus tensions over the Israel-Hamas war are high, and students connected to the war's fallout—especially Jewish students facing more threats on campus now—report struggling with sadness, fear, and anger. Campus ministry leaders say they are trying to find small ways to be friends to those students who are suffering or afraid.
Like at many Ivy League schools in recent weeks, the Jewish group Hillel at the University of Pennsylvania has upped security. It now has an armed guard inside and outside, and a police squad car sits in front of the building, according to one of Hillel's leaders.
Penn Hillel was already on edge before the October 7 terror attacks in Israel. In late September, a rabbi was arriving for morning services at Hillel's building before security had arrived, and an individual pushed in and began throwing chairs and overturning trash cans and yelling antisemitic slurs, according to officials.
Since the attacks in Israel, Jewish students have had "troublesome things" shouted at them, Rachel Saifer Goldman, the director of operations for Penn Hillel, told CT. She said people have ripped down flyers for the Israeli hostages on campus, and there have been instances of antisemitic graffiti. Penn has a relatively large Jewish population, making up about 16 percent of its students.
Cory Lotspeich, a campus minister with Christian Union Martus at Penn, reached out to Hillel after the October 7 attacks and offered condolences. He and Saifer Goldman talked, and she invited him to bring his students over for a dinner on a Thursday evening.
"Just to be with our students and hang out," Saifer Goldman said. "We're incredibly grateful. … This is the best and the worst, the students are coming together and supporting each other in really wonderful ways."
Lotspeich wrote his students on October 13, telling them, "Many on our campus are hurting and are in need of our care and love." After mentioning antisemitic incidents at Penn, and the devastation of the Hamas terror attacks in Israel, he urged students to have "no partiality … God is not a God of partiality, and we will not be a people of partiality, as every person is created in God's image and is inherently worthy of respect."
He noted that the Jewish population at Penn was in "deep grief due to these attacks, and their lives and nation will never be the same." He added, "We also must remember the Palestinians in Gaza who are also suffering due to the actions of Hamas … their lives will never be the same. So, as we see and interact with Jewish students and Palestinian students on our campus, we need to be impartial in offering the same love and care for all."
Lotspeich also reached out to the Muslim Student Association, which has represented Palestinians on campus, but hasn't heard a response. He said he doesn't attribute any motives to that.
Nationally the threats on campuses have largely been against Jews. This week the Biden administration directed additional law enforcement resources to college campuses largely in response to antisemitic attacks and threats.
This week Cornell University in Ithaca, New York, beefed up the police presence on campus after a series of threats to kill and rape Jewish students at the school appeared online at the beginning of this week. Some Jewish students barricaded themselves in a classroom because they were afraid, and others wondered about putting hats on to cover their kippahs, according to interviews with NBC. Late Tuesday night, law enforcement arrested a junior at Cornell and charged him in federal court with making the violent threats.
At Columbia University, an Israeli student was assaulted, and afterward the school closed its campus to the public to manage protests for both sides. A Columbia professor had also called Hamas's terror attacks on October 7 "awesome" and a "major achievement." Yale professor Zareena Grewal wrote on X (formerly Twitter) in response to the attacks, "Settlers are not civilians." A Cornell professor called the Hamas terror attack "exhilarating."
"Every day there is something new in the national press," said Matt Bennett, the CEO of Christian Union, which has campus ministries at the eight Ivy League schools and Stanford University.
Bennett surveyed the ministers in his organization and said the general sense is that students are "dismayed and aghast at the terrorist attacks against Israel, and at the same time sympathetic about what could happen in Gaza. … There are no easy answers." Christian students in their ministries have not had much interest in the "eschatological implications," he added, which he is glad about. "Our view is, it's hard to know the times and dates."
Among campus ministers, Bennett says he notices pure exhaustion after dealing with regular campus upheaval over current events since COVID-19. He advises them: "Focus on the Lord. And offer encouragement and support and understanding." He's encouraged other Christian Union leaders to consider reaching out to students organizations like the Christian Union chapter at Penn did.
Christian college students can also be paralyzed or apathetic about the Israel-Hamas war, several campus ministers reported.
"So many students are busy with their own lives," said Bennett.
"A lot of it is probably, I don't know what to do, so I'm not going to do anything," said Lotspeich.
John Turner, a religious historian at George Mason University who has written a book on campus ministries, said in an email that, though evangelicals are concerned about Israel, most American Christian students don't see it as a "top-level concern."
"For Hillel and Chabad at my university, as for some Muslim groups on campus, the last two weeks have been a time of existential concern/anxiety/fear," he wrote. "For most American Christians, it's yet another conflict in the Middle East, and it's far away, and unless they're engaged politically on the issues, it's pretty easy to go on with life as usual."
But campus ministers are finding some of their students willing to try to engage.
At California Polytechnic State University, InterVarsity Christian Fellowship's small groups study the Bible each week and then discuss a practical application. At a recent meeting, the students decided their practical application would be to reach out to Jewish and Muslim students.
Paul Cha, InterVarsity's area director for several counties in Southern California and who ministers at Cal Poly, already had connections. InterVarsity has long been meeting with other religious groups on campus through the Interfaith Campus Council, which includes Jewish and Muslim student groups.
Last week, InterVarsity students met in two small groups. One group met with two Jewish students, and another small group met with a Muslim student and an Orthodox Arab. Cha was at the meeting with the Jewish students, and another InterVarsity staffer was at the Muslim meeting. The Christian students were there to listen, not to talk.
"Jewish students are afraid of hate crimes rising," said Cha. "One said, 'I never thought the Holocaust could happen again, but I've thought about that more than I ever have.'"
In the other small group, the Muslim and Arab students expressed fear too, but also that they wanted to hear acknowledgment for "the sheer number of deaths" in Gaza, Cha said. He said their position summed up was, "Why are we okay with so many people dying?"
Divided between their school work and personal connections to the war, with maybe professors who are not empathetic and strident social media, "the sense of isolation is increasing for both groups," Cha said.
Cha recommends that if other campus ministries want to do events with Muslim or Jewish students, they should ask those groups what would be helpful and then have a clear objective. If Christian groups want to pray for Jewish or Muslim students, ask them if they are open to that prior to an event, he said.
"It's helpful when students have opportunities to engage in a way that feels productive and helpful, like, Oh, my faith actually matters in relevant topics and current events," Cha said. "It's learning how to be a good neighbor, how to be a good friend, and engage with people who are hurting."