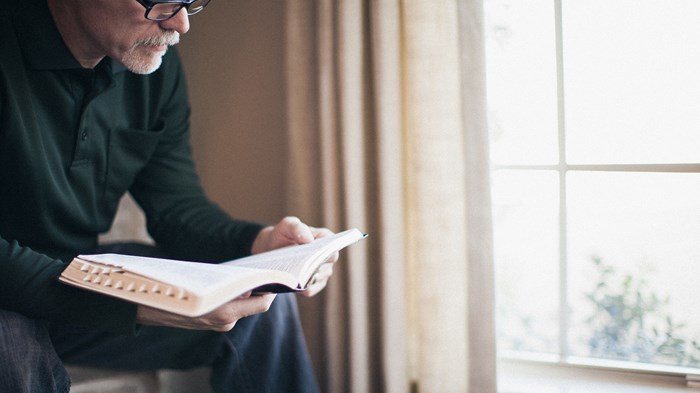 Bruce Cockburn's song "The Strong One," which describes how hard it is to be "the one who gathers everybody's tears," took on new meaning for me awhile back.
I'd been pleased to have a good friend in the congregation. His wife and children got on well with my family. We conversed freely and laughed easily with one another.
Then, suddenly, he cut me off, at first without explanation. Eventually he told my wife, "I don't want to go to church anymore. It's so awkward being friends with a pastor."
My role as pastor made him feel guilty, not good enough. My role precluded our friendship.
Later, my wife and I went to an evening concert with two friends from our congregation. Due to a stressful day, I was already on edge. Unfortunately, I lost my cool and snapped at my wife. Our friends, sitting beside us, overheard. I spent the evening seething in embarrassed silence.
One of our friends confronted me afterwards: "That was disturbing. As a pastor, you should know better." While I was wrong to blow up, I was miffed at the rebuke and wondered if I, a pastor, couldn't have the luxury of being fallible, even among friends. I found myself in a bind: I was too good for the first friend and not good enough for the second.
Are All Pastors Friendless?
Since my theology minimizes clergy-lay distinctions, I didn't expect pastoring to make me thin on friends. But I began asking other pastors: "Are you lonely?" "Do you have friends?" "What do you do for personal support?" All indicated they had problems.
Upon leaving a seven-year pastorate, one pastor said he felt free to have friendships for the first time in years.
A nationally known pastor lamented, "I have friends across the country and indeed around the world, but none in my own community. I can't afford to."
A part-time pastor of a new church spoke of his happy involvement with a local theater group. But church members resented this, believing all his energy should go into the congregation.
Still another pastor wrote me: "In the ministry you're everyone's friend--sort of--but no one's friend really. It seems that pastors either forgo friendships or seek them outside the parish (in so far as time permits)."
I have yet to meet a pastor who isn't lonely.
Join the Lonely Crowd
But is pastoring solely responsible for loneliness? I think not. Loneliness isn't peculiar to pastors. My friend Brian D. Dufton, a psychologist, observed other factors in my condition (and that of many other pastors).
I've spent much time in ivory tower communities (universities and seminaries) where I was surrounded by other eclectic introverts (like me), but in the parish, it's more difficult to find such like-minded souls. And since I'm still building a career, I tend to be work oriented, which, according to Dufton, is "inimical to relationship growth."
Furthermore, loneliness is widespread, not just among pastors.
In Reaching Out, Henri Nouwen notes, "Loneliness is one of the most universal sources of human suffering today. Psychiatrists and clinical psychologists speak about it as the most frequently expressed complaint and the root not only of an increasing number of suicides but also of alcoholism, drug use, [and] different psychosomatic symptoms."
In an old "Hill Street Blues" episode, police officers vainly try to cope with the increased insanity that the Christmas season visits upon both the neighborhood and the officers. One eccentric officer, Belker, a single man, plays Santa Claus in a hospital ward, trying to bring comfort and cheer to suffering children. But on Christmas Eve, he is home alone, eating junk food and watching cartoons on TV. When the phone rings, he is surprised and looks hopeful. But it is a wrong number. He wishes the accidental caller an anonymous Merry Christmas.
As an urban pastor, I've seen much of that poignant loneliness. For example, a mentally troubled man calls me regularly--usually every few days but occasionally several times a day. Unemployed, agoraphobic, and not always sane, he finds it difficult to fit into groups and has no acquaintances. I am almost the only person he can talk to.
I'm not alone in being alone! My loneliness isn't necessarily caused by my call, although it might be exacerbated by it.
Reasons for Pastoral Loneliness
Consider the following ways that pastoring aggravates loneliness:
Working alone. While I'm widely accountable as a pastor, most of my work is self-directed and done solo: I set my schedule, prioritize my work, and daily make countless judgment calls about what I will or will not do. Such solitude lends itself to loneliness.
In Christian Ministry, David J. McFarlane and Thomas H. Yorty note that "pastors tend to be loners. We spend a lot of time alone in our studies, alone in our cars, alone in the chancel, alone with the needs and joys of our congregants. The spiritual journey requires some degree of silence and privacy. . . . We function as extroverts, but at our center we tend to be introverts. Though to be alone is not necessarily to be lonely, the isolation of pastors is a bane as well as a blessing."
Lack of reciprocation. My expertise, ideas, and compassion often are called upon. But I have no regular settings to draw on others. I have no obvious confidant or confessor to whom I can turn.
Playing the role of pastor. When people occasionally ask me, "Really, Art, how are you doing?" I'm caught off guard and often avoid a direct answer. I hesitate to step out of the role I commonly play.
Our frailties. Our feet of clay may isolate us. People often repeat that pastors are "only human," but they don't really want to know about our sins or weaknesses, faults, and frailties. I'm not surprised that Paul dared not describe his "thorn in the flesh."
Isolation from the extended family. Pastors usually don't choose the community they live and work in. They go where they're called. In fact, many pastors receive calls to parts of the country distant from their family roots. That isolation also fosters loneliness.
Like most pastoral families, we don't travel to visit relatives during holidays; we stay for church services. Yet people hesitate to invite pastors to their homes during holidays since that is a time for families to be together. We feel most keenly at holidays what we feel in a low-grade way the rest of the year: alone, missing those with whom we have deep ties.
So pastoring isolates us socially. Church work takes up most of my socializing energy but doesn't fulfill my companionship needs. In fact, pastoring can actually hinder socializing. I have little time to meet "outsiders."
Even when I do, people may regard me ambivalently at best. Pastors are tarnished by the scandals of televangelists. Some people worry that we'll be out to convert or recruit them. Meeting strangers for the first time, I hesitate to tell them I'm a pastor.
Loneliness Has Its Rewards
Learning to accept loneliness enables us to benefit from it. I've found several insights helpful.
First, it is our nature to be lonely. Finite and fallen, we cannot completely satisfy one another. Henri Nouwen warns, "No friend or lover, no husband or wife, no community or commune will be able to put to rest our deepest cravings for unity and wholeness."
The deepest root of loneliness remains our need and yearning for God. "For God alone my soul waits in silence, for my hope is in him" (Ps. 62:5).
I've begun to pray the Psalms, and I've found comfort in them, for they show I'm not alone in painful loneliness. They also give permission to lament and provide an outlet for complaints. "Turn thou to me, and be gracious to me; for I am lonely and afflicted" (Ps. 25:16).
Second, solitude is intrinsic to spiritual growth. Granted, solitude is not the same as loneliness. But when I'm lonely, I often find I'm also alone. And I've also found that if I redeem that time for prayer and reflection, I grow spiritually. Jesus, we remember, often made solitude a priority, and he called his disciples to a similar discipline: "Come away by yourselves to a lonely place, and rest awhile" (Mark 6:31).
My loneliness also motivates me to serve and love. Barbara Fiand writes in Soundings, "Blessed are the lonely of our time, for they alone can teach the art of loving." Because of my small experience of loneliness, I am enabled to minister to my troubled friend I mentioned earlier.
Loneliness can actually move us into deeper fellowship with others. For instance, because of my loneliness, I am more and more appreciative of human contacts. During nice weather, I love to sit on my front porch to read. I'm delighted when I can hardly get any reading done, since so many neighbors stop by for a chat. Were I not lonely, I might consider that an interruption.
Ways Out of Loneliness
Although loneliness has its benefits, none of us wants to remain painfully lonely. That state, I've discovered, can be breached a number of ways.
Friendships with other pastors. Frank and honest sharing enhances ministry and brings healing to wounds. I keep in touch with several pastoral friends who attended seminary with me. Though they are spread across North America, phone calls, letters, and denominational conferences provide opportunities to deepen relationships.
I also have a friend in the ministry who lives within driving distance. We often go out for coffee or chat on the phone. We speak freely about our families and work, frustrations and joys.
Frank awareness of my needs. When with counselors and spiritual directors, we can be vulnerable about our hurts and sins. As someone who is supposed to have answers for others, I confess I hesitate to turn to counselors or spiritual directors. Ironically, while I lament the congregation's inability to recognize my neediness, I'm also slow to recognize and deal with it myself.
Soon after spending a week with my father, who had just undergone major surgery, I attended our church council. Even though it was the first time those folks had seen me since my trip, my father's health didn't come up until "old business" was discussed.
I was bothered by this apparent lack of concern, so I decided I'd have to air my need. "I may begin spending more time visiting my parents," I told the council. To my surprise, they immediately agreed.
In fact, one leader offered to write an emergency sermon in case I ever needed to leave at the last minute. This meant a lot to me.
Sometimes people simply don't know how to pastor their pastor. Speaking frankly about my needs, I helped the congregation to care for me as well.
Long-distance relationships. I don't discount such friendships, for they can be almost as convenient as local ones. Phone calls, letters, and visits keep relationships with family and friends intact. Besides traveling more to see my parents, we also make sure to invite relatives to spend holidays with us, since we're unable to get away.
I often travel some distance to meetings and workshops, and a friend lives along the usual route. So, I frequently drop in on him for coffee, a meal, or even an overnight stay.
Vital home relationships. Of course, families--often the first to suffer from our overwork--offer our greatest opportunity for shared love and companionship. I strive to go on regular outings with my wife and children. If I know a busy period is approaching (or just behind me), I feel free to take time off to do something with them. My little children do not only take a lot of energy, they also give me a different and much-needed perspective on life.
The gift of nonproductive relationships. I once accompanied several acquaintances to a distant wedding. All the way home, my companions compared notes on how they had networked. What for me had been a time of worship and celebration was for them an opportunity to further their agendas.
I see myself falling into the same trap. As pastors, relationships are our "product." I approach people with a pastoral third eye: wondering where they need to grow, speculating on how they might contribute to our ministry, hoping they might join. But such approaches make casual, enjoyable friendships almost impossible.
This habit is bound up with my workaholic need to produce, maybe the only sin pastors are permitted.
Recently, after a community agency board meeting, I found myself chatting for an hour with a new acquaintance. Later, I told my wife about it and felt compelled to explain why I allowed myself to chat for so long.
"Does socializing have to be justified?" she asked. Goal-oriented workaholics feel it must.
So now I give myself permission to be unproductive with people. I've made friends among my neighbors. Greeting one another on the street, visiting each other, and working together on projects are all significant gifts in our anonymous society. While I keep my ear attuned for God's nudges about people's needs, I also feel free to hang out and shoot the breeze.
Intimacy in the congregation. I do have friends in the congregation, despite the hazards. Such friends share my values and help in the church. Although I'm careful not to give them unequal treatment, I've found I can enjoy their company. Nonetheless, it's not the easiest kind of friendship to nurture and sustain.
A good friend pastoring in a difficult situation appreciated the steady support of her deacons. They met with her early every Sunday morning for sharing and study. When she stepped into the pulpit later, she could look at those friends and know she was not alone.
Nurturing solitude. Henri Nouwen writes: "To live a spiritual life we must first find the courage to enter into the desert of our loneliness and to change it by gentle and persistent efforts into a garden of solitude."
We can do much to bring ourselves past loneliness, but ultimately only God can perform this grace. Douglas V. Steere tells of an abbot who, shortly before dying, said, "When I look back upon the seventy years of my own life, I see quite clearly that I owe my present inner happiness, my peace, my confidence, and my joy essentially to one fact: I am certain that I am infinitely loved by God."
In the final analysis, we may be lonely at times; but we're never alone.