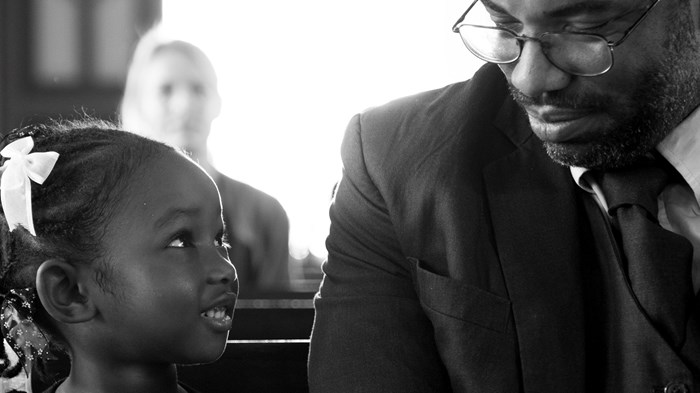 The hippie movement was at its height in 1971, and Stuart Briscoe had just become pastor of Elmbrook Church in Brook-field, Wisconsin. Stuart persuaded a group of 100 counter-culture youth to attend worship one Sunday, and one of the church's leaders was not pleased.
"I want to make one thing perfectly clear," the leader said. "These young people you brought into our church have to be kept separate. We have worked hard to keep our children away from these kinds of people."
Stuart had recently traveled to South Africa, where he had witnessed a similar form of prejudicial separation. Stuart mumbled something about apartheid. Today, he quips, "You must remember, I was a new pastor then, and not versed in diplomacy."
When a "full and frank exchange of positions" concluded (Stuart's more experienced, diplomatic description), the leader offered a solution Stuart could agree to. "I'm tired of hearing about the generation gap—let's build a generation bridge."
Soon afterward Elmbrook started a new Sunday morning class. It ran for three months, and participants were hand-picked from diverse age groups.
The class wasn't given a teacher (or a referee); the studies were led by the participants themselves, with an older person and a younger person sharing the task each week. Their curriculum, the Book of James.
Though reluctant at first, the participants began to address the walls of prejudice and misunderstanding between them. They were honest enough to ask, "Why do you grow your hair to look like a mophead? And don't say it's the same reason I grow mine to resemble a tooth brush."
In time, friendships and mentoring relationships were built that last to this day. The class shared its experience with the church, and a waiting list was created for the next Generation Bridge class.
Now the children of the hippie era seek to connect with their children and successors, Generation X. Bridging generations, building community, and bringing families together are new priorities in many churches. In some, the attempt to support the unity of the church and unity in families has given birth to a new a ministry paradigm: intergenerational ministry.
This paradigm integrates whole households—mothers, fathers, widows, singles, and children of all ages—into the same activities. An intergenerational ministry (also called inter-gen, multi-gen, or age-integrated) brings diverse ages together in the same place, with the same materials, for the same purpose. The goal: to build cross-generational relationships that strengthen faith formation in the community and at home.
Stephen Ong, pastor and founder of Victory Baptist Church in Greeley, Colorado, chose to build the church on an intergenerational model. "Too many families were living Christianity only at church," Ong says. "It wasn't being applied at home. I figured if we could bring families together in their walk of faith on Sundays, it would create a mutual accountability that would stay with them throughout the week."
Advocates of this ministry model tout the home as the primary center for faith formation. Often their top priority is training parents to impress the faith upon their own children. But successful intergenerational ministries incorporate more than just mom, dad, and the kids.
"The single most important thing in intergenerational ministry is to include the non-nuclear family units," says Eric Wallace, director of teaching services at Harvester Presbyterian Church in Springfield, Virginia, and author of Uniting Church and Home. "We call them 'households'—the widows, singles, single-parent families, etc. If you don't include them, you're just creating a 'family' fragment with separate needs and separate relationships from the rest of the body. The goal is to build unity and faith in every home, no matter who lives there."
Bringing everybody together
One Sunday every month, Christ Church in Phoenix, Arizona, holds an evening event called "The Family/Home Adventure." Families sit at round tables. Singles, widows, and neighborhood children (whose parents aren't there) merge with nuclear families to fill the tables. The evening involves eating, prayer, learning, and fun.
"So many assume that Christian families are eating and praying with one another," says Ben Freudenburg, minister to the Christian home at Christ Church. "But that isn't the case. Scheduled activities often disrupt mealtime, and many families don't know how to pray together. Our Adventure nights restore those things, giving families practice at being and praying together." In fact, Freudenburg makes the table-groups pray both before and after the meal. Just for practice.
Then, like many other intergenerational ministries, the people turn to one another, rather than toward a podium. Each table-group discusses a passage of Scripture and completes an activity together. Freudenburg's families have constructed craft projects, composed hymns, and written family mission statements. Their projects are then presented to the whole assembly, and families learn from one another. Inevitably, Freudenburg says, conversations begin between parent and child, or between widow and teen, that may never have materialized without this setting.
The family activity night provides an opportunity for all ages to mix. Other churches bring together specific generations.
Grace Church in Edina, Minnesota, for example, mixes eclectic combinations. Their fathers and sons have attended a professional basketball game; their junior high students have served meals to shut-in seniors; and the church has developed mixers to introduce their foreign exchange students to different American generations.
Family mission trips, parent and child retreats, age-integrated Bible studies and Sunday school, work projects, and worship are all potential platforms for building cross-generational relationships and strengthening families.
But building the bridge from the age-segregated ministries to an age-integrated paradigm is often as difficult as building a bridge between the generations themselves.
Meeting the objections
Intergenerational ministries begin in one of two ways: either the church is founded with core inter-gen values, or the idea is introduced slowly. In the latter case, inter-gen proponents often face stiff opposition. The cultural norm, common in schools and most church environments, is to separate people, and especially children, by age. Cultural norms aren't amended easily.
"Not everyone is going to want to do this," says Mike Sciarra, pastor of families at Voyagers Bible Church in Irvine, California. "That's okay. We don't want to swing the ministry pendulum all the way from age-specific to totally age-integrated. The two can co-exist."
Ben Freudenburg explains: "Age-specific ministries, like the traditional Sunday school, children's church, and adult Bible studies, are great for teaching the stories and concepts of the faith. Age-integrated ministries, however, teach us how to incorporate those truths into relationships. There needs to be a place for both."
Instead of complete overhaul, some innovators have succeeded with small, experimental forays into inter-gen ministry.
Lightsey Wallace (Eric Wallace's father) was an elder at Harvester when he first introduced the church to the idea of intergenerational ministry. He wanted to try including his 12-year-old daughter in the adult Sunday school class. He was convinced that his daughter was capable of understanding at a more mature level than her Sunday school class was offering.
Wallace asked for the chance to try it. After two years, the experiment was so successful, Harvester's Sunday school was rebuilt around age-integrated classes.
"Implementing this approach is not a process you should expect to happen quickly," advises Eric Wallace, that 12-year-old girl's older brother, who is now director of teaching services at the church. "The majority of churches will apply these principles to already existing age-segregated ministries and will take a gradual approach."
That's the approach Mike Sciarra took at Voyagers. When he arrived in 1992, age-segregated ministry was deeply implanted in the church's culture. Instead of attempting to alter current structures, he conducted an experiment "off-campus."
Sciarra invited whole families, including children age six months and up, to take part in a short-term missions trip to Mexico. Several families accepted.
The whole group started each morning in worship and study. Then the women and smaller children interacted with the Mexican people in games, crafts, and smaller projects, while the men and older children worked together on construction and clean-up projects. At the end of the day they convened for a meal, which they ate, of course, together.
The trips grew popular, and Voyagers now conducts four per year. The spirit of intergenerational work and worship began spreading first to other off-campus ministries, like Bible studies and small groups, and then to the on-campus ministry.
Rock the cradle slowly
When Ben Freudenburg joined the staff of Christ Church in Phoenix, he began examining ways he could "tweak" the existing ministries to introduce an inter-gen element. Freudenburg had been a pastor of youth and children in Kirkwood, Missouri, for 17 years. There he cultivated a culture of intergenerational ministry from which he wrote The Family Friendly Church (Group, 1998). The book included a section on shifting the church's paradigm. At Christ Church he put his transformation principles into action.
He discovered that every Advent season the church displayed larger-than-life Nativity characters made from wire framing and filled with Christmas lights. These figures were placed on the roof of a covered walkway (they placed the Wise Men to the east of the manger and moved them westward each evening). As they read the story and each character was mentioned, its rooftop figure was lit.
Freudenburg asked himself, How can I tweak this highly visible event to bring generations together?
He invited the households of the church to bring their own Nativity scenes to the chapel. Prior to the lighting ceremony, the little manger sets were displayed for the whole community. They celebrated the variety and international diversity of the crÈches.
Following the lighting, Freudenburg and his wife led a devotion that included readings and exercises for families to do and discuss together.
There was also a place for families to dress in costumes of the Nativity characters. While so adorned they made photos and videos to send to distant grandmas and grandpas.
A well-placed question
Introducing people to intergenerational ministries, whether by experimenting or by tweaking, is simple. Building a permanent culture of intergenerational cooperation, however, is not.
"Age-integrated ministries cannot become one more thing to add to the calendar," says Mike Sciarra. "You've got to consider which programs can be cut to make room."
John Erwin, pastor to families at Edina's Grace Church, and chairman of the National Association of Family Ministries, recommends conducting a needs assessment before launching new intergenerational ministries. Erwin recalls an important survey he took.
Grace Church had been sending families to parent/child retreats at a nearby camp for years. The retreats for fathers and children were well attended, but the retreats for mothers and children were not. Erwin wondered why.
He found it wasn't because of the mothers' lack of interest, but because fathers were the ones searching for help.
So Grace Church began "Super Satur-days," a training course for fathers on topics like leading devotions, anger management, and creating family memories. Assessing needs helped Grace Church launch inter-gen initiatives without cramming the calendar.
Can I do this?
The biggest obstacle to intergenerational ministry is personal insecurity.
"Parents are so used to the church planting their children's faith development that they don't feel they have the know-how," Freudenburg contends. "Therefore, when we give them options, they feel frustrated. The solution: we need to equip parents to lead their family's faith development."
For Freudenburg, equipping parents includes hosting a devotional fair. Bible studies, models for instruction, and other resources are on display at various stations. At each station parents are invited to try each resource with their children. If parents find something that works well for their whole family, they can buy it and use it at home.
When Rod Janzen was family life pastor at Olathe Bible Church in Olathe, Kansas, he introduced ways to make the church's faith education more parent-inclusive. "We switched our parenting class curriculum to one that helped parents become the primary disciplers of their children. Our youth ministries began incorporating parental involvement. And the message from the pulpit stressed oneness across all generations."
Grace Bible Fellowship in Walpole, New Hampshire, takes it one step further. The church provides "traveling teachers" who visit households on a rotation basis, coaching parents to teach their children. The encouragement and accountability help parents to grow in their confidence and willingness to shape their children's spiritual journeys.
Many churches that incorporate intergenerational ministry report unexpected benefits. Some have found it increases involvement of singles and seniors. Others appreciate that the added parental involvement reduces staff workload. Still others discover their innovation brings in new families who are looking for ways to strengthen their home.
The people of Olathe Bible Church were relieved their generational differences were more easily overcome than anticipated.
"We have older people who actually enjoy worshiping with the Gen-Xers," says Janzen. "And some of our teenagers like hanging out with the elderly. We found the different generations have more in common than some of them are willing to admit."
How intergenerational ministries close the gap.
Regardless of setting—teaching, worship, outreach—intergenerational ministries are built on several principles:
Age-integration. Rather than separating into groups by age or grade-level, inter-gen ministry purposely teams people from different age groups.
Generational understanding. Relationships are fostered that reduce intergenerational conflict and misunderstanding.
Integration of "households." While not all inter-gen ministries use the same terminology, singles, widows, and other heads-of-household are validated as family units and are often mainstreamed with nuclear families.
Parental responsibility for faith development. Parents are encouraged and equipped to take the primary role in their children's faith education, to "impress" upon their own children the truths of God (Deut. 6:6-9).
Connecting to the Inter-gen
Resources for starting age-integrated ministry.
http://www.heritagebuilders.com.
A Focus on the Family Web site for equipping families to pass on their spiritual heritage to children. Includes tips, tools, articles, and resources.
http://www.chamberscollege.com.
Source for S.A.F.E. (Scripture Activities for Family Enrichment), an age-inclusive spiritual development curriculum produced by Stephen Ong, pastor of Victory Baptist Church in Greeley, Colorado.

The Family Friendly Church

(Group, 1998) by Ben Freudenburg, minister to the Christian home at Christ Church in Phoenix, Arizona.

Uniting Church and Home

(Solutions for Integrating Church and Home, 1999) by Eric Wallace, director of teaching services at Harvester Presbyterian Church in Springfield, Virginia.