Pastor's Library
Access the complete Leadership Journal archives. Containing over 35 years of issues. These archives contain a trove of pastoral wisdom, leadership skills, and encouragement for your calling.
Leading isn't just a one-person job. Here's how it's getting done today.
Spring : New Ways Teams Lead
Volume 29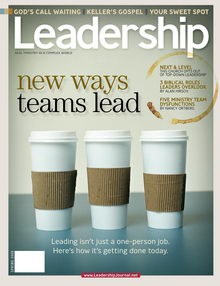 Subscribe to Christianity Today and get access to this issue and the entire CT Pastors archive.
10 award-winning print issues
PDFs of each issue
Full web access to ChristianityToday.com
60+ years of magazine archives
In this Issue
Features
Commentary
Toolkit
Bonus Article
All Articles
Keeping It Real
Can staged worship "experiences" lead to a false gospel?
Next & Level
After a bad experience with personality-based, top-down leadership, a whole new approach was needed at what is truly The Next Level Church.
Loading
Current Issue
Subscribe to Christianity Today and get 2 special issues from CT Pastors each year plus instant access to the digital archives.