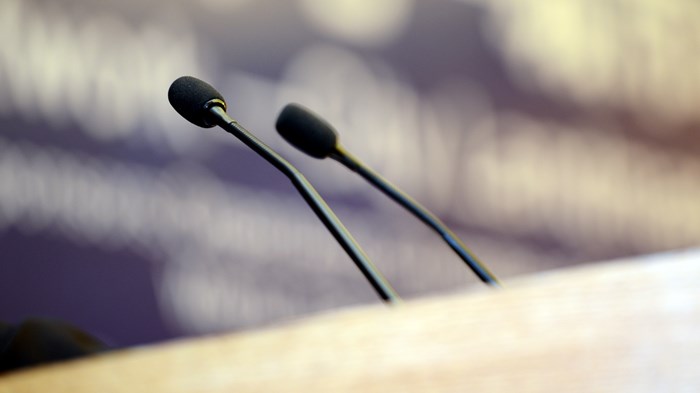 Other than being preachers, Jennifer Morrow and Timothy Ross don't seem to have a lot in common. They minister in different contexts, different denominations. They live hundreds of miles apart. They're not even the same gender. Yet they've formed a long-term, fruitful preaching partnership. In the following piece, they describe their unlikely partnership and challenge other preachers not to do sermon prep alone.
Tim: Six years ago I received an email from Jennifer, who had recently transitioned from serving as an associate minister to the role of pastor. She wrote: "I've spent my day laboring over a sermon for this coming Sunday. This is my ninth week in a row of preaching and I'm growing tired of my own voice … and feeling the lack of having heard anyone else's. Ever felt this way?"
I had to laugh. After almost 30 years of ministry, those feelings were frequent companions. As Jennifer and I talked about the challenges of preaching over the long haul, we decided to address that fatigue and isolation together. Our differences in age, gender, denominational affiliation and geography were significant, but our commonalities proved more powerful: a love of the Word, a long friendship, a strong call to ministry, and a shared conviction that we needed help bearing the beautiful burden of preaching. We agreed to call or email once a week to talk over lectionary scriptures and share ideas for sermons. I gave the experiment a couple months, figuring this effort would quickly run its course. Six years later, Jennifer and I are still collaborating as preaching partners.
Jennifer: When I sent Tim that email bemoaning my preaching fatigue I knew I was looking for support. I assumed that support would come in the form of empathy; I assumed that Tim would write back and say, "I know how you feel. I get it. Hang in there. You are not alone." The best I hoped for was an understanding sentiment that would allow me to sigh, "At least it's not just me." What I didn't imagine at the time was that support would come not only in the form of empathy, but also as creativity; not simply feeling, but action.
"You are not alone" for us has come to mean "Let's work alongside one another. I'll share my voice with you, my thoughts on this passage, old sermons I've written, what's going on in my life. And you lend me your voice. Tell me what you notice about this text, email me a good commentary on this week's passage, read a book with me and tell me what you hear." Two minds at work, two voices speaking. Two congregations, two families, two seasons of life brought to bear in the service of proclaiming the Word. It is a blessed thing when complaining leads to refreshment; when whine turns into water.
Why we decided to partner for sermon prep
Creative partnerships are nothing new; from infancy we participate in these relationships. A recent New York Times article, "The End of 'Genius,'" by essayist Joshua Wolf Shenk notes, "Consider what happens when 4-month-olds interact with their mothers: They mimic one another's facial expressions and amplify them. A baby's grin elicits a mother's smile, which leads the baby to a full-on expression of joy—round mouth, big eyes."
We need communication partners to become humans capable of expression. From our earliest days we exchange a constant stream of stimuli and response in an ever more creative game of give and take.
Preaching doesn't take place in isolation. Preacher and congregation engage in a dynamic exchange. A sermon only reaches its final form when mutually experienced in the community of faith. Yet it is generally assumed that writinga sermon takes place in isolation. A preacher sits in a lonely room before an open Bible, bathed in the glow of a blank computer screen, waiting for inspiration to strike. This scenario, so familiar to pastors, is unsustainable for many and can put preachers on the fast track to burnout. The image of the lone figure waiting for divine inspiration denies who we have been from our very beginnings—not isolated, "atomized" selves, but beings designed for interpersonal exchange. Collaboration is how we thrive, and create, and ultimately become our true selves.
A sermon only reaches its final form when mutually experienced in the community of faith. Yet it is generally assumed that writinga sermon takes place in isolation.
Cooperative creativity can work in a larger group, but something about the social dynamics of two people working together lends itself to extraordinary productivity. Again in the New York Times article, Joshua Shenk makes the case:
"The elemental collective, of course, is the pair. Two people are the root of social experience—and of creative work … our psyches take shape through one-on-one exchanges, we're likely set up to interact with a single person more openly and deeply than with any group …. When even one more person is added, roles and power positions harden. This may be good for stability but problematic for creativity. Three legs make a table stand in place. Two legs are made for moving. Pairs also naturally engage each of the two people involved. In a larger group, an individual may lie low, phone it in. But nobody can hide in a pair."
Examples of creative duos abound: Shenk points to Steve Jobs and Steve Wozniak, William and Dorothy Wordsworth, Martin Luther King Jr. and Ralph Abernathy, and that most prodigious pair of musicians, John Lennon and Paul McCartney. Still, the myth of the "lone genius" (like that image of the solitary preacher before a blank screen) is deeply embedded in our pastoral mythology. Shenk contends, "It's going to take some time to truly accept the significance of pairs in creative life, in part because so many partners, if they do their job well, remain hidden to the outside world…. Partnership is also obscured when the two people have distinct public identities. C.S. Lewis and J.R.R. Tolkien didn't 'collaborate' in the traditional sense, but … the influence of each on the other was critical to the work of both." The power of creative partnerships is hidden in plain sight.
Better together
Many preachers have discovered the goodness of creative preaching partnerships. Groups of clergy in many communities connect regularly to tackle lectionary themes and texts. Jennifer meets with a lectionary group that gathers weekly. We know members of another group that cooperatively crafts a single sermon per week, which all members take back to share with their respective congregations. This group of pastors retreats together annually to outline the coming year's preaching and assign tasks to various members depending on their gifts and interests.
Online preaching groups have formed around blogs, journals, and web-based watering holes for pastors. For several years, a couple of Nashville ministers who worked on the same church staff wrote collaborative sermons and preached them in dialogue with one another, allowing the congregation to hear one message from two distinct voices and points of view.
Our practice might be described as disciplined informality. Disciplined because there is the expectation that we'll check in with one another on a weekly basis. It is informal because that check-in may come on a different day depending on schedules, or in a different form (email, phone call, etc.). During those "check-ins" we reflect on the meaning of the Word for our lives and for our congregations. We explore narrative preaching angles and discuss ways to make the text come alive in our local settings. We plan for the seasons of the church's year and plot extended preaching themes and series.
We also read each other's stuff—doing our best to remain vulnerable and open to constructive criticism. In Wendell Berry's novel, Jayber Crow, the title character confesses, "Some of the best things I have ever thought of I have thought of during bad sermons." For the preacher, the reverse is true: Some of the worst things we have ever thought we have included in bad first-drafts. Sometimes we email each other incomplete, bad, or flimsy sermons. Occasionally, before we hit send, we include a caveat: "Not sure about this ending," or "The middle seems weak," or "Have I said anything?" or just, "Help!"
Occasionally, before we hit send, we include a caveat: "Not sure about this ending," or "The middle seems weak," or "Have I said anything?" or just, "Help!"
It is not humility that allows us to send along weak or unfinished work; it is a trust that has developed over time in our collaboration. We have learned to rely on one another to shoot straight about the good, the bad, and the ugly. We enjoy "eureka!" moments when one or the other of us will write something that so resonates or captures the day's theme that it deserves a wider hearing. We encourage one another to be bold when hard words need to be spoken, and kind when snarkiness threatens to take over. We encourage one another to love the church, and to be faithful to our ancient craft and our calling. And our collaboration extends beyond the words of the page; we talk about our churches, our families, our lives—we have discovered the goodness of friendship in ministry.
Pairing up
How does one find a preaching partner? There are worse things than writing and preaching alone. Attempting to create something as complicated as a sermon with a mismatched writing partner could be disastrous on the writing front and might sink a friendship. But accepting risks and becoming vulnerable in reaching out to another could also provide a pathway to greater creativity and joyful community with other servants of the Word. One might make a start by partnering with a small group of preaching partners who collaborate on sermons. Trial partnerships of limited duration might be an understandable option for those who want to keep the back door open. Preachers should stay open to crossing generational or denominational lines. Who knows? Important lessons and surprising outcomes may result from diverse friendships. The only way to ensure one will not find a partner in preacher is to not look, not reach out, not risk, not make that call.
In Telling the Truth Frederick Buechner advises preachers (masculine pronouns aside): "He is called not to be an actor, a magician, in the pulpit. He is called to be himself. He is called to tell the truth as he has experienced it. He is called to be human … and that is calling enough."
This is what our collaboration ultimately makes possible. It quiets our inclination to be actor or magician in the pulpit. It helps us be ourselves. It helps us tell the truth as we have experienced it. It challenges us to speak in love even when truths are hard to hear. It helps us be more than preachers. It helps us to be human. Which is more important and harder work than anyone should ever have to attempt alone.
Jennifer Morrow serves as the pastor of the Rowayton United Methodist Church in Norwalk, Connecticut.
Timothy Ross ministers to the Hopwood Christian Church at Milligan College, Tennessee. He also teaches formation and cross-cultural ministries at Emmanuel Christian Seminary in Johnson City, Tennessee.