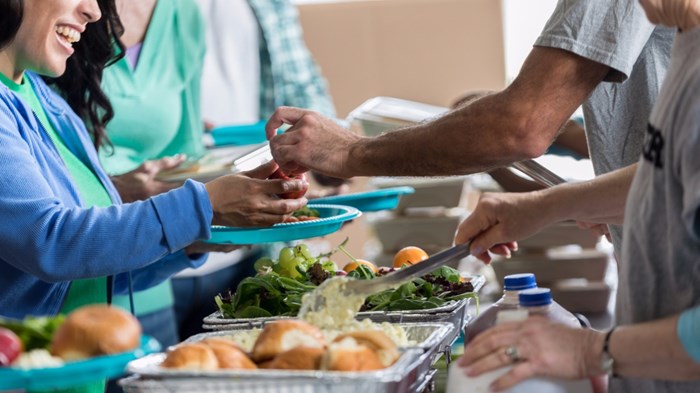 "Medium or rare?" asks the smiling chef as he raises his slicing knife. The aroma of succulent roast beef fills the air, mixed with the wafting of fresh waffles and omelets. Families move through the food line and sit down to eat and fellowship with other families. A late breakfast at a local country club? No, it's Sunday brunch at Prestonwood Baptist Church in Plano, Texas. This same scene is played out at a number of other churches across the country.
Prestonwood Baptist is a leader among churches in food-service ministry. Eddy Espinosa, director of food services at Prestonwood, sees food as a tool to encourage people to check out the church. According to Espinosa, the average American eats 3.5 meals out a week. By offering high-quality meals, the church's food service becomes a magnet as members invite friends to dine.
Locals with little interest in a worship service often will show up to help with local community events held at the church. Even businessmen, who may not regularly attend, flock to the mid-week Power Lunch. An inspirational talk is served in the church café along with a gourmet meal.
Considerations
It takes a lot of planning to successfully grow a food ministry. Espinosa, whose background includes professional chef for a convention center and country club, suggests meeting with church leaders to map out how specific groups envision using an expanded ministry.
How will the newly remodeled kitchen be used? Do youth ministry leaders have a vision for a coffee bar outreach to teens in the community? Does the church plan to start a school in the near future? Staff and congregation need to pinpoint and prioritize goals before dashing out to purchase a new dishwasher or espresso machine.
Also consider the amount of traffic. On Sunday mornings, several different groups may need to be in the kitchen at the same time. Compare current use with future growth to assess the need for new equipment. The old dishwasher that serviced groups of 30 will be obsolete if the church ministry wants to serve 150 senior citizens at a weekly brunch. Experts suggest hiring a professional kitchen planner—one who has expertise in planning layouts for church kitchens.
As a food ministry expands, staffing becomes a crucial issue. The church secretary or volunteer kitchen director soon will discover that their job has expanded beyond their training. Tom Smith of Resurrection Life Church in Grandville, Michigan, says his church hired a food-service manager before they purchased any new equipment.
Leaders in this ministry recommend looking for committed Christians already in the food-service industry. They, in turn, can train and recruit their own staff. According to Espinosa, Prestonwood has been able to offer their community expanded food services training. They are equipping local citizens with needed vocational skills, allowing them to earn a living in the hospitality industry.
Beyond training servers and cooks, many managers find opportunities to minister to their own serving staff by offering cooking classes and Bible studies. Food service, by nature a hands-on vocation, demands that managers work closely with their staff. This interaction results in chances for managers to informally disciple their employees as they mirror Christ.
Hardware
As churches expand their food-service capacities, they likely will buy new chairs and tables. Most churches want versatile equipment. Marcus White, manager of a dynamic food ministry at First Baptist Church in Orlando, Florida, spent a long time researching the furnishings market. "After 14 years, we needed new chairs, and I shopped around till I found a durable chair that would hold up in a variety of situations," he says, pointing out that they served over 250,000 meals last year. "We needed attractive chairs for formal sit-down dinners as well as easily cleaned chairs for family-night suppers." In the end, he chose a chair with a floral vinyl fabric that can be easily wiped down for cleaning.
Church facility planners recommend high-density, stacker-style chairs. Manufactured to stack up to 40 high, these chairs are useful for churches with limited space. They are typically made of durable, injection-molded polypropylene plastic. Planners like these chairs for their comfort and ease of cleaning. The stacking feature is especially important for food ministries that need to set up in multipurpose space.
Many churches forgo the rectangular folding tables in favor of round tables. According to White, 60-inch diameter tables allow eight people to gather around the table, and with a little crowding, 10 can be seated at each. Round tables allow for a better flow of conversation, and their shape makes them more versatile in room set-ups.
Money
After a church has made purchasing decisions on new equipment, staffing, and menus, cash flow is the next issue. How much will the church underwrite food expenses, and how much do they expect members and guests to pay? A rule of thumb, according to White, is to price meals at half the cost of a good local restaurant.
So if a spaghetti dinner is $12 at the neighborhood Italian eatery, First Baptist charges $6 per person. The church will subsidize any shortfalls as part of the food ministry budget. This enables families that normally can't afford to eat in a community restaurant the opportunity to enjoy a meal together at church.
White suggests standardizing prices for menu items with opportunities for flexibility. For example, consider a couple that would like a chicken marsala dinner served on china for their wedding reception, but they cannot afford the $15-per-head cost. But, the couple might opt for the meal if they are allowed to substitute paperware for china. If the staff doesn't need to hire dishwashers, prices are reduced $10 per person.
Liabilities and licensing are other things to consider. As soon as a church becomes involved in producing and handling large amounts of food, the government labels them "food handlers" and requires a license. The city health department is usually involved in this licensing. With a few hours of training, church members can learn the basics of food handling, from hand-washing methods to storing foods at the correct temperatures.
Inspections
Church institutional kitchens are inspected quarterly. According to Sue Kowalczyk, food program manager for DuPage County, Illinois, the "pot luck" law allows churches with once-a-month meals to opt out of any inspection. This law includes any religious preparations done for service (such as communion). Only when a church begins feeding people on a more regular basis, or opens up a childcare or school, does the city (or county) health department require a food permit.
Here are just a few examples of what a facility inspector will look for:
* Every cooking area should be ventilated.
* Refrigerators must be at 40 degrees Fahrenheit.
* Three sinks are required when large groups of people are fed: one for washing hands, a second for preparing food, and a third for washing dishes.
* The floors, walls, and ceilings must be clean and made of durable materials.
The inspection also will include observations of food-handling and preparation practices:
* Hot food must be kept at 140 degrees Fahrenheit or higher.
* Cold food must be kept at 40 degrees or lower. A simple probe thermometer can be used to test food.
* Workers must use proper hygiene for hand washing—lather-up and wash at least 20 seconds.
White has at least one—and often three—certified food managers on duty at each function. He also requires each staff member, as well as all volunteers, to be safe-food certified. He uses state booklets and teaches classes right at his church. "I want our ministry to be completely professional and above board," he says.
If the vision for reaching out by providing a warm atmosphere and inexpensive meals for large groups and families appeals to church leadership, help is available. Prestonwood Baptist hosts an annual conference called "Building a Healthy Food-Services Ministry." This three-day seminar, hosted each June in Plano, Texas, offers classes ranging from "Kitchen Equipment Expo" to "Building Bridges with Ministry."
God gives churches unique callings and gifts. He may be calling some churches to add a daycare or develop a senior citizens meal program. He may inspire others to create a coffee bar for local teenagers. As churches around the country have found, a church that feeds people food also opens doors to feed their hearts.
Carol Stratton is a freelance writer in Illinois. Additional help for a successful food-service ministry can be found in our downloadable resource "Launching a Business at Church," available for purchase at ChurchLawAndTaxStore.com.