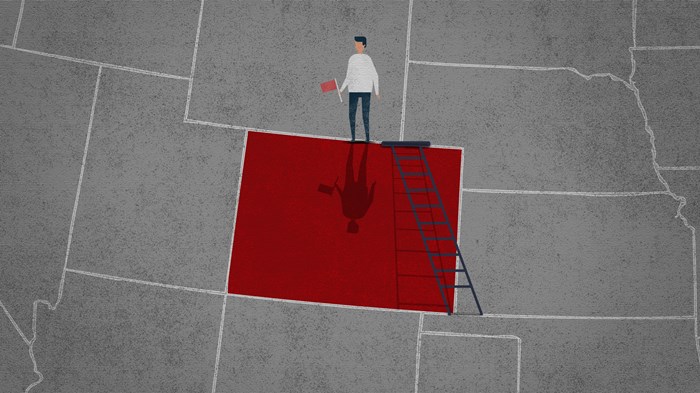 Image: Illustration by Rick Szuecs / Source image: Envato
Llevo la tierra en mi sangre." I first heard Keith Clerihue say those words while he was dying of cancer. He would leave behind a young wife and two boys, and also this mantra for my life: "The dirt is in my blood." The mantra resonated inside of Keith because he was an anomaly in the city of Denver: a fourth generation Coloradan. His words invited and challenged me to know myself and the sacredness of the places I've lived that flow through my veins.
Sometime later, I went on a retreat with a group of pastors from Denver outside Jefferson, Colorado, a small town below Kenosha Pass in what looks like a postcard of our beautiful state. Late the first night a friend asked why I had served at the same church in Denver for over 25 years. I answered, "The dirt is in my blood."
"Your blood is in the dirt," he replied, rearranging the words with a new meaning. Tears pooled in my eyes. My friend diagnosed my love for the people and place I pastor and stated what I believe is at the heart of ministry. We must love a place to the point of bleeding for it if we hope to lead, shepherd, and pastor well.
Soil is Sacred
As I told my friend, I have pastored the same church for over 25 years and have lived in the same house for nearly 20 years. Neither of those statistics should be staggering, but in my transient city, I am often an outlier. I didn't set out to stay at one church for so long, but it has been one of the great gifts of God's grace. My church, home, and city have formed me. They taught me the sacredness of place. The dirt is in my blood, and my blood is in the dirt.
We live in a disembodied age. In our globalized, digitized world, we experience a stunted relationship with physical place, and our souls suffer from the lack of a lived theology of place.
The biblical text is rooted in the dirt—Ur, Canaan, Sodom, Bethel, Jericho, Bethlehem, Samaria, Capernaum, Emmaus—and humanity's story began in the dirt: "Then the Lord God formed a man from the dust of the ground and breathed into his nostrils the breath of life, and the man became a living being. Now the Lord God had planted a garden in the east, in Eden; and there he put the man he had formed" (Gen. 2:7–8).
Walter Brueggemann writes in The Land: Place as Gift, Promise, and Challenge in Biblical Faith, "Place is space which has historical meanings, where some things have happened which are now remembered and which provide continuity and identity across generations." At the beginning of human history God worked in a specific place: a garden in the east, in Eden. At the fulcrum of human history, God, in the person of Jesus, lived and worked in specific places: Galilee, Jerusalem, and Golgotha, where his blood entered the dirt he created.
I'm inspired by Shammah, the son of Agee, one of David's mighty men. "When the Philistines banded together at a place where there was a field full of lentils, Israel's troops fled from them. But Shammah took his stand in the middle of the field. He defended it and struck the Philistines down, and the Lord brought about a great victory" (2 Sam. 23:11–12). That plot of lentils was sacred soil to Shammah. He defended it because it was the dirt he had been given. Pastors, too, are responsible to love and lead the places to which we are called, wherever they may be.
Ministry with Roots
Recently I listened to a retired pastor, now 80 years old, share about the churches he pastored. His first was in a rural and agricultural context where the life of the church was formed by the seasons. The next was a weathered factory town where most people spent their lives planning their retirement and eventual escape from that place. The third was a suburb of Washington, DC, consumed with military and politics, deeply divided over the current administration. His final pastoral post was a growing metropolis in which people focused on little else than social prestige and professional success. Each place required rooting himself in the dirt of the people and places he pastored.
My blood was not always in the dirt. It took me 20 years to discover the value of place in my ministry. My pastoral posture was formed by an unspoken expectation to create a large commuter church. Our church, like many that began in the 1990s, was built on the same foundation the city of Denver was built on from the '50s to the '90s: the automobile. I recall the line in our building search plan stating the priority of highway accessibility for our new facility. And because of this, our young church grew quickly. Every week hundreds of 20-somethings drove across Denver for a church service that lasted a few hours.
The corners of our growing city are now over an hour from each other, and Denver highways don't offer the speed and convenience they once did. I was blind to the impact distance would have on our church.
Among other factors, geographical distance between the places we lived and the places we worshiped, between our pastors and congregants, impaired the long-term health of our church. As our church aged, our challenges grew. Young people found careers and formed families, reducing the discretionary time available—and required—to remain connected to the church. Our ecclesiology conflicted with our geography.
I first began to consider the importance of place as I listened to Eugene Peterson reflect on his years as a pastor at a gathering I attended in 2012. He said, "Theology divorced from geography gets us into nothing but trouble." As Gabe Lyons interviewed Peterson for three rainy days in New York City, Peterson shared how he had quietly pastored the same congregation in Baltimore, Maryland, for almost three decades. From his perspective, pastors moving from church to church should be the exception, not the rule. His words affirmed the work of being a pastor rooted in place: "Being a pastor is the most context-specific vocation there is. We need to do everything we can to stay as local as we can." To lead and love others, we must know them. And to know them, we must be willing to plant deep roots in the place where God has planted us.
Distance wasn't the only pressure on our staff and ministry. For 10 years, pastors transitioned to and from the church, and we experienced consistent financial challenges. What kind of church would we become when people were no longer willing to drive across the city? I wondered if I would eventually leave those people in that place. But Peterson's words inspired me to create a life and a ministry with roots. His pastoral example became the foundation for my philosophy of parish ministry.
Neighborhood parishes are perhaps most closely associated with the Catholic church, but my appreciation for parish ministry also came from another source. In 1989, when John Perkins formed the Christian Community Development Association, he based it on the three Rs of Relocation, Reconciliation, and Redistribution. His convictions were a radical realignment to ministry in the urban context, and he poignantly stated the importance of place. "Jesus relocated," Perkins wrote. "He didn't commute back and forth to heaven."
As Perkins suggested, a parish church accepts spiritual and social responsibility over a specific location. I've learned that geographic limitations are a gift and place is sacred. That's why in 2015 we established The Sacred Grace family of neighborhood churches.
We leveraged 20 years of leading commuter-based churches towards a new expression of church rooted in place. We continue to care for those who drive across the city for one expression of our church while also seeding a new parish church in the neighborhood. This new expression of church has taken time to germinate, but now families who have been part of our church for 15 years and those who joined in the last 15 months both resonate with the importance of place in their faith.
Our vision is to the see a church in and for every neighborhood in Denver, though we don't expect to do this ourselves. We want to be a small part of reshaping the imagination of those within the church to see the places they live and work as sacred. We also hope to reshape the imagination of those outside the church so they can see the local church as essential to the fabric and the good of their neighborhoods. I long for school principals, businesses owners, and civic leaders to see pastors as their strongest allies in their neighborhoods. What does this new vision look like in practice? Let me tell you about my friend Nathan Hoag.
A Picture of Parish Ministry
Nathan moved his family to Englewood, Colorado, to plant our first parish church of The Sacred Grace in 2016. We prayed for six months for a home to relocate his family to Englewood within a mile of the church. God provided a house two blocks away. It was never placed on the market, and it sold for thousands of dollars under the market value. He and his wife, along with their adoptive daughter, biological daughter, and foster son walk to church each week.
Nathan began the work of planting a parish church with a nine-month "listening tour" in which he walked and prayed over 300 miles of streets in Englewood. He asked his neighbors, local business owners, and civic leaders questions about the city they call home.
Englewood is in the invisible middle ring of Denver—it is in neither the popular urban renewal nor the spacious suburban section of our city. Englewood is a part of town most people only drive through. But over three years, a small parish church led by an inspiring pastor who loves his city has created a place where civic, business, nonprofit, and faith leaders have been re-inspired to love and lead their city.
In the last three years, two different mayors, the city manager, the chief of police, the school superintendent, and various city council members have all come to the church at Nathan's invitation as honored guests. They shared about their roles and daily work along with their perspectives of the greatest needs in the city and ways in which the church can help. When the city manager resigned last year, the church took a section of the service to thank him for his leadership. He shared how Nathan and others had prayed in his office every Wednesday for the city, and how a stack of thank-you notes from the church, most from people he had never met, had encouraged him in some of the most difficult moments of his civic leadership.
Over 75 percent of those who attend The Sacred Grace Englewood live or work in the neighborhood. Their paths cross at the grocery store and the school playground. They regularly share unplanned meals and drinks together at local restaurants. Their lives overlap far more than once a week at church.
At the core of our Christian faith is a belief in the Incarnation: "the Word became flesh and blood and moved into the neighborhood" (John 1:14, The Message). Choosing to live and lead in a specific place, as Nathan has, is a declaration of the worth and value of every person who calls that place home.
Every neighborhood in every city in every country is part of creation and the kingdom. Whether we live in a global city or a rural town, whether we pastor a church with economic affluence or economic anxiety, whether we are rooted for only a few months or decades, God invites us to embody the doctrine of the Incarnation in our lives.
My friend Keith Clerihue died a fourth-generation Coloradan. The dirt was in his blood. He loved the rugged nature of the people and the wildness of his state. The legacy of his love continues through the images and words he left behind.
I hope I, too, leave a legacy through my life and leadership, as a friend, father, and pastor who loved deeply the people and place I have been given by God. The evidence of that love will be my blood in the dirt.
Jared Ray Mackey is executive director and lead pastor of The Sacred Grace, a family of neighborhood churches in the Denver metro area.