January 2007
Almost all of us agree that good character is the centerpiece of authentic first-rate leadership. Good character is the key to good leadership because people tend to follow whatever standard the leader sets. Recent studies in moral intelligence show that the level of morality exercised by a company's character consistently affects the bottom line. It takes good character ...
continue reading
---
Get to know Caryn Rivadeneira, one of our Gifted for Leadership editors and a regular contributor.
Caryn Rivadeneira is an writer, editor, and speaker. Her first book, Mama's Got a Fake I.D.: How to Reveal the Real You Behind All That Mom, hit the shelves in March 2009.
Caryn has worked in Christian publishing for more than 10 years, during which time she has written numerous magazine articles and edited several books on both marriage and family issues. Her tenure includes ...
continue reading
---
Meet Roxanne Wieman.
Roxanne Wieman is the former editor of Gifted for Leadership. She graduated from Colorado State University with honors in English Literature and Creative Writing, and a minor in Religious Studies. She's worked in Christian publishing for nearly five years, and has developed over forty books for church leaders, edited dozens of Bible studies, and contributed to five ...
continue reading
---
It's almost impossible to talk about gender issues without crashing into all the stereotypes about work-obsessed men, overly sensitive women, and the nasty label that gets attached to assertive women in the workplace. So let me say this from the get go: Each sex has its strengths and weak spots, and the issues we face when we work together are the result of these strengths ...
continue reading
---
I've spent most of my life in leadership. I led my little sister in shenanigans for years. I led my friends on the playground and my fellow students in the classroom. I was captain of my cross-country team in high school and served on Student Senate in college. I was on the student leadership team for my church youth group and Fellowship of Christian Athletes. But I ...
continue reading
---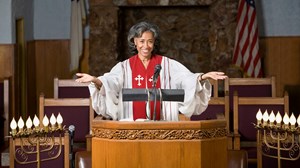 Image: Hill Street Studios/Getty
I grew up in England with a queen on the throne and was educated at an all-girls' school and women's college in Cambridge by gifted females (and led to Christ by a female medical professional). So after becoming a Christian, imagine my dismay when I first joined a church where women weren't allowed to do any of the things in which I knew they excelled!
Later as ...
continue reading
---
The most important thing God ever taught me is to pray for what I lack. I've had to pray that above all else, he would give me a love for him, and a hunger and thirst for his Word. In my twenties, I was a Sunday school teacher, and I was pitiful. I just didn't know God's Word. So I prayed about it and signed up for a Bible doctrine class at my church that I ...
continue reading
---
Our Purpose
We believe that people who have the spiritual gift of leadership are called to lead, not for their own benefit, but for the sake of nurturing the body of Christ. Women with leadership gifts, as with all gifts, are obligated to use those gifts in the ways and the places God has called them to. We are committed to speaking with these values:
• Biblical truth—We always ...
continue reading
---
Get to know Sally Morgenthaler, one of our Gifted for Leadership editorial advisors and regular contributors.
Sally Morgenthaler is recognized as an innovator in Christian practices worldwide. Since 1992, she has been pioneering new worship forms characterized by both cultural relevance and worship faithfulness. Her prophetic role among church leaders and local congregations continues to increase in denominational scope and impact, as her work now broadens into new forms of leadership ...
continue reading
---
Naomi Gaede-Penner obtained her master's degree in counseling from Denver Seminary in 1991. Since that time, she has taught the career counseling class at Denver Seminary, as well as classes on communication and leadership. She has also been an instructor at Arapahoe Community College in Denver and Alaska University, Kenai Peninsula College extension.
Ministry is innate to ...
continue reading