After 50 Years in a Wheelchair, I Still Walk with Jesus
On the anniversary of her accident, Joni Eareckson Tada reflects on God's faithfulness.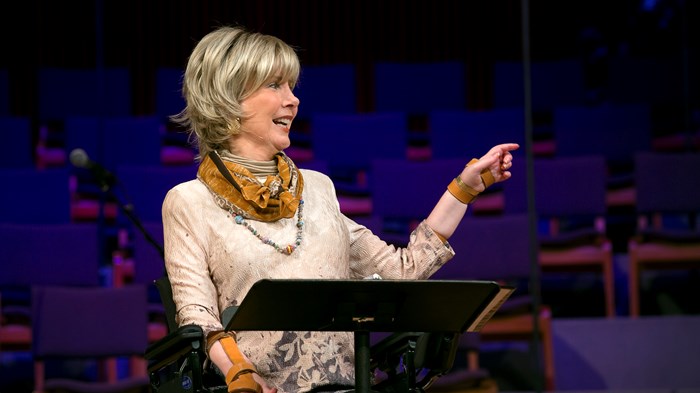 Image: Courtesy of Joni and Friends
On July 30, 1967, a teenage girl went with her sister to a beach on the Chesapeake Bay and suffered a diving accident that rendered her quadriplegic. Today, Joni Eareckson Tada leads an international ministry, advocates for those with disabilities, and is a sought-after speaker, best-selling author, and radio host. This weekend marks the 50-year anniversary of the accident, and CT connected with Tada to discuss how God has worked in and through her life over the past five decades.
At the time of your diving accident, you were just 17 years old. If you could speak to the young woman you were at that age, what would you most want to say?
As a young girl I was so distracted, enamored, fascinated, infatuated. The world was before me and I had so many options. If I could go back, I'd take myself by the shoulders and shake them and say, "Look at me, Joni, listen: Love Jesus more, obey him more. Follow him more closely—not at a distance. Don't second guess the Holy Spirit's whispers and convictions in your heart. Don't make your own decisions without checking in with God—follow him much more closely."
How do you feel as you reflect back over the past 50 years?
Just the other day I was reading 1 Peter 5:10 [ESV], where Peter says, "After you have suffered a little while, the God of all grace … will himself restore, confirm, strengthen and establish you." Honestly, I'm amazed that the last 50 years feel like only "a ...
1