COP26 Is a Critical Moment for Christians to Address Extreme Weather Events
Fossil fuels cause 8 million deaths per year, according to Harvard researchers. To what extent will world leaders make the changes needed?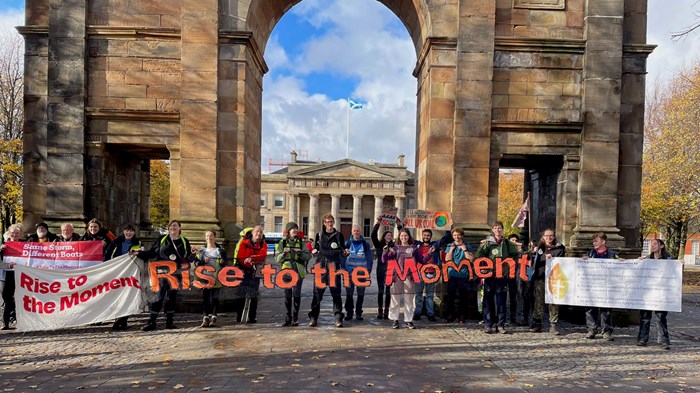 This is a continuation of an earlier post. The pilgrimage pictured above was conducted by Young Christian Climate Network and was recently featured by CT.
COP26 is an opportunity to help those already harmed today and also head off future harm, like climate disasters. So it must be asked, what is creating the conditions for harm? Why is the road to Jericho so perilous?
Science is clear that the primary cause is burning fossil fuels for energy. When fossil fuels are produced and burned for energy, it adds more and more greenhouse gases into the atmosphere. These greenhouse gases trap the sun's heat around the earth like a heat-trapping blanket, overheating and disrupting climates around the world. This leads to more extreme weather events which drive people from their homes as refugees, increase poverty and disease, exacerbate food and water insecurity, accelerate biodiversity loss and species extinction, and permanently alter the face of creation. Burning fossil fuels also pollutes the air, which kills over 8 million people a year (a normalized but morally unacceptable loss of life).
But transitioning to available clean energy sources with haste—without leaving people behind—is both possible and necessary in order to reduce emissions by half this decade and virtually eliminate it by mid-century. What happens at COP26 has the potential to significantly hasten this transition.
This is where COP26 is a test and could be a turning point.
It is entirely feasible, at this critical junction, to change course. We know what to do to protect human life and responsibly manage the earth we borrow from future generations. What is needed is political will. And this is where COP26 is a test and could be a turning point: To what extent will world leaders make the changes needed? And given the failures of past COPs to reduce the world's emissions, to what extent will citizens (like us) pressure leaders to make these changes?
Faith leaders are speaking up. Last month, Pope Francis, Bartholomew I, ecumenical patriarch of the Eastern Orthodox Church, and the Anglican archbishop of Canterbury Justin Welby issued an unprecedented ecumenical plea for more ambitious climate action. In their forceful and stirring Joint Statement, which evangelical leaders endorsed, the leaders make justice central:
"The people bearing the most catastrophic consequences of these abuses are the poorest on the planet and have been the least responsible for causing them. We serve a God of justice, who delights in creation and creates every person in God's image, but also hears the cry of people who are poor. Accordingly, there is an innate call within us to respond."
Christians will be present at COP26—as official delegates in negotiations, as movement activists pressing the agenda from outside, and as non-party observers. One observer group is the Christian Climate Observer Program, an ecumenical cohort that includes evangelical creation care organizations. I will be at COP26 next week as a member of this group, joining my colleagues already present in Glasgow to learn, immerse, advocate, and bear witness to the proceedings. We pray we can practice at COP26 and beyond a form of hope that sees clearly and identifies with the pain of the world yet refuses the escapist options of denial or despair.
This will not be easy. The event is contentious and the moral stakes are high. So on behalf of our cohort, I humbly request fellow Christians join us in prayer, solidarity, and advocacy through the remainder of COP26 and beyond. (If you'd like to follow along and read our group's daily reflections from this critical event, which include prayer requests, you can sign up here. You can also join us for a virtual Climate Vigil this Saturday.)
Whatever the outcomes of COP26, there will be plenty of ways ahead for Christians to practice our faith as we act to prevent, prepare for, and respond to the harms befalling our neighbors because of the climate crisis. But these immediate days call for fervent prayer and fervent advocacy.
"This is a critical moment," the ecumenical leaders conclude in their joint appeal. "Our children's future and the future of our common home depend on it."
Nate Rauh-Bieri will be attending COP26 as part of the Christian Climate Observers Program. He attended Wheaton College (B.A.) and Duke Divinity School (M.Div.) and lives in Grand Rapids, Michigan.
The Better Samaritan is a part of CT's Blog Forum. Support the work of CT. Subscribe and get one year free.
The views of the blogger do not necessarily reflect those of Christianity Today.