How Does Long-Distance Running Make You a Better Humanitarian?
Through a solid support system in a huge endeavor, Connor Economou shares his unique experience on the Tennessee Mile.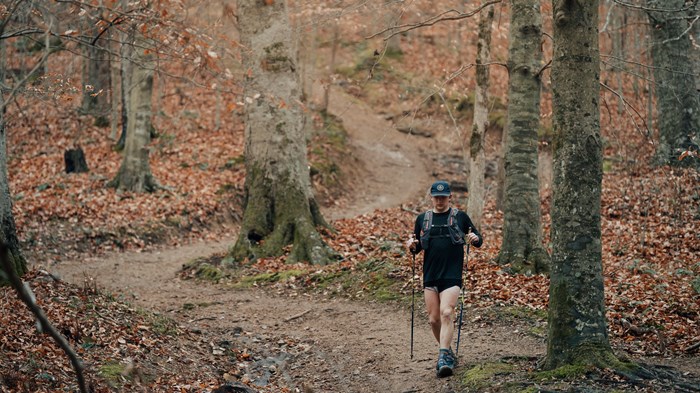 During December 4-5, 2021, Wheaton College Humanitarian & Disaster Leadership student Connor Economou ran a 24 hour race in Tennessee. The race was to raise awareness for an NGO, 84 Days, which collects feminine hygiene products for girls and women around the world.
Jennifer Clark, Humanitarian Disaster Institute Communications Specialist, interviewed Connor about his experience.
(Answers edited for length and clarity)
How did you find out about the race?
My lifelong friend decided to run it earlier and inspired me to try it out.
The race name is the Tennessee Mile, the single-track course is infamously called the Murder Mile because it is only a 1.1-mile loop long but has over 340 feet of elevation gain and descent per loop. The course is located right outside Franklin, TN, and is hosted by BMFJ Endurance. Over the 24 hours, I ran 52 loops which equaled 57.2 miles with over 17,680 feet of both climb and descent (2/3 the elevation of Mt. Everest).
That's a lot! How did you prepare for the race?
I was part of the triathlon community and did a half Iron Man before this. So I mainly trained by running on trails, doing strength work, and using my gym membership.
So you were well prepared, it sounds like. I'm curious what the process of eating and drinking looked like during the 24 hours.
So I'd finish a lap, and then my best friends, Danny and Matt, were my "pit crew." They'd run up and give me broth and food, electrolytes, and just rapidly responded to my needs.
Kind of like your own disaster response team?
Yeah, they were the ones pushing me to do one more lap when I was tired. I'd sleep for a little bit and then they'd wake me up, saying, "You gotta get up.".
What kept you going for the 24 hours?
I spent a lot of time in prayer–I'm extremely thankful and felt very blessed through the race. I was in so much pain but grateful to be doing what I loved. My girlfriend wrote inspirational words on my shoes. I ran through Bible verses and was reminded every step of the way that I have a huge support team and was doing it for the community I'm part of–other race competitors who I've known since kindergarten.
When you think about it, why did you run this race in particular?
The reason I ran the race is difficult to distill down into one or two specific reasons. I think the major reason was to push myself to a new limit and accomplish something I once thought of as impossible. With graduate school, juggling relationships, and working two part-time jobs, I found myself lacking in the self-care department.
And in some quasi-masochistic way, this was the best option. Running for such a long period of time, with little conversation and no music, those 24 hours acted as therapy and a time for self-reflection. After completing this race, I found a new sense of achievement, and although I didn't perform the way I wanted to, I am more driven than ever to balance my work, life, school, and self-care.
What does that balance look like?
After the race, I recognized that I'm capable of much more than ever expected–I would never have thought it possible to do. I'm inspired to be my best self and show up fully for everything in my life. I have a real sense of achievement from the race.
What difference did it make to have your friends at the race?
Those guys were the wind in my sails, my lifeblood during the race. Danny and Matt set up canopies near the trail so they could see me when I finished a lap. They really just offered the ministry of presence. They didn't sleep, they ate what I was eating, and really staying up for 24 hours straight was the hardest part.
How would you compare this race to your HDL program, difficulty-wise?
So I graduate this year, May 2022, and like the race and my pit crew there with me, I know I can rely on people in my HDL cohort to be there. We've all shown up for each other during our program. I had a team to get through the race and a team to get through graduate school.
Thanks for sharing your experience. What's next for you?
I'm already looking forward to the next race and training hard. I want to finish out the semester strong, and really going to cherish the time I have left here. Some of the people in my cohort are international students, who I've gotten to know, and I don't know when I'll see them again.
I am also planning on running a 100-mile race this year, and I am planning on engaging with friends and family to raise money and awareness of human trafficking! It hasn't been nailed down yet, but I think I am going to ask people to sponsor each mile I run and donate the money raised to another NGO.
Connor Economou is currently a graduate student at Wheaton College studying Humanitarian and Disaster Leadership. He received a bachelor's degree in biomedical science from Western Michigan University, he has served internationally across 6 countries and is the oldest of 5 brothers. He has a passion for alleviating medical disparities and empowering individuals to take control of their own health.
The Better Samaritan is a part of CT's Blog Forum. Support the work of CT. Subscribe and get one year free.
The views of the blogger do not necessarily reflect those of Christianity Today.