Natural Disasters Drive Hunger: Here Are Six Ways to Help
Follow these guidelines to help those affected in meaningful, lasting ways.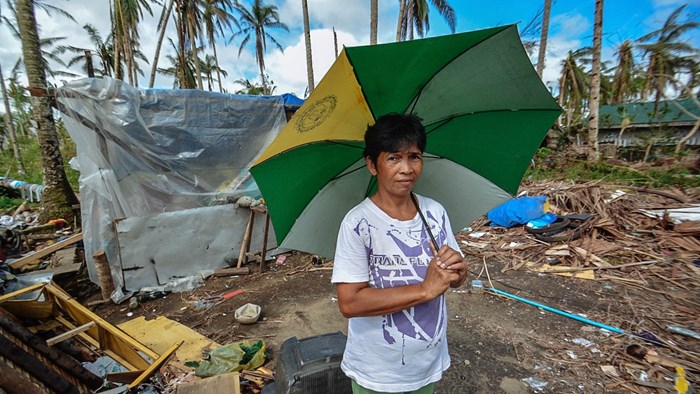 In 2020, it was estimated that close to 60 million people were living with food insecurity in Latin America and the Caribbean (LAC)—a 20-year high. Of the hungry, 80% live in disaster-prone and degraded areas. Due to climate change and complex crises around the world resulting in more natural disasters, the need for food and disaster response has risen to critical levels.
The good news is that when disaster strikes, as we've seen already this year with Hurricanes Fiona and Ian, there's no shortage of people in your congregation and community who want to show Jesus' love in these difficult situations. Here's my advice on how to guide those who want to make a difference.
Always Start with Prayer
Most importantly, I encourage congregations to begin with prayer. We believe in the power of prayer and know God can move mountains. Prayers have a ripple effect through the hearts of both those who give and receive.
When a family must start over with nothing, hope and faith fill that void. As you partner with affected communities in prayer, they can move on, knowing they are being carried with love and encouragement.
Aim to "Stop the Bleed"
During the initial phase of a disaster response, the goal is to help "stop the bleed" quickly and intervene to save as many lives as possible. However, in doing so, there may be some well-intentioned practices that cause more problems along the way.
One of those challenges is avoiding dependencies throughout every phase of disaster response. That's why it's important to be clear about the limitations of aid. We want to help, but we also want to empower the communities and give them a seat at the table as decisions are made about what aid will be most helpful. Representatives from the affected communities will always know what is most needed.
After a previous disaster, I learned an important lesson when we placed a water purification unit in a community that didn't have access to safe drinking water to begin with. Although the support was meant to be temporary, removing such a unit would leave a significant void. It required additional resources and community leader involvement to help transition the unit to a more permanent solution.
Donate, But "Do No Harm"
Additionally, when providing support, it's important to adopt a "do no harm" policy. Avoid donating items that will cause harm to the country's environment or local economy. For example, consider how plastic water bottles may affect developing countries with limited waste management practices. Or consider how collecting and donating food items such as rice or beans may affect a country who produces such commodities.
Providing the right relief includes considering all of the direct or indirect effects to the affected people but also larger economies and industries within the country.
Providing the right disaster relief includes considering all of the direct or indirect effects to the affected people but also larger economies and industries within the country.
Work with Trusted Organizations
Multiple organizations will send appeals to you in a crisis. However, not all of them have the expertise and support to accomplish your goals. This is why I recommend partnering with a trusted organization that has members on the ground. Those members should work in the local communities, have relationships with the local leaders, and understand any pre-existing conditions in the community.
These organizations are able to make proper assessments around demographics, functional needs, cultural contexts, evacuations, and shelters. They can provide insights into the right type of aid that will help and empower the community.
For example, in Honduras, as people living in red alert flood zones in the country were being evacuated after heavy rains threatened low-lying neighborhoods, our in-country partner was assigned to assess specific shelters. As they evaluated the shelters, they quickly realized that the families would not have the ability to cook dry ration food such as uncooked rice or beans, so they worked with local suppliers to purchase granola bars, shelf stable milk, cereals, and other items that could carry them through the evacuation orders.
Being able to pivot in these times speaks to the strength of partnerships and how well they know their community.
Consider a Cash Donation or Awareness Event
Once you're connected with a trusted organization, a monetary donation from your congregation can go a long way. Money can help each community purchase what they need (locally when possible) to expedite the recovery of the local economy while supporting employment. I
You could also plan an event in your own community, with hands-on activities such as kit building or a promotion to build awareness and support of the organization's relief programs. Plus, an event would be a great way for your church to engage in local outreach.
Together We Can Build Forward Better
There's so much need right now. Factors such as the COVID-19 pandemic, followed by the after-effects of increased inflation and fuel and food insecurity throughout the globe, have only increased needs. However, it's important we continue to advocate for implementing disaster risk reduction strategies like sustainable agricultural projects, income-generating activities, and disaster preparedness and training programs. These initiatives can create and empower disaster-resilient communities.
It's crucial that our conversations begin to shift from merely reacting to disasters to proactively investing in sustainable disaster risk reduction interventions. These can include constructing homes with beams to withstand seismic shakes in Haiti or other earthquake prone areas, establishing and training communities on evacuation routes in flood zones, working with farmers to understand weather patterns to help plant the right type of high-yield crop, or helping communities adopt practices that will combat against expected seasonal changes.
As a speaker once said during a disaster management conference geared toward women in Latin America, we no longer want to "build back better." We want to "build forward better."
Jisabelle Garcia-Pedroso is the Director of Programs and Operations at Food For The Poor. She is passionate about transforming developing countries from relief to development. Seven Saves, a new program powered by Food For The Poor, gives individuals and churches the resources they need to help a LAC community by feeding hungry children and sponsoring projects to provide Bibles, water filtration systems, school supplies, fruit trees, or supplies for local churches. Learn more at: sevensaves.org.
The Better Samaritan is a part of CT's Blog Forum. Support the work of CT. Subscribe and get one year free.
The views of the blogger do not necessarily reflect those of Christianity Today.