The Magazine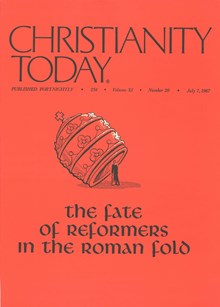 Read CT online anywhere you go.
Subscribers get full print and digital access, including:
10 award-winning print issues
PDFs of each issue
Full web access to ChristianityToday.com
60+ years of magazine archives
Table of Contents
The CT Archives are a rich treasure of biblical wisdom and insight from our past. Some things we would say differently today, and some stances we've changed. But overall, we're amazed at how relevant so much of this content is. We trust that you'll find it a helpful resource. - Mark Galli, editor-in-chief
Also in this Issue:
Bristol Sessions Advance Presbyterian-Reformed Tie
Editor's Note from July 07, 1967
Evangelicals and the Evangelistic Dialogue
Indonesia: It Sounds like Revival
Mideast: Weighing the Effects
Reinforcing the Wall between Church and State
Rival Churchmen in Viet Nam
When Is Separation a Christian Duty?
The Fate of Reformers in the Roman Fold
Winds of Change … Puffs of Freedom?
Missionary, Come Home?
Eutychus and His Kin: July 7, 1967
Example
Evangelicals Seek a Better Way
The Minister's Workshop: All Scripture Is Profitable
Book Briefs: July 7, 1967
Will Canada Be Secularized?